KNIGHT LIAR: Infamous goose near Colt Drive found to be government spyware
They were known as the goose who lingered near Colt Drive. Just short of two weeks ago, the goose was reported deceased; but, were they really?
It started in the South Side of Pittsburgh, where all evil originates. While on her field trip with the German Club at Hofbrauhaus, junior Maria Janiga first spotted the goose lingering near the water.
"As I was enjoying my Spätzle, I choked on my food because I saw Max," said Janiga. "They weren't dead!"
Overtaken with emotions, Janiga couldn't breathe. Following her revival from paramedics, Janiga's first words were "They're alive!"
The medics responded with, "yes you are alive!"
"No," Janiga retorted. "The goose, they live!"
While reviving Janiga, senior David Hersick jumped over the restaurant fence to follow the goose. For 15 minutes, Hersick followed the goose.
"You would think people would have noticed me leaving," sneered Hersick. "But you're wrong. I can be sneaky when I want."
Trailing behind the goose, Hersick followed them, traveling south alongside the Monongahela River.
"The goose was very adamant in walking the one direction," stated Hersick. "That's when I knew something was up. No one at Norwin had ever seen them on the move."
Suddenly, things took a major turn. The goose flew!
"My jaw dropped when I saw them fly, but it's not a big deal in this case. Where they flew is what we should be concerned about!"
Hersick realized that the goose had led him to the Federal Bureau of Investigation HQ in Pittsburgh.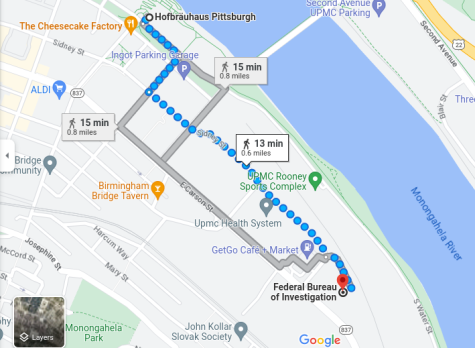 As the goose flew over the fence, they landed on a pad outside of the building. Suddenly, the goose froze, almost as if it was connected to a charger.
"As soon as I saw the 'goose' charge into the side of the FBI building like an electronic car charging, I knew exactly what was going on," said Hersick. "The goose wasn't a Tesla car plugging in for the night- IT WAS A GOVERNMENT SPY! Why else would they have lingered in the same spot?"
Least to say, Hersick was disheveled for the rest of the day.
"The entire bus ride home, I was not in the mood to chat with my peers about the lecture at Pitt or delicious food from Hofbrauhaus."
The origin and purpose of the goose soliciting near Colt Drive remains unclear. Some suggest that the goose served as a method for slowing down drivers. Rather than a traffic gun, sign, or speed bump the goose manipulated drivers' pathos and convinced them to slow down. How else would students have collected so many photos and videos of it?
Leave a Comment