Norwin teacher by day; Latrobe mayor by night
Bartels wins mayoral campaign!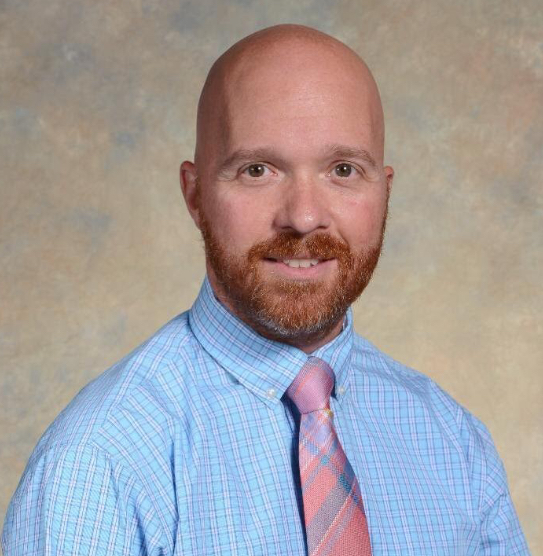 Many teachers are in leadership roles all day at school.  Some teachers have an active role in leadership outside of school as well.  Social studies in teacher Mr. Eric Bartels is hoping he secures enough votes in today's election to win the leadership role of mayor of Latrobe.
     Bartels, a native of Hobart, Indiana, was first introduced to the world of politics as an intern at Capitol Hill. He worked under former Rep. John Hostettler of Indiana's 8th district. Hostettler represented the Bloomington, Indiana area, covering Indiana University. Bartels was a student at the time, studying  history. Following graduation, he lived in Alexandria, Virginia for five years, working as a teacher. He moved to the Pittsburgh area in 2006, living in Hempfield for roughly two years. In 2008, he moved to the Latrobe area, and has lived there since. 
     It wasn't until 2015 when Bartels decided to run for a  position in the Latrobe City Council. 
   "I first found out about the open Council position by a friend who suggested I join," said Bartels. "None of the Council members knew who I was, and I wasn't their top pick because of that."
  However, Bartels was optimistic about his hopes of election. 
     "I was involved in the community by coaching my sons' sports games and attending events like that. I just hoped that people would spread a good word for me throughout the community."
     The only campaigning Bartels did was submit a short biography about himself to Latrobe newspapers. 
     "The biography I submitted was just brief information listing who I was and what political party I belonged to. Aside from that, I didn't make posters or have a campaign trail; there was no giving any speeches." I didn't put that amount of effort in."
   When the time came to vote, there were three open spots with four candidates. In the general election, Bartels was the only registered Republican candidate. He believes that's what won him his spot on the council.
     "In most elections, people tend to vote for who belongs to their party. I believe that this was the case for me."
     In Nov. 2015, Bartels successfully gained a seat on the city council. Although belonging to the Republican party helped gain membership to the council, Bartels doesn't think it affects many decisions he or other council members make.
     "When talking about local politics, very little of it has to do with what party you belong to. Most of the issues that are dividing the nation are at a national or state level." 
     In 2019, Bartels ran for re-election, and successfully won another four years on the city council. This means that regardless of whether he wins the mayoral race or not, he has a seat on the council until 2023. On top of having a place in the council, Bartels is also a member of the public works, student showcase, and Adams Memorial Library boards.
     Bartels isn't new on the duties of a mayor. In Jan. 2022, mayor Rosie Wolford will retire, creating an opening for the position. Bartels was encouraged to take Wolford's place by fellow members of the city council, already being appointed to the title of Deputy Mayor in January 2021. The past ten months have prepared him for his job if he were to be elected.   
     "I decided to run for mayor because I thought that I would be a good person to present a positive image of the community. There wasn't anybody else on the council who was interested in stepping up and doing it. They said they'd all support me if I wanted to take it on."
  This election, Bartels runs officially opposed by Democratic candidate Sandra McCune. However, McCune has since moved out of the Latrobe area, making her ineligible to have the position as mayor if she were to win the election. 
     The chances of Bartels winning are high, and he looks forward to continuing to strengthen the Latrobe community. He also encourages people who want to serve their community to run for council positions.
     "Any kind of volunteer position works a lot better when more people are willing to do it and take turns at doing it. It doesn't take up a significant amount of time or significant effort. You don't have to be real smart about things."
     He also acknowledges his background in social studies, and how that helps him. 
     "I think being a social studies teacher gives me a good background in it(serving as a council member). I encourage anybody who's willing to put in a bit of time to join public service to shovel their community along."
Bartels wins Latrobe election
AP United States History and AP Human Geography teacher Eric Bartels wins the Latrobe Mayor elections.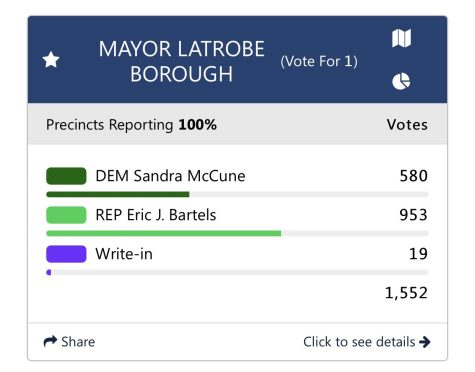 Leave a Comment
About the Contributor
Maleah Phetsomphou, Writer
Maleah Phetsomphou is a senior at Norwin High School. This is her third year writing for the Knight Krier Newspaper. She is co-host of "The To-Knight...