What Diwali means to me
Arnav Bedekar, a student and member of the Cultural Awareness Committee within Student Council, writes about what the holiday Diwali means to him.
Diwali is a special time of the year not just for me, but a billion other people as well. Considered the "Festival of Lights" by many who have just read about it in books, it is much more than that for the people who experience it. Diwali is considered the biggest holiday by Hindus and is celebrated each year between October and November, depending on the lunar calendar. Diwali lasts 7 days, with each day having its own focal point. During the time of Diwali, people make special snacks, light fireworks, and spend time with friends and family. I specifically enjoy celebrating Diwali for the lessons it provides. Each day of Diwali lets me respect and appreciate the things I have been given and gives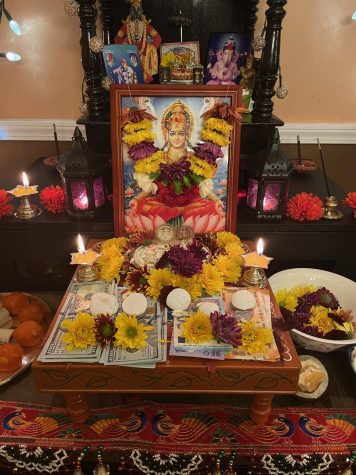 me humility. On the 4th day, we worship the Goddess Lakshmi, bringer of wealth and prosperity, and bless the material gods in our house. This act lets me appreciate what I have been given and lets me respect my parents, who bring wealth and prosperity to our household by working every day. Diwali also reminds me of the loving family I have. On the 1st day, the Cow, which is considered sacred by Hindus, and its calf are worshiped. To me, this is more than worshiping the cow, this is appreciating the bond between a mother and her children. I remember to appreciate that bond that my mom and I have and that she will support me through whatever comes through my life. On the last day of Diwali, the bond between the brother and sister is cherished, with the sister blessing the brother, and the brother giving her gifts and wisdom. Even with all the fights and arguments I have with my sister, this lets me have a clean slate with her, and lets me know that she loves and respects me as a brother. Light is considered the destroyer of evil, and personal evils such as resent, anger, and pride are destroyed by the lights of Diwali and are replaced with acceptance, happiness, and humility. Diwali helps me be a better person and lets me have a clearer understanding of my culture, my heritage, and my family.
Leave a Comment