Winter track returns to indoor competition
On Saturday, Jan. 29, Norwin's track team made a return to indoor competition after an absence of nearly two years.
The Knights traveled to the Mike Zafirovski Sports and Recreation Center at Edinboro University to compete in the fourth of five open meets held by the Tri-State Track Coaches Association this winter. Due to COVID-19, all indoor meets were canceled at the venue last year, leaving Norwin without a chance to participate in meets in 2021. Visiting track athletes were finally allowed back on campus last month, although the meet that was slated to take place on Jan. 22, which would have been Norwin's first of the season, was postponed for a non-COVID-related issue, further delaying the team's return.   NORWIN TEAM RESULTS
Upon their debut, many of Norwin's athletes turned out impressive performances. On the boys' side, Junior Trey Huha took 9th place in the long jump and 6th place in the triple jump, while senior Anthony Singer placed 5th in the 60 meter hurdles. For the girls, junior Emma Jiancristoforo finished 8th in the 1 mile run, junior Bella Brozeski finished 9th in the 400 meter dash, and the 4×200 meter and 4×400 meter relay teams both had top ten finishes, while freshman Brandi Brozeski finished 8th in the 60 meter hurdles. Several others set personal bests in their event, an encouraging sight for the first meet of the season.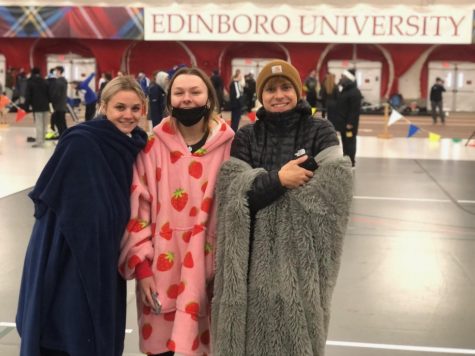 "It is crazy to think that it has been two years since we last competed indoor, but it definitely felt good to see the kids getting after it again," said head coach Timothy Van Horn. "The first competitions are always the most difficult. There are a lot of nerves and uncertainty heading in and it can be easy for athletes to lose focus. It was especially difficult because most of our athletes' memories of the indoor season were as a freshman or sophomore. I was proud of how all of our athletes were able to overcome the conditions and just go out and compete."
For several of Norwin's athletes, this was also the first time they had ever run in an indoor environment. "The bubble," as it is commonly referred to, not only features a shorter track with a different surface, but also lacks the constant airflow of the outdoors
"Obviously, running in the bubble is quite a change," said assistant coach Brian Fleckenstein. "It's an odd distance, and it's much drier. We typically run and train in temperatures in the 20's and wind, ice and snow, so being able to compete and run fast indoors is necessary in a Northeast winter."
Since late November, the Knights have been training outdoors, despite the winter weather; in fact, the track itself has been vacant in recent weeks due to snow cover. While spring practices typically consist of structured workouts, the winter often takes on a different look.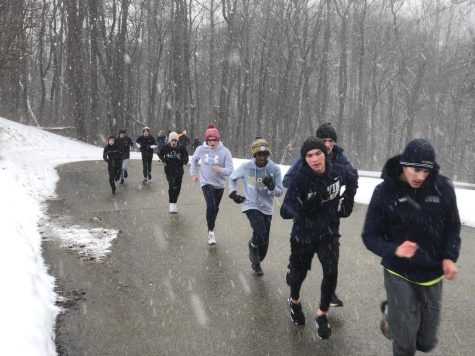 "Winter training is essentially the foundation for our training," said Van Horn. "We are able to build what we are mainly going to need for the season. Sprinter/jumper training mainly consists of building a base of speed and power. Our distance athletes will focus more on building an aerobic base, and our throwers are focused more on strength and power. Each group will tap into different energy systems and training modalities to help mold our initial building blocks for the spring season."
Still, even though the start of the official season is over a month away, there is something to be said for getting a chance to race early in the year.
"As far as the meets go, the goal there is to get race and event experience," said Fleckenstein. "Racing is far different from training and learning to race is as important as training. It's also nice to have a gauge for where we are in training and what aspects of training we need to work on. After our first meet, I would say our lactate threshold and speed is not where it needs to be and that makes sense given the rough winter we have had. It will come. The aerobic capacity takes longer to develop, so we need to keep that in mind as we wrap up winter and head into spring. The important meets are in May, so we have to keep hungry and focused."
Moving forward, the Knights will have at least three more meets this winter, depending on the athletes' performance at the TSTCA Indoor Track Championship on Feb. 19. From there, the team will have a month to prepare for the spring season, where they will try to defend their 5-0 record and section title. However, one of the biggest challenges they face is the absence of last year's seniors; a significant portion of the 2021 roster, including five of Norwin's seven state qualifiers, have since graduated, leaving a rather significant task for this year's athletes.
"There are many 'storylines' that could be hyped up," said Van Horn. "We lost some really great athletes due to graduation last season and it is going to take a lot to replace them, but I have loved what I have seen from our indoor crew and I know there will be more athletes joining us come March. There are a lot of athletes that know this is their time and are working to seize their opportunity. We have a lot of talent on our boys and girls teams and we have a ton of great athletes in the school. I believe we will be rather young on both sides, but I also know we have a strong group of leaders and competitors that will be able to help anchor and guide our youth."
"
We lost some really great athletes due to graduation last season and it is going to take a lot to replace them, but I have loved what I have seen from our indoor crew"
— Head Coach Tim Van Horn
Adding to the new look is Van Horn himself; as a first year head coach, he will take on several new responsibilities, including some administrative roles. That being said, he hasn't lost focus on training, and he has several goals for the team.
"There are definitely some new responsibilities this year. A few that stick out would be attending meetings (coaches/boosters), budget planning, meet organization and scheduling.  Even with the added responsibilities, coaching the athletes is still my main focus. I have personally seen this sport change the lives of many student-athletes. Some athletes have no idea how good they actually can be and I strive to help every athlete reach their full potential."
Leave a Comment
About the Contributor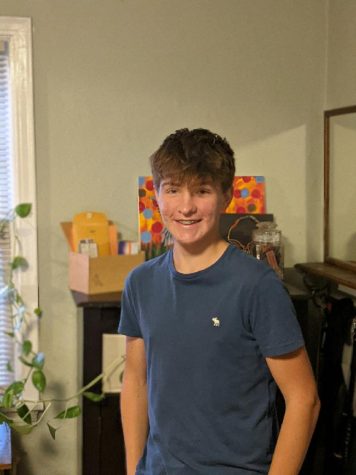 Oliver Hinson, President/ Website Manager
Oliver is a senior, and he has been a part of the newspaper staff for 3 years. He covers a wide range of topics, from school news to student features,...