Don't say goodKNIGHT yet!
Baseball team gets hot hoping to make a playoff run.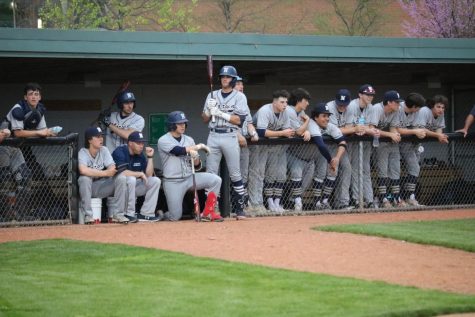 Last season, Norwin baseball started out like a ball of fire, and fell short of their championship aspirations. It's no secret that there were high expectations for Norwin coming into this year ranked number 3 in 6A. They currently stand in 4th place in the section, with a section record of 4-4 and 6-6 overall.
With their backs against the wall, the Knights had an excellent performance Monday night at Upper St. Clair winning 5-2 in a big section game victory. After coming back home on Tuesday, the Knights picked up another big win over the Panthers 7-3.
Coach Liebdzinski had a few comments on the Knights winning two big games, despite their shaky start to the 2022 season.
"It was big for the team to come through after struggling and losing 4 in a row," said head coach, Mike Liebzinski. "The wins were really important, and it gives us a chance to still get in the playoffs."
The Knights were off to a tough start, and were unable to put everything together on the diamond. "At first we started off good offensively, but struggled pitching, as of late we have been doing well pitching, but struggled offensively." Despite these struggles, Coach Liebdzinski recognized the team bringing it all together in this series for two big wins. "Monday night was easily our best performance, and certainly our best game all around. The defense has been really consistent, and we came through with some big hits at the end."
The expectations of the team are starting to grow with a few must win games approaching. Coach Liebdzinski is looking for a similar performance as the Upper St. Clair series. "I don't know if I expect the same performance as the past few nights, but we need the same performance," said Liebzinski.
The wins against Upper St. Clair can be credited to excellent offense and defensive performances by the whole team. Junior Ryan Orosz put together another strong pitching performance Monday night going five and 2/3 innings giving up 2 runs. Orosz has been the ace for the Knights this season, and continues to prove why he is their go-to-guy on the mound when they need a big win.
Orosz has been locked in, having the same mindset every time he is on the mound.
"My mindset every game is to just throw strikes and let my defense work behind me," said pitcher Ryan Orosz.  Orosz has been very consistent, and it has been boosting his confidence more and more every game. This strong pitching performance against a good team on the road has "boosted my confidence a lot," said Orosz. "It is making me realize that I am a dominant pitcher even against good teams."
Senior Sebastian Rosado continues to throw well on the mound for the Knights this series, pummeling the strike zone with his southpaw heat. On Monday, Rosado went one and  1/3 innings and earned the save for the Knights. On Tuesday, Rosado went six and  1/3 innings in relief, and eventually earned the win for the Knights.
Along with the strong defensive performance, seniors Ty Stecko and Jake Kendro both contributed very strong hitting performances. Stecko went 3 for 5 with a double on his Monday birthday, and stayed hot the next night hitting a big home-run for the Knights, alongside teammate Jake Kendro also going yard. Stecko and Kendro have led the Knights in almost all hitting categories, and continue to put on a show stepping up to the plate every game.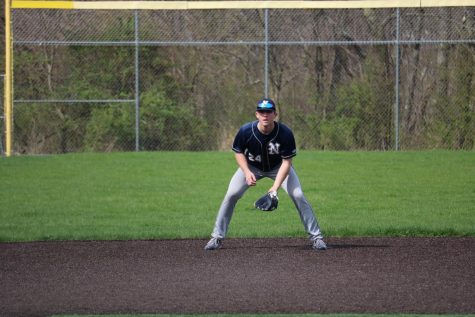 Stecko continued to be very productive for the Knights this year and dedicates his success to his mindset and mechanics at the plate. "This year I have a shorter swing, and I'm looking to hit the ball hard, rather than trying to do too much, and be the superstar," said Stecko.
Ty Stecko will go on to play college baseball at Mount St. Mary's, but the first thing on his mind is making the playoffs, and a WPIAL Championship run for the Knights.
"I just want want the team to succeed, and if succeeding means to make the playoffs, then the playoffs are very important," said Stecko. Mount St. Mary's baseball participates in NCAA Division 1 athletics, as a part of the Northeast Conference. The future is bright for Ty Stecko, and he is looking to make a big impact early on in his college career. "I am looking forward to The Mount. The 2022 recruiting class is very talented, and I look forward to playing early on in my college career."
After this series sweep of Upper St. Clair, the Knights have pulled within 1 game of 2nd place in the section, currently held by Upper St. Clair and Hempfield, who both have a 5-3 record in the section. The Knights now have won the head to head tie-breaker with Upper St. Clair, and will conclude section play next week in a pivotal 2 game series against Route 30 rival, the Hempfield Spartans. One win over Hempfield guarantees the Knights a playoff spot, but a sweep of the Spartans could catapult the Knights as high as a 2nd place finish in the section depending on the outcome of Upper St. Clair's final section series against current 1st place Mt. Lebanon.
Leave a Comment