Fall sports are back….well almost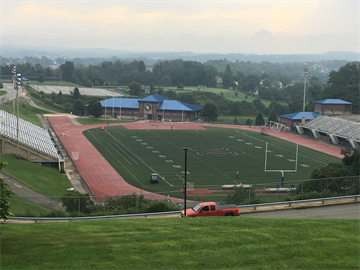 (September 2020)
     The start to the 2020 school year at Norwin High School, is off to an extremely different start. It has especially been a change for sports. On August 7, the Pennsylvania Interscholastic Athletic Association (PIAA) approved the return of fall sports.
     "I feel extremely happy and excited to finally be able to get out there and play," said senior soccer player Madison Rose. "Thanks to the season being allowed to happen, it was really nice to be able to finally start practicing. It really made me appreciate the game more and respect all of the freedoms we had prior to the virus."
     Although the school district was able to continue sports, there are many new rules and regulations due to COVID-19 that have been set in place to keep the athletes and coaches safe throughout the season. The new athletic director, Michael Burrell explains how these new rules and regulations are keeping each player safe to have a whole season and healthy season.
  Burrell explains that if a student is not experiencing any COVID-related symptoms and has a normal temperature they can continue with practice. Although, if he/she is not participating at any point in the practice they must be wearing a mask. 
     Due to these restrictions, some sports with more athletes, split into two or more groups called pods. Some of the sports that were forced to split up are cross country and cheerleading. By splitting into pods it is easier to maintain social distancing and overall easier to conduct practice with the new restrictions. 
     The huge question weighing on everyone's mind is what would happen if someone gets COVID-19 even with these restrictions in place? It all depends on which pod the person who gets sick was a part of. The members of that person's pod all would have to quarantine for two weeks being that they all were exposed.
     "Before returning to the season I was really nervous about getting sick," said junior cross country runner Abby Morrow. "With these restrictions in place and following the proper guidelines I feel safe." 
     Another frequently asked question by parents and students who don't play fall sports: What do practices and games look like with the new rules in place? Head coach of the football team, David Brozeski informs what the ritual is to keep each player safe everyday at the beginning and end of practice or game.
     "Before practice all coaches and players must fill out the health screening form two hours prior to practice and once they arrive to practice everyone gets their temperature taken and it must be lower than 100.5 degrees Fahrenheit," said Brozeski. "Any of the equipment that is used outdoors is not cleaned deeply because it is remaining outdoors. But any equipment that we wear, like the hats we wear on our helmets, I'll wash those. Basically anything that is not kept outside in direct sunlight gets cleaned."
     Being that every sport in the district follows these same guidelines, the district's future is looking bright regarding the number of cases and complications with COVID-19 this fall. Although with guidelines changing almost every day based on COVID-19. The bad news is there is no further information as to whether students and more family members can begin to attend the games.
     "Our guidelines change on a daily basis to the extent that on day we can have as many people attending to back down to the restriction of 250 the next day," said Burrell. "We are going to cross our fingers and hope for the positive and hopefully those guidelines will become lax and more people will be able to attend. But to get to that point we must continue to follow the current rules and regulations set."
     With the new restrictions, there has to be new changes to accessibility when it comes to watching games. Daily sporting events held at Norwin can be accessed through a livestream on the Norwin Athletics website (https://norwinathletics.org ). There is now a television channel and an upcoming podcast made by Norwin High School students to help sports fans continue to be able to watch or listen to any sport they wish. 
     "Things may make people uncomfortable, such as wearing a mask, but it's not an option," said Morrow. "It's what has to be done in order to keep everyone safe."