Swimming to success
The swim season is halfway through. Essentially, it's crunch time for the Norwin Boys and Girls Swimming and Diving Team to prepare for the conclusion of their regular season. With numerous swimmers already qualified for WPIALS, the team is ready to compete at the next level, in hopes of grabbing WPIAL and PIAA medals.
Currently, the Girls Swimming Team stands with a record of 8-3 and the Boys Swimming Team is 5-6.
The swimming and diving season is notoriously long, starting in mid November and lasting until mid February, or depending on how far athletes make it into the postseason, they could be competing into mid March.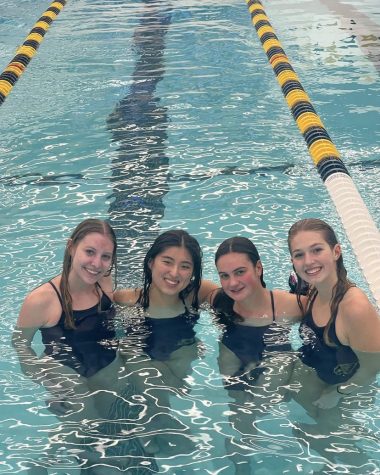 Championship Season is already underway, as all team members competed at the Westmoreland County Coach's Association meet on Jan. 28. Both the Norwin boys and girls team swam well, as several relays and individual swimmers placed within the top six. In the Girls 200 Yard Medley Relay Chloe Black (11), Anna Little (12), Jackie Chen (12), and Allison Arendas (11) placed fourth with a time of 1:53.52. The boys counterpart consisting of Noah Mulac (11), Cole Kubistek (11), Connor Lydon (11), and Nicholas Cormas (12) placed sixth with a time of 1:44.13. In the Girls 200 Yard Freestyle, Chloe Black (11) placed sixth with a time of 2:03.96. Allison Arendas (11) placed fifth in the Girls 50 Yard Freestyle with a time of 25.63. With a time of 2:13.36, Anna Little (12) placed first in the Girls 200 Yard IM, the same event that brought her to compete in PIAA Championships both her sophomore and junior year.
"It feels great knowing that I will have the chance to make it to 'states' again," said Little. "I hope that the outcome of this year will be difference from my junior year, as I was recovering from multiple illnesses for much of the February and March."
Still, Little looks for the positive moments throughout her three year gig with the team.
"I will never forget being at WPIALs or states," said Little. "Although I am under a lot of stress, I find these meets a lot of fun. Everyone has one goal and we are all there to support to each other."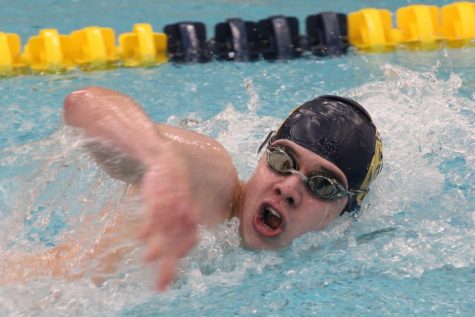 Aside from Little, other Norwin athletes fared well at their events. Senior Nicholas Cormas placed second in the Boys 50 Yard Freestyle with a time of 22.10.
"I am proud of how I placed at counties (WCCA)," said Cormas. "However, I am eager to finish the rest of my last season with the high school team on a good note."
Cormas is a four year varsity member of the swimming team. On top of his wishes for the best during his last season, he is grateful for what swimming has given him over the past few years.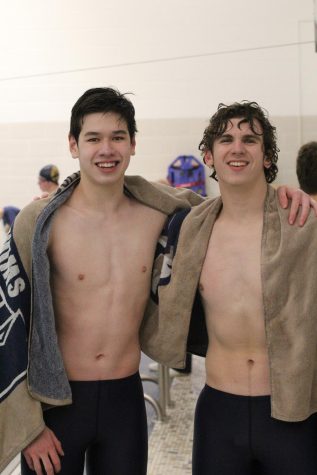 "Swimming has taught me how to challenge myself beyond imagination," said Cormas. "It has also taught me how to work with others better as well."
Head Boys and Girls Swimming Coach Doug Watson is hopeful the team will succeed throughout the remainder of the season.
"I hope we continue to see time drops as we are swimming very well," said Watson. "I would like to see some high finishes at the WPIAL meet and sending some athletes to States."
Watson adds his appreciation for the seniors of the team.
"We have six seniors this year- Jackie Chen, Nathan Kostrobala, Nicholas Cormas, Jack Chaney, Anna Little, and Madison Fleming- all are great swimmers and individuals. I will miss the leadership these swimmers bring. They will be missed in and out of the pool."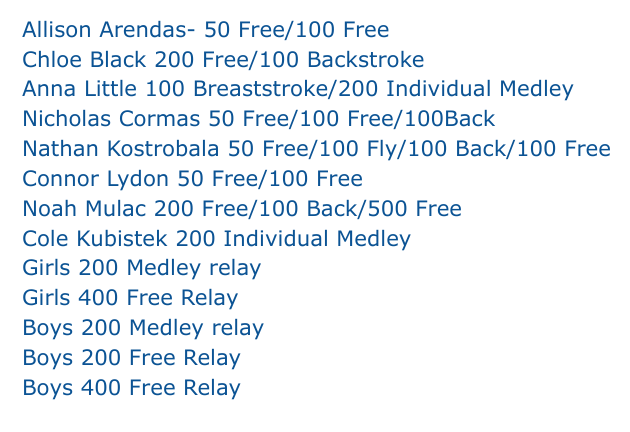 On March 2, eight individual Norwin swimmers will compete at WPIAL Championships along with five relay teams. The championship is held at the University of Pittsburgh's Trees Pool.