Norwin senior wins full scholarship to Purdue University
Norwin senior Sophia Alvarez won a full scholarship to Purdue as part of the university's new partnership with Eli Lilly, a pharmaceutical company.
For Norwin senior Sophia Alvarez, achievements are nothing new. Last summer, she interned at the University of Pittsburgh's Center for Biotechnology and Bioengineering performing cancer research. Now, she holds a full-tuition scholarship to Purdue University.
Alvarez won the scholarship as part of a partnership the university made with pharmaceutical company Eli Lilly in 2022. Recipients are guaranteed an internship or co-op with the company, as well as interaction with company leaders.
Q: How did you hear about this scholarship? What was the application process like?
A: I actually didn't know about it at all until I was awarded it in my admissions letter. It's the first year they are ever giving out this scholarship; so it's really new and there's not a lot of information on it. I did not even know Purdue offered a scholarship like it, but when I was accepted, it said in my admissions letter I was picked to receive it. So there's not an application it's more just if the college picks you.
Were you set on Purdue before you won this scholarship? How did it influence your decision process?
I was not, I was actually so set on the University of Tennessee and enrolled because I thought for sure that's where I was going, but when I got Purdue's offer it was too hard to turn down. The funny thing is that I threw my application for Purdue in last minute because I never really wanted to go there, so it's kind of ironic that I've ended up there. The scholarship is basically the entire reason why I am going.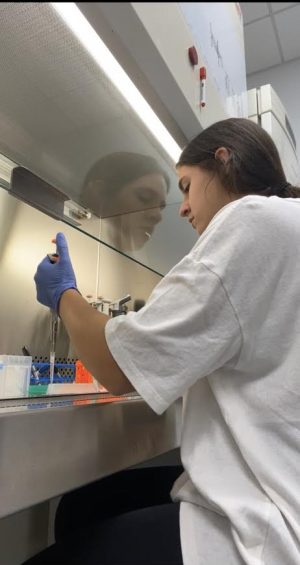 What are your career plans? Are you planning on pursuing a career with Eli Lilly?
I am majoring in engineering, but I plan on going onto medical school to become a pediatrician. I never really planned on having a career with Eli Lilly, but at graduation the company picks one of its scholars to offer a full-time position to. So, if that opportunity arises I may pursue it, but as of now I plan on continuing to med school.
How did you feel when you received this scholarship?
I was thrilled, it's an amazing opportunity to even get to work with Eli Lilly plus the fact that I get free tuition with it. Although I was a little disappointed I would have to give up going to Tennessee, Purdue's offer is crazy and I'm really excited about it.
What extracurricular activities are you involved in at Norwin?
I play volleyball and lacrosse. I am also involved with Global Scholars, Spanish club, Peer Mentor and Buddy club, and HOSA.
What do you think helped you win this scholarship most?
I think the internship I had performing cancer research really helped. The scholarship guarantees me an internship or co-op w Eli Lilly doing research, so I think the fact I already have experience with research under my belt really helped me in the selection.
What advice would you give to a student looking to achieve something like this?
I would say to find something that makes you stand out. For me, it was definitely the internship, but do something that not only sets you apart, but is something you are genuinely passionate about. So if that means music, find something musical that sets you apart from other people, don't just do something that you think makes you look good.