Norwin FCCLA Members Compete at State Leadership Conference
During the week of March 20-22, Norwin High School students competed in the FCCLA (Family Career and Community Leaders of America) State Leadership Conference at Seven Springs Resort. 
At this conference, members competed in STAR (Students Taking Action with Recognition) Events, which allowed them to showcase their leadership, talents, and interest in family and consumer sciences. In total, approximately 550 FCCLA members and advisors attended the conference. 
Members present their STAR Events in front of a panel of three judges. As the members present their projects, the judges grade them based off a rubric designed for the category of their project.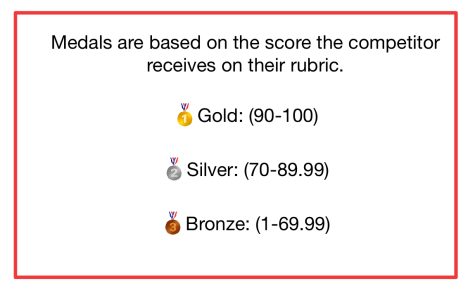 Members of the Norwin FCCLA Chapter all returned home with an award. 
President Kira Walkosak (12), partnered with Brianna Keber (11), competed in a STAR Event in the category: Focus on Children. 
For their event, they were required to create lesson plans for students, and then teach students the lesson they created and observe how it worked. They studied how the pandemic affected young students in school. They taught students from Mrs. Greene's Pre-School class at Norwin High School.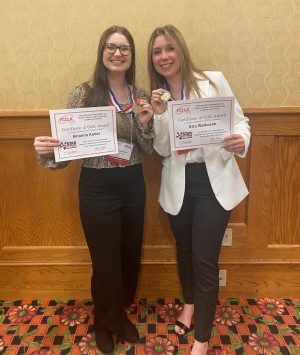 Walkosak and Keber won a gold medal for their STAR event.
Vice President Kali Walkosak (11), partnered with Madison Samber (11), competed in a STAR Event in the category: Repurpose and Redesign.
For their event, they had to create a project made with repurposed materials. They decided to design a newspaper dress to bring awareness to the impact the fashion industry has on the environment.
"My favorite part of our project was being able to use my creativity," said Kali Walkosak.
Walkosak and Samber won a silver medal for their Star Event. They also won a grant for $3,000 for Sullivan University.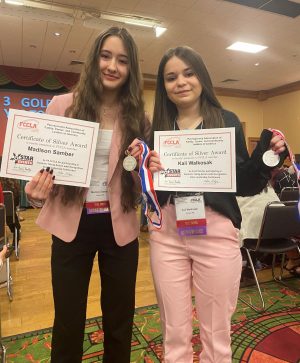 Kyleigh Schaefer (11), partnered with Maria Janiga (11), competed in a STAR Event in the Category: Chapter Service Project Display. 
For this event, they hosted a food drive through Norwin High School and raised 450 pounds of food. They included their fellow chapter members by asking them to volunteer at the Westmoreland County Food Bank to pack food.
"The best part of our project was that we were able to make an impact on our community," said Janiga. "Being able to see how food donations directly impacted our community was really interesting."
Janiga and Schaefer won a silver medal for their STAR Event, and qualified for the National Leadership Conference. They also won a $10,000 grant to Sullivan University.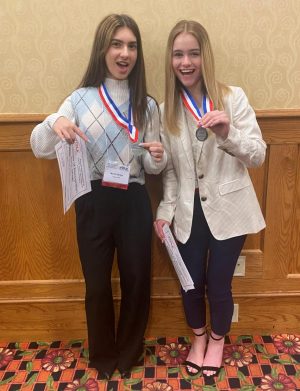 In addition to the awards that were won through STAR Events, Norwin High School won an award for the most amount of members in the state of Pennsylvania. Walkosak also won Chapter Member of the Year Award for the Norwin Chapter.
The conference also offered many other activities to do while members were not competing. There were many alumni and speakers who were offering workshops to young members, auctions and raffles, and a dance for the competitors. Before actual events began, all chapters participated in a banner parade to introduce their school.
"The best part of states was the team building workshop I did with my friends," said Walkosak. "We had do different activities and compete with other teams to see who could get done first."
"
I would advise fellow chapter members who are thinking about going to states to use their time wisely, read your project rubric thoroughly, but most importantly take it all in. It can be a great opportunity if you choose to utilize it. "
Although it was a fun conference and everyone did well in their category, presenting in front of judges was the most difficult part.
"I was extremely nervous to compete," said Schaefer. "I redid my index cards seven times, and we practiced so many times to make it as perfect as possible. I remember looking down at my index cards as I was presenting and I saw my hands shaking. That being said, we were able to contain our anxiety and present better than ever."
For more information on the FCCLA State Leadership Conference visit: https://sites.google.com/pafccla.org/pa-fccla-slc-2023/home
For any questions or interest in joining FCCLA, see Mrs. Greene or Kira Walkosak.