Need help with scholarships? We got you covered.
     According to usdebtclock.org America is currently 1.75 trillion dollars in student loan debt. Watch the clock tick. https://www.usdebtclock.org 
      As the student debt amounts rise, so do the pressures on students' college decisions. But the numbers show America's student debt isn't going away anytime soon. 
      Senior year is a busy time for colleg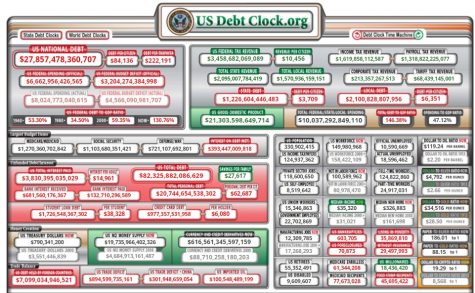 e-bound high schoolers. During this time, students devote an enormous amount of energy planning for their futures. Most high school seniors are obviously focusing on college applications, but they should also think about how they will pay for college. One way to cover the cost of higher education is scholarships.
      Seniors, underclassmen and parents… here's a put together this list of why scholarships matter and which ones are worth submitting. 
What's the difference between grants, scholarships, and loans?
Scholarships are a money-based award specifically designated for education-related expenses.
Grants are gift aid awarded to students often based on financial need. They typically come from the state government, federal government, non-profit organizations, and schools.
A loan is money that you borrow with the expectation that you will pay it back, within a deadline laid out by your lender. Students can borrow money through federal student loans, which are issued by the government, or private student loans, which are issued by non-government entities like banks and credit unions.
Why do scholarships matter?  
College is an enormous investment. According to collegevine.com during the 2019-2020 school year, the average cost of tuition and fees at private colleges was $41,426. At public colleges, the average expense was $27,120 for out-of-state students and $11,260 for in-state students. Scholarships are extremely valuable to college-bound high schoolers because they offer an excellent opportunity to lower the cost of college—unlike loans, you don't need to repay them!
When is the best time to start applying for scholarships? 
Simple answer, it's never too early and it's never too late to start applying. Some scholarships applications open their eligibility to Kindergartners! Getting a head start gives you more time to research which scholarships are worth your time and energy. 
Pro tip: Many scholarships have a limited amount of money they give out, meaning the earlier you apply, the more money you'll receive. 
How should I find scholarships that I qualify for? 
Norwin High School's website offers a running list of scholarships that seniors can begin applying for immediately. Check out the link here: Senior Scholarships Norwin  
For other high school students check out: 
U.S. Department of Labor's free scholarship search tool

Scholly

Cappex

Unigo

Fastweb

Scholarships.com

 
Pro tip: You don't have to have a 4.0 to qualify for scholarships. Aside from your GPA, it's important to find a way to stand out from the crowd on your applications. Before you start filling out the forms, think about what makes you uniquely qualified and deserving of that scholarship. 
What scholarships are worth applying for? 
All scholarships big or small, give students the opportunity to cut down on student loan debt or even tuition fees. If it fits you, apply for it! Consider looking into scholarships that give out funds to more than one deserving student. There are many $500-5000 scholarships that are given to hundreds of students under the same applications, which grants a greater chance of receiving the money. Remember, receiving a scholarship is a great honor and something to be proud of. Take advantage of applying in hopes of receiving some extra money off, and a resume booster! 
Check these links out for more information: