3..2..1..Unified!
Norwin Unified Track & Field wraps up season this week.
The Norwin Unified Track & Field team is made of functional need students and their peers. The Unified Track team practices during the school week to get ready for their events they participate in their meets. There are many events for the team to participate in like the 100m, 400m, 800m, 4×1, 4×4 and field events like shot-put, mini javelin and long jump.
On April 19 the Norwin Unified Track team had their first meet of the season. This night was the teams senior night as they competed against Franklin Regional.
Below is the following of all the Unified Track athletes score from their first meet with Franklin Regional.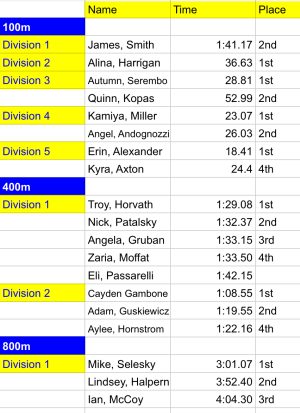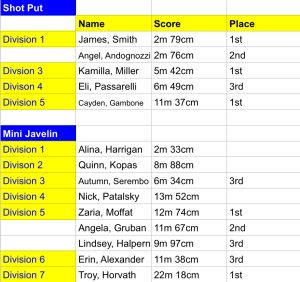 This Unified Track season has started to bring more students together, making their season this year way more successful than last year. This year the Unified Track team made a comeback with winning second in the Regional Championships as they competed against Franklin Regional, Mount Pleasant, Belle Vernon  and Hempfield. They will be moving onto states later on this May.

The impact that the buddy's have on their peers has been so strong which has brung the team closer, this positively affects their performance at meets. With everyone cheering on their teammates reflects on all the athletes performances.
"Unified Sports has definitely increased the athletes' overall confidence and social skills.  I have seen very shy students become leaders not just during Unified events but across all settings," said head coach Mrs. Essay. "These students have increased their interactions and willingness to join in conversations and peer activities.  Even parents have noticed how much more interactive their children have become. Unified Track has increased students' motor skills as well. One student in particular, was typically one of the last to cross the finish line in the 400 race in 2022.  This year, he has increased his time so much, he is now one of our top 400 racers!   Unified partners, as role models, have given athletes the opportunities to increase and learn more age appropriate behaviors.  Unified Sports, both bocce and track, have been wonderful experiences for all of our students.  I see students in regular education and special education interacting and including each other more than ever as a result of Unified Sports!"
Being involved in Unified track as a peer is a big responsibility. You have to be dedicated to sportsmanship and have support towards all your teammates whether you're winning or losing.
"My favorite thing about Unified Track is making friends and spreading inclusion to be included with my friends." Unified Track athlete Eli Passarelli (11) said.
"
My favorite thing about Unified Track is making friends and spreading inclusion to be included with my friends."
— Eli Passarelli (11)
There are so many important memories Unified Track can bring out for each person involved.
"Running with my friends and winning meets with my team are my favorite things in Unified Track." Unified Track athlete Nick Patalsky (11) exclaimed.
Sadly for some athletes this season was their season last with the team. The seniors on this team include,  Ian McCoy, Quinn Kopas, Aylee Hornstrom, Lindsey Halpern and Zaria Moffatt.
"I would like to tell underclassman to stay involved and get their friends involved!" Zaria Moffatt said. "The more people involved, the more fun it is!"
As the season comes to end the team celebrated their accomplishments at their Unified sports banquet Sunday May 7. This banquet will include Unified Bocce athletes along with Unified Track athletes.