#TyStrong
Senior Ty Bilinsky has been one of the 100 Norwin High Schoolers  to be stricken ill with the COVID-19 virus. As he thought that he was getting better, he was hit with other health issues that have kept him out of school and basketball  a lot longer than he planned.
Bilinsky had COVID for a few weeks and shortly after Christmas he suffered a stroke. Following the stroke and other testing, Ty has to see specialists concerning other health issues. Due to all of his health issues he has missed out on most of the basketball season and is likely to miss the rest.
With times still being hard due to the pandemic, senior Josh Williams started a GoFundMe (click to donate) in his honor.
"Ty is an amazing kid," said Williams. "He's a great person to be around and always puts other people first. There is n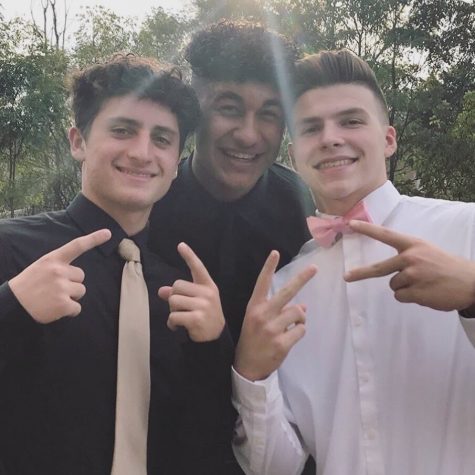 ot one person in the community who needs this more."
The GoFundMe has already raised over $18,014.  "I made the GoFundMe because Ty and I have been bestfriends since we were very young, and we always play side by side on and off the court," said Williams. "He is a brother to me so I wanted to let him know how much I along with so many others appreciate him and his family."
"Ty is getting a little bit better each day," says Williams. "He is not happy with not being able to be on the court with the team but his health will always come first."
"We are still able to see him and he still comes to basketball everyday to support us through this season," said Williams. "It has been rough without him but now we play for him. #TYSTRONG."
While Williams has been organizing all the money donated through GoFundMe, the basketball boosters and teacher Mrs. Mihalov  coordinated  a T-shirt order with the hashtag "TYSTRONG."
As of February 4, there have been over 700 shirts sold. The Norwin cheerleaders bought shirts, as well as the basketball team and  many other sports teams from other schools such as the basketball teams from:  Greensburg Salem, Greensburg Central Catholic, Pittsburgh Central Catholic, Elizabeth Forward, Fox Chapel Franklin Regional, Hempfield , and Penn Trafford.
"It has been an overwhelming amount of support," said Mihalov.
The money will go to Ty and his family to help with any expenses they may need. It has not been decided how or when the money will be presented to Ty and his family but Mihalov says they will make sure it is special.
"I have had the pleasure of knowing Ty and his family for many years," said Mihalov. "I am proud of the young man he is through all of this."
As Dr. Taylor always says, Together We Can and that's what is so special about the Norwin community.  Together we can be #TyStrong!