New era for Knights Baseball
New look Knights are different than ever before in 2023.
There are some big changes in play this season for Norwin Baseball. Between former Yough coach Craig Spisak taking over as head coach of the Knights, and a lot of new faces getting their first taste of 6A Baseball. It's been intriguing to see how the Knights have handled it all.
Starting with the coaching change; it was pretty significant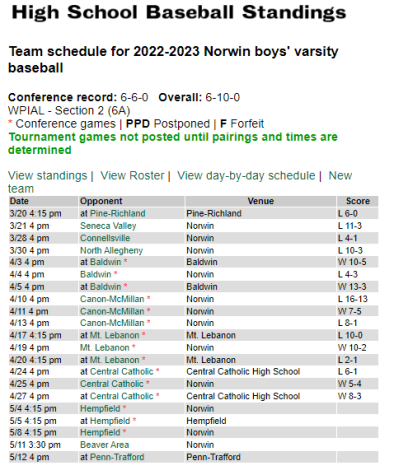 considering former coach Mike Liebdzinski ran the show for 19 years. During his tenure at Norwin, he won 8 section championships and a WPIAL title. However, Spisak does come in with experience as he lead Yough to four playoff trips during his time there.
"I think it took sometime, definitely a different style of coaching than what we are used to," said senior 1st basemen Chris Slatt.  "I think we settled in really nice and that the coaching gels with the players well."
In addition to the coaching change, Norwin lost 10 seniors from last season, 7 of which who are playing at the next level for some big Division I and II programs. The Knights do have some returning contributors however though. One of the main ones being future Seton Hill Griffin Chris Slatt who got some significant action last season. Despite all the changes he still has high expectations for the squad this season.                                                         
 "I think we should expect to go into the playoffs, and starting out the year a little slower, the teams we'll see deeper into the playoffs will see a completely different team and not know how to respond," said Slatt.               
Another player who is no stranger to 6A baseball is Penn State Greater Allegheny commit, senior  pitcher Ryan Oroz. Oroz who is Norwin's ace and go to guy on the mound thinks that some of the younger guys have handled it all well.                                                                                            
"For a lot of the guys it's their first time ever playing varsity, and I think their adapting well," said Oroz.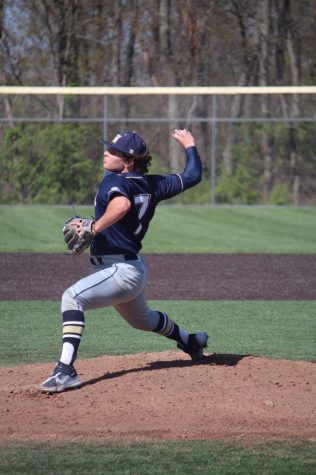 Senior outfielder and Gannon commit Justin Weaver also has had some prior experience to this season. It proved to be valuable when he hit a walk off single vs. Hempfield on Thursday May 4th that ultimately earned the Knights a playoff spot.  
However other than those guys, the Knights are pretty inexperienced. Despite it all  though some newer faces have really stepped up and done their part. For example Junior Nolan Ryan has made a big impact this season. You might think due to his name it would be on the mound, but he's actually most dangerous with a bat in his hands as he had a game in which he had two home runs. Junior Keegan Carr has also came on to the scene being one of the Knights most consistent hitters. Seniors Stephen Rodgers, Jake Auld, and Ryan Mesko have also played a crucial role for the Knights success.                                                              
It hasn't been a fairy tale start of the season for Norwin Baseball considering they started the season 0-4, but recent success has allowed them to earn a playoff spot and hopefully a fairy tale ending. 
"
I think we should expect to go into the playoffs, and starting out the year a little slower, the teams we'll see deeper into the playoffs will see a completely different team and not know how to respond"
— Christopher Slatt, 1st baseman for the Knights