Norwin Boys Lacrosse ready to win
The Norwin Boys Lacrosse team is coming into WPIAL playoff with determination. Though the team has faced some heavy losses this season, they have continued to improve throughout the season, with score differences shrinking for each new game.
"Our season so far has been a lot of ups and downs," said captain, Griffin Barton's (11). "We started off with a few losses in close games that could have gone either way. But as the season has continued we kept growing together as a team and started to play better and better everyday."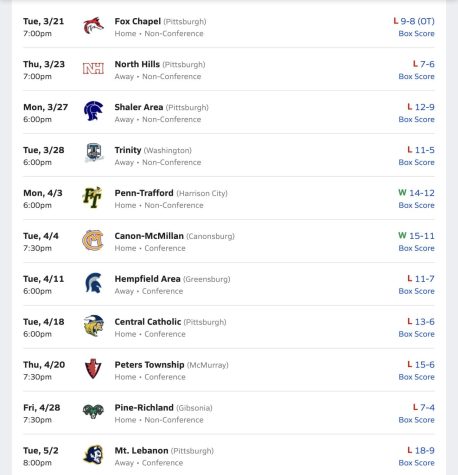 Fighting against adversaries like Central Catholic, Mt. Lebanon, Peters Township, and Pine-Richland, there have been plenty of tough games throughout the season, and competition is fierce, but Norwin's growth is showing.
"
The lacrosse season has been tough for us but we've continued to fight and have pulled through in some big ways. We have really worked hard in practice the past few weeks and have seen massive improvement especially on defense.
— Andrew Brown
"Our most challenging game so far was against Pine-Richland last Friday," said Bartos. "After a huge loss to them last year we came in with a chip on our shoulder and they were not ready for it. We kept that game very close all of the way through and although we didn't come out with a win it just shows how close we are to competing with the top teams in WPIALs."
Even with the loss at Pine Richland on April 28th and the rocky season, the Boys Lacrosse team has secured a spot in the playoffs. With all of the progress made this past season, they are ready to pull out some wins in the rest of the regular season and go as far as they can into WPIALs.
"Going forward I think we will continue to fight hard in every game and continue to push as far as we can into playoffs," said Andrew Brown (11). "Our defense has been playing incredibly well so hopefully that will continue through our last regular season games."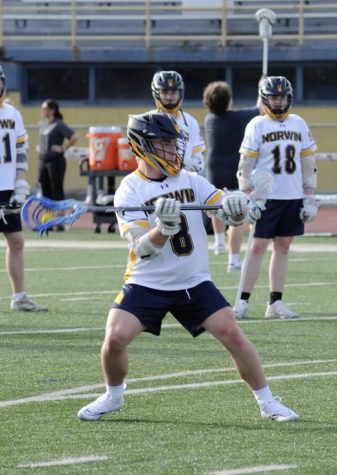 No matter how the team does in the 2023 playoffs, their best attribute continues to be their great teamwork, something that is sure to bleed into many seasons to follow. In upcoming years, the Norwin Boys Lacrosse team will be a force to be reckoned with.
"We've gotten much better at working as a team," said Paxton Stauffer (11). "Ball movement on offense and rotations on defense have improved exponentially because of this. We've also held more team bonding events this year than in the past such as a bon fire which has helped unify the team more."
Norwin Boys Lacrosse has a promising future, and though several key players are graduating after this season, they will be leaving the team in good hands.
"
I think we will continue to build on what we have done so far this season. We continue to get better and better everyday and I think it will finally start to show through the end of the season.
— Griffin Bartos
"I think we have a bright future," said Stauffer. "We're a decently young team, so as long as we can keep improving we should do well in the future. We're losing three seniors who contribute a lot to the team; Ryan Frankovic, Kyle Gill, and Toby Samek will be tough losses, but we will improve and do our best without them."