Dunkin' Donuts Valentine's Day treats review
Dunkin' Donuts Valentine's Day Treats
By: Hanna Geissler 
Iced Pink Velvet Macchiato: 
Description: "The Pink Velvet Macchiato combines our rich espresso with red velvet cake flavor and hints of smooth cream cheese icing, while the Mocha Macchiato offers a romantic combo of rich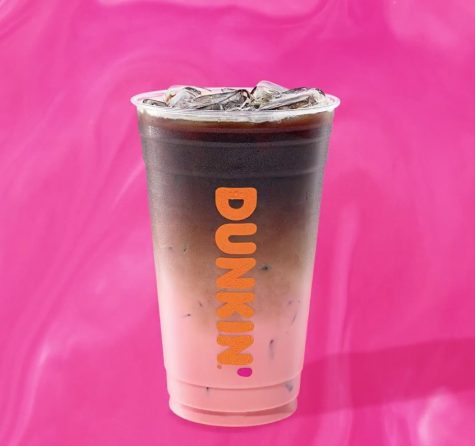 espresso and decadent chocolate flavors"- https://news.dunkindonuts.com/
Review: "It basically tasted like Vanilla iced coffee… although the color was pretty"-Savannah Lorenc.
"I would say it tasted like vanilla iced coffee but not as sweet, it was pretty though."-Grace Barton.  
Brownie Batter Donut:
Description: "The Brownie Batter Donut filled with rich, chocolatey brownie batter-flavored buttercream filling, and topped with vanilla flavored icing and chocolate sprinkles"– https://news.dunkindonuts.com/
Review: I personally have tried the brownie batter donut myself. It was covered in vanilla frosting with chocolate sprinkles, and the donut itself felt heavy. The brownie batter filling was dense but had a brownie texture to it, giving it more of a brownie taste than just chocolate icing. 
Cupid's Choice Donut:
Description: "The Cupid's Choice Donut filled with Bavarian Kreme and topped with strawberry-flavored icing and pink sprinkles."- https://news.dunkindonuts.com/
Review: "It's not my favorite, I like the classic donuts with not a lot of extra stuff on them, but It was very cute and got me in the mood for Valentines day. The sprinkles were a little too hard for my liking and probably would not get it again."- McKenzie Carson.