Norwin swim team finishes up near perfect season
     Amidst the many winter sports teams, the Norwin swimmers are standing strong with an undefeated girls record of 6-0 and an impressive 5-1 boys record.
     With the WPIAL championships just around the corner on March 4 and 5 (at a yet to be decided location), the Norwin swimmers are feeling confident.
     "As a whole our team has done very well for not being in the water and practicing nearly as long or as much as we have in the past seasons," said senior Seth Baiardi.  "Our key swimmers are every single swimmer.  Without one another, it is challenging."
     Baiardi gave some more insight into the adaptations the team has had to make due to COVID.
     "We have had to cut the team into 4 different groups based on our swimming abilities," said Baiardi.  "It has been a little bit of a transition from the last few seasons… but our team is working well together."
     In addition to having to split up the team, certain meets have been needing to adapt to the "strange circumstances" that have arisen due to COVID.
     "We might have [a virtual meet] this Tuesday," said head coach Doug Watson.  "It's very difficult to race when you're not next to someone.  Hopefully we can do all these meets in person."
     Despite much adversity this season, Baiardi looks optimistically to sections.
     "We have had a decent amount of swimmers qualify with the times we've gotten, but still are rooting to have more qualify," said Baiardi.  "I feel we will do very well at WPIALs."
     The optimism to just keep swimming is shared on the girls' side of the team.
     "We've put in a lot of work up until this point and are looking to make a run at sections this year with only a few meets left," said senior Jordan Kutchak.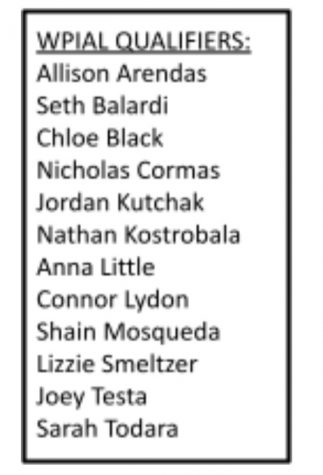 A commonality between Baiardi and Kutchak is their faith in the consistency of the team's abilities.
     "The whole team has been killing it all around and there's not one person that stands out in particular because everyone is doing so well," said Kutcahk.
     Kutchak feels that with the team will finish the season strong
     "Moving forward I'm excited to finish off my senior year with the strongest team Norwin has seen in years and looking forward to the upcoming meets that will be good competition to get cuts and hopefully win sections," said Kutchak.
    Coach Watson expressed a lot of faith in his team, and he is looking forward to how the team will compete in the playoffs.
     "I'm excited about where we're at," said  Watson.  "We have a really good team and have competed well and I think we have a lot of potential.