Casey Rose Colcombe
12th Grade, Ken and Jean Dancer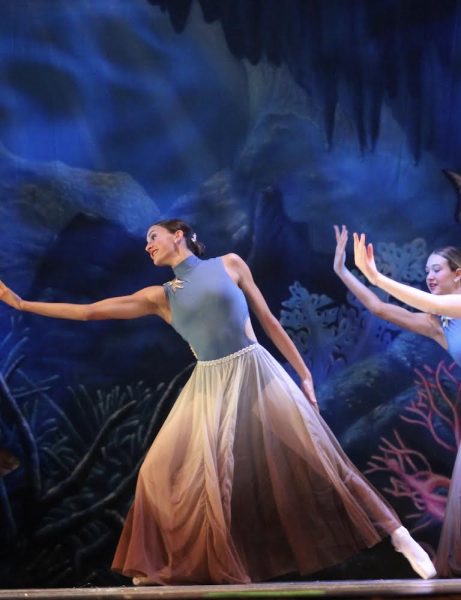 Q: What styles of dance do you do?
A: I pretty much do all types of dance, but the most frequent are Tap, Ballet, Jazz, Pointe, and Acrobatics. Tap is a fun mix of rhythm, music, and movement wearing shoes that have two small little taps on the toe and heel. These taps can make all sorts of sounds and rhythm. Ballet is a more elegant style of dance, one in which my studio does a very technical Italian style called Cecchetti. Jazz is usually more upbeat, fun and groovy, although there can be many different variations of jazz dance such as street jazz, old school jazz, and jazz funk. Pointe is also an elegant style of ballet with firm shoes in which dancers can go up on their toes in a full pointe position. This type of dance is extremely difficult and requires tremendous strength to improve. Finally, I do Acrobatics. Acro is an amazing way to improve flexibility, strength, coordination, and also provides dancers an opportunity to try some more risky tricks. Some of these tricks may include front aerials, back tucks and other strength building tricks. 
Q: Of all the dance styles you practice, which is your favorite and why?
A: I would have to say that jazz, tap, or pointe is my favorite. I guess that doesn't necessarily narrow it down much, but I truly enjoy these three the most. Jazz and tap provide opportunities for self expression and movement that just lets you have some fun with it! Pointe is so very difficult, but the drive and determination needed keeps me captivated in the movement and can build confidence when I finally achieve a goal that I have been working for. 
Q: Do you plan to pursue dance after high school/in college? If yes, please explain the audition process.
A: Yes I do plan on pursuing dance in college! Every school's audition process can look different but the majority have 3/ 4  different sections: jazz section, modern/ improvisation section, ballet section, and (depending on the school) a 1-2 minute solo performance. These auditions are usually from early in the morning until late afternoon.
Q: Explain why you are pursuing dance in college.
A: I am pursuing dance, along with a double major in Special Education/Early Education. I am pursuing both of these fields for the simple reason that they make me happy and have never failed to bring me joy. I want to be able to stay active, work with people, and help people. With dance specifically, I have never been unhappy because I am dancing. If anything, dance has always helped me feel better if something is upsetting me. I want to be able to continue that for myself and help others feel that. I always say, it is a language that only dancers can understand. This may sound cliche, but unless you have been so consumed with the music and the movement as a dancer, you will never understand how difficult it would be to let dance go. I am not yet willing to do that and that is why I am pursuing dance.