No stopping anytime soon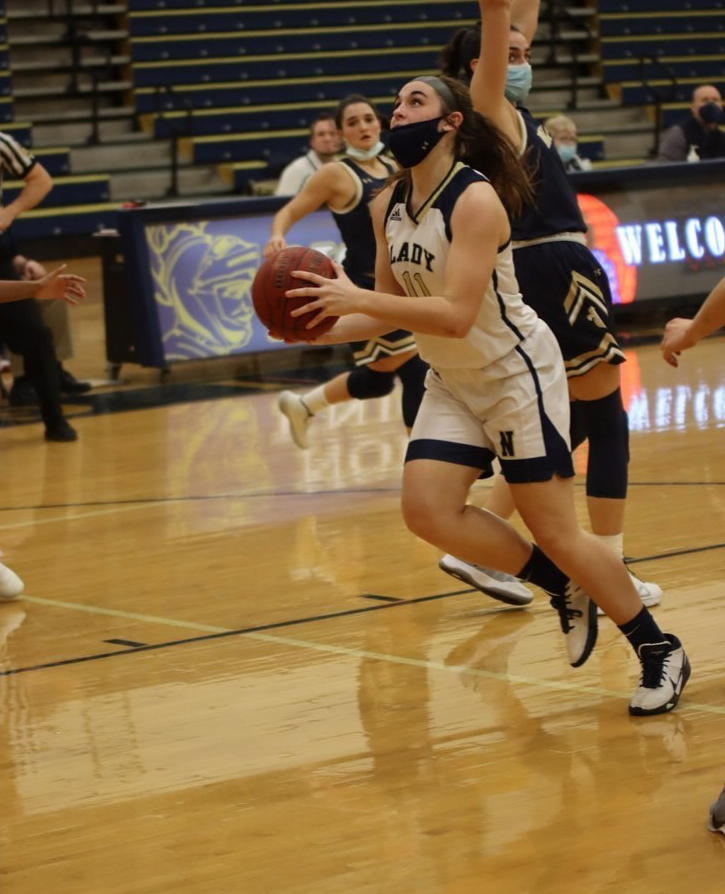 With a current record of 10-2, the girls' basketball team continues to heat up , regardless of the numerous changes and restrictions that have occurred.  According to MaxPreps.com, the Lady Knights are ranked #4 in the state for 6A, behind North Allegheny, Plymouth Whitemarsh, and Cumberland Valley.  Four of the top 10 teams in state are in WPIAL in 6A girls basketball. 
     Originally, the season was slated to begin on Nov. 28 against Penn Trafford, but due to the Governor of Pennsylvania's restriction on school sponsored sports, they were unable to do so. Thus,  on Jan. 9, the team started their season off with a conference game against North Hills, beating them 53-18.
     The Knights are off to a nearly perfect season, with only 2 losses. On Jan. 29 they faced the number 1 ranked team in the state the North Allegheny Tigers, losing 57-41. A few weeks earlier they played against their rivals, the Penn Trafford Warriors, losing by a mere 4 points.
     "We were all disappointed with the way we played that game," said senior Danielle Rosso. "However, it definitely fueled us for the next game. We knew we had to come out strong and play together as a team."
     The Lady Knights truly used their loss as motivation to win when they faced the Warriors a second time. On Feb. 11, they beat them 40-29. 
     Despite the few losses, the Knights have pulled numerous victories, whether it be through winning by over 30 points or from scoring a last second 3 pointer. The team has had a nearly unstoppable defense, making them the 4th best 6A team in the state. 
     A key moment from this season was sophomore Savannah Schneck's buzzer beater tie-breaker against the #1 ranked 3A WPIAL team North Catholic Trojans. The Knights and Trojans played on Feb. 5, and were tied 49-49 up until the last second of the game. Norwin's Danielle Rosso dribbled down the court, eventually passing the ball to teammate Mara Polcyznski, who gave a quick throw to Schneck. Instantly, Schneck turned and aimed for the hoop, landing a three pointer. As the ball flew through the air, the final buzzer sounded. 
     "Scoring last minute felt surreal," said Schneck. "It was one of the best feelings you could have. When I let go of the ball, I thought that it wasn't going in. Seeing the ball go through the hoop made me so happy. It felt really good because it was so relieving to know [that] we won. I am going to remember that moment forever!"
     As the Lady Knights approach the conclusion of their regular season with only 4 games left, they hope to maintain their winning streak going into the playoffs. The WPIAL playoff games begin on Feb. 27, and end on March 15. Schneck is optimistic about the future of the team.
     "I am confident the team will make it into the playoffs," said Schneck. "We can make it to the WPIAL (Western Pennsylvania Interscholastic Athletic League) championship too. We just need to keep going hard and play together as a team."