Breaking a record
On Jan. 19, sophomore Anna Little broke a 6 year record once held by Division 1 University of Kentucky athlete Kathryn Painter '15.
     Little swam the 100 Breast with a time of 1:07:41, breaking Painter's record by milliseconds. Along with breaking the record, she placed first in all of 4 of the events she swam in(200 IM, 100 Breast, 200 Medley relay, and 400 Free relay).
    "I was pleased to break the record," said Little. "I hope that in the future, I can make my time even faster."  
     Little's journey to success was not an easy one. It took a lot of hard work and determination. She practices at least 6 days a week. During the days when she doesn't have a team session, she goes on long-distance runs at a nearby park or swims in her  pool in the basement of her house.
     "A lot of people are surprised when they hear that I have an indoor pool," Little said.. They think that it's a normal sized outdoor pool, but put in the basement of my house. It isn't that large, and it's really designed for you to wade or hangout in."
     Little owns an "endless" pool. On one edge of the pool, there is a motor that pushes a current of water towards you. In order to prevent yourself from getting pushed to the end of the pool, you have to swim against the current. This strengthens swimmers' endurance.  
     "I have to thank my parents for the pool. I want to particularly thank my dad because he was the one who got all the materials and assembled it."
     In the beginning of quarantine, Little's father began constructing the pool. He drove as far as out of the state in order to get the correct materials for building it. After a few weeks, the pool was complete and ready to be used.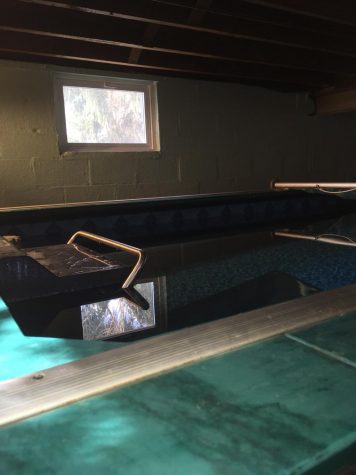 "I had to wait quite some time before I could swim in it. We had to consistently test and make sure that every part of it was attached correctly and working."
     Although using her endless pool surely helped, it was only one part of Little's success. She constantly works hard to be the best she can.
     "Anna is a great swimmer," said Doug Watson, who is the head coach of both the Girls' and Boys' Swimming team. "She works very hard and is a very versatile athlete. I expected her to break the 100 Breast record."
     Watson is very confident in the future of Little's high school swimming career.
     "I think in the next few years with her work ethic, she will continue to excel in whatever events she puts her mind to."
    Little hopes to break her own record at the upcoming WPIAL championship meet, which will be held on March 7. Along with the 100 Breast, she plans to swim the 200 IM as well.
     "I'm looking forward to competing and trying to qualify for more events this season," said Little. "I know that if I give my best effort, I can be successful. Breaking one of the records has shown me that."