Swim team goes virtual
     While winter sports are gearing up for WPIAL playoffs in just a few short weeks, COVID adaptations are still needing to be made.  Whether that's wearing masks on the basketball court or not shaking hands after wrestling matches, every sport needs to make adjustments. 
  On Tuesday Feb. 16, the Norwin swimmers adjusted by having a "virtual meet" against Hempfield.  The virtual meet consisted of Norwin swimming at the high school pool and Hempfield swimming at their home pool as well, having the times and results submitted virtually.  
     The Norwin girls beat Hempfield 98-85 while the boys fell 74-94.  While the virtual meet was an overall success, it didn't come without its fair share of challenges.
     "The virtual meet made it challenging to perform our best," said senior Ella Driggers.  "It was hard to give it your all when you did not have the person you were trying to beat right next to you, pushing you to go faster."
     There were just as many challenges outside of the water as there were within.
     "Unfortunately, we don't have divers," said assistant coach Laurie Federovich.  "The meet started at the exact same time, so Hempfield started at 6 and we started at 6.  Hempfield had divers, we did not.  So the drawback was [their] coach could watch our performances and see how we were competing."
     Federovich went on to explain that halfway through the meet, coaches can change their lineup accordingly to the race.
     "I'm not sure if they did change the lineup, but that's something that they had the advantage to see," said Federovich.  "[Hempfield] could base their races and push themselves harder because they knew what our times were."
     Federovich agreed with many of Driggers' sentiments regarding the challenges of having no physical opponent.
     "You can be as physically ready as you want to be, but if your heart and your mind aren't into it, it's hard to push yourself," said Federovich.
     Despite the adversity the team faced while not being able to see their opponent, they were granted certain privileges they didn't have the rest of the season.
     "It was also difficult to push ourselves to do our best when we were not able to know how the other team was swimming," said Driggers.  "It did, however, give us the opportunity to have the whole team down on deck cheering."
     COVID resulted in many necessary changes to take place, one of which was the limiting of occupants in and around the pool.  However, the virtual meet format helped alleviate some of these restrictions.
     "With COVID restrictions, we normally have to stay in the gym and only come on deck for our events," said Driggers.  "However, without the other team, we were able to all be on the pool deck while remaining socially distanced."
     The team's ability to have more available athletes created a stronger sense of competition where it was otherwise lacking.
     "With our past meets we only had the swimmers in the water and the coaches," said Federovich.  "So having those teammates on deck was such a different vibe for us."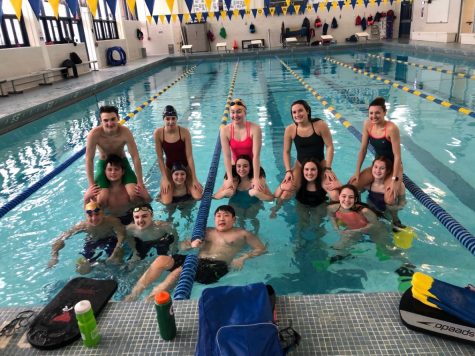 In spite of the "different vibe," Driggers admitted the situation was still peculiar.
     "It was a bit strange not having the other team show up to create a competitive atmosphere," said Driggers.  "I prefer the way meets normally are.  I like being able to see my competition and it definitely gets everyone more hyped.  Without the other team, it almost felt like we were doing a mock meet at practice."
     Driggers' coach saw the meet in a very different way.
     "Honestly, with COVID going on and with how things are, this virtual meet surprised me," said Federovich.  "I think if we had to do it again, I would prefer the virtual because our kids are allowed to be on deck and those kids push you and get you excited and in the moment."
     Ultimately, the virtual meet was an overall success, with the girls toppling Hempfield and setting up a final section match for an undefeated season against Penn Trafford on Friday.
     "Despite the unusual circumstances of having the virtual meet, the girls team was able to beat Hempfield, our biggest rivals, for the first time in a long time," said Driggers.
     With WPIALs only weeks away, the now 8-0 section champ girls and 5-3 boys finished up winning seasons after their meet against Penn-Trafford on Friday Feb. 19. The boys fell to Penn Trafford 77-91 while the girls defeated PT by a score of 92-73 and capped off a perfect 9-0 section record!
     "I am so very, very proud of these kids," said Federovich.  "One of the things that I touched base on at the beginning of the season was mental toughness.  They didn't really, truly understand why I was getting to the point of learning to be tough because we're dealt with situations and we have no control of it."