$50,000 for the future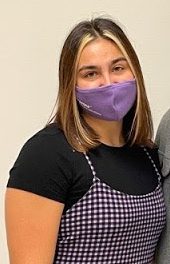 On Monday February 15, Principal Michael Choby announced that Lily Jarosz was the winner of the Richard W. Murdoch Scholarship. Jarosz was awarded approximately $50,000 towards her next level of education.     
     The largest school district scholarship is sponsored by the estate of Richard W. Murdoch, who was a 1933 graduate of Norwin High School. He was a football player and a member of the band and orchestra. Before he passed, he established this scholarship in his will. The first awarded scholarship was in 2017 and has been annually awarded since then. 
     Jarosz commented on the criteria of the scholarship explaining that it's worth about $50 grand this year and the deadline was back in mid January and we had to submit an essay, a resume, and some financial information in order to determine need.    Jarosz finished in the top  of her class for the past 3 years of high school and also a National Merit Finalist.                                            
     "I am glad that I was able to dedicate myself so thoroughly to academics but also have time to relax and have fun like playing lacrosse," said Jarosz.
     The scholarship finalists are determined by a small scholarship committee made up of a handful of teachers at the high school that review all of the scholarship applications and narrow it down to finalists. Then, the entire faculty votes to determine a winner, who must receive a majority of the votes.  Jarosz was selected to be the winner after the first round of voting, which has not been the case in previous years. Usually, the process takes several votes for a recipient to receive the majority of faculty votes needed.
   Jarosz  currently is unsure of where she plans on attending college and is on hold waiting to hear back from a few places she applied. However, she plans on majoring in Sustainable Development, a field that is based on dealing with the crossover of environmental issues as well as the political and economical aspects of it. She plans on applying the scholarship money towards books, fees, tuition, room and board.
   "The hardest part of the scholarship was probably just staying motivated over the past four years," said Jarosz.  "This scholarship is truly one that focuses on every single thing you do in high school and assesses you from there. Thus, I constantly had to dedicate time to extra curricular stuff and academics and it was tiring at times. But, honestly, this lets me know it was all worth it."