Athletes, actors, and academics: How do they really feel about all these rules?
Students in sports, clubs, and in the classroom share their opinions on all the Covid guidelines
     Students, staff, coaches, and the Norwin community continue to practice safe CDC guidelines at school events. Norwin High School athletics, Norwin Theatre Company, and Norwin classroom stress the importance of mask wearing and following CDC guidelines. Many students share the negative impact the new rules have brought to the teams, clubs and classrooms. Students participated in a question and answer interview sharing their experiences with wearing masks at school events. 
According to Norwin's district Health Plan, under all circumstances, unless diagnosed with an underlying health condition, everyone must follow all CDC guidelines during in school and out of school activities, including practicing social distancing and wearing face coverings.
——————————————————————————————————————————
LACROSSE Q&A: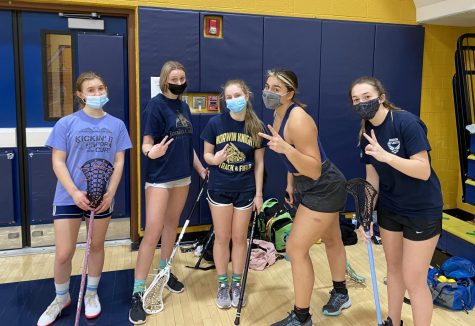 Norwin girls lacrosse team began their preseason Jan 26. The team is allowed to practice at the middle school gym twice a week and required to wear face masks the entirety of the practice. With a 30 person team in 1 gym, how is it possible? 
According to the Norwin Athletic  Health Plan, face covering rules for all athletic events follow:  All parties arriving at a Norwin Athletic venue are required to wear a face covering. Once the athletic contest begins, those participating in a physical activity must keep their face covering on. All other parties are required to wear their face covering at all times, unless diagnosed with an underlying medical condition.
Q: What are your thoughts and feelings about wearing a mask during practice? 
   A:  "We are only a month into practices and I already forgot what it's like to play without a mask," said senior Mackenzie Astorino. Astorino has been a part of Norwin Lacrosse and Norwin Field Hockey for 4 years. 
    "In the fall, it was nice being able to play outside on a giant field without worrying about masks." Norwin fall sports were not permitted to wear masks during practices or games. "Now in a tight gym with masks and mouth guards, it's for sure becoming a learning curve none of us are used to yet," said Astorino.
Q: Do you feel safe during practice? Are the masks impacting your performance? 
  A:   "I definitely feel safer wearing a mask during practice. In the small gym, it's nearly impossible to social distance," said junior Addy Schultz. Schultz is a 3 year player at Norwin. 
    "Running in the hot gym, masks quickly become sweaty and uncomfortable, it's all I can focus on." The team has been focusing on conditioning the past months, in hopes for the season to begin on March 8. "Most of us feel the need to remove the mask for a few seconds after a drill, just for comfort, or even step aside for a drink," said Schultz. 
Q: What tool, if any, has wearing masks brought to the team? 
 A:    "I'm hoping as time comes, wearing masks during games is easier since we play outdoors," said Astorino. The team must fill out a google form asking if they have symptoms, their current temperature, and if they have been in contact before practicing. "It may seem like a burden and struggle now, but as a consensus we all just want a season so we are willing to strictly follow all rules and ensure no one gets sick." 
Q: From a coaches point of view, how has the team overcome the new COVID-19 procedures?
A: "As a coach, it is necessary to be able to adapt and adjust from any conditions big or small," said assistant coach Mandy Payne. Payne has been assistant coaching the team for 3 years. "I encourage the girls to speak up when they feel ill or need a mask break outside of the gym. My biggest concern is everyone's well being when wearing the mask, especially running for long periods of time," said Payne. "I will give the girls praise, their sprites have stayed high even during the burden of masks, temperature checks, and social distancing."
——————————————————————————————————————————
NORWIN THEATRE COMPANY Q&A: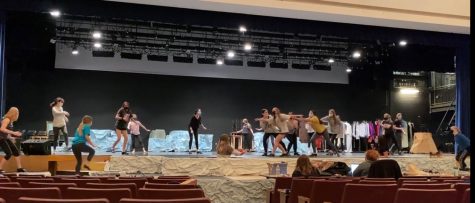 The Norwin Theatre Company follows similar rules as the sports teams, with rehearsals now being monitored by the athletic department. Before the cast members are allowed into the auditorium they must fill out the daily covid screening questionnaire and get their temperature checked. During rehearsals everyone is expected to follow social distancing guidelines, and to enforce this rule the directors put tape marks on the floor so everyone can stay within their box to ensure social distancing is done properly. The cast also has to wear a mask throughout the entirety of the rehearsal, and due to the pandemic the number of kids called for rehearsal decreased dramatically from last year. Last year,  rehearsals had upwards of 100 students but this year the most called at once is about 20 students. 
Q: How is rehearsing with social distancing and wearing a mask? Do you feel it harder to learn this way?
A: "Rehearsals have been a lot of fun and I feel like we are doing the most to be safe in practices," said Jake Bazala. " I personally do not mind wearing a mask during practice but there are certain scenes that can be harder to learn due to social distancing. There are several times where characters have to hug or make physical contact with each other and we are not allowed to do that at these times. Although the practices have changed a bit due to Covid-19 rules, it seems to me that everyone there is having a blast and the performance is going to be worth the precautions."
A: "Rehearsals have changed a lot because for scenes and songs where we would be near each other we now have to adapt to being socially distanced," said Ciara Giran. "The masks have also been an inconvenience because it is so much harder to sing and dance because you're constantly out of breath. Also, a huge part of theatre is being able to see and react to facial expressions."
Q: Do you feel safe during your after school activity? What are your concerns?
A: "Going to theatre rehearsal is super safe," said Carlin Jacobs. "We all keep our distance and wear masks for all of rehearsal. It's one of the safest activities that is going on right now within the school. The only concern I have is how peoples masks sometimes slip down, but as long as they fix it quickly it's all good." 
Q: What are your thoughts about wearing masks during rehearsal? Are you for or against wearing masks while doing physical activities?
A: "Masks have honestly become almost natural, so it feels weird if I don't have one on," said Elizabeth Zapanta. "It's taken a little bit of time to get used to singing and dancing while wearing one, but I am willing to do whatever it may take to perform our show safely!"
A: "I am all for wearing a mask during practices and rehearsals, " said Kassidee Scalise. "It is just an extra precaution that we can take to continue being able to have rehearsals and do what we enjoy. It can be a bit difficult sometimes, but I believe that if we all do our part now by wearing masks and social distancing, we can hold maskless practices sooner rather than later."
Q: Is wearing a mask affecting your performance on the stage?
A: " Yes it has," said Stephanie Cairns. " I have breathing problems so it makes it hard for me to dance when I'm leading warmups. The mask also makes it hard to hear myself talk and sing so I can't fix things with ease like I usually can." 
A: " I don't think so," said Quinn Kubistek. "In fact it encourages us to project more than we normally would which is an important trait. We haven't done much dancing and singing yet however. I could imagine that it might make it harder to catch our breaths but still hasn't been too bad at all."
——————————————————————————————————————————
CLASSROOM Q&A: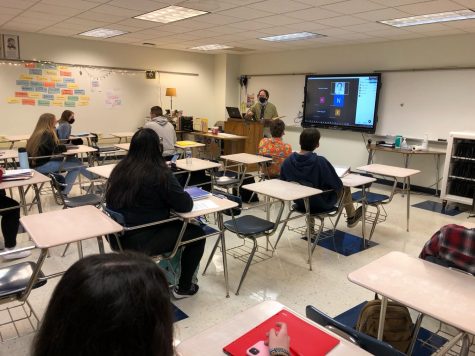 In class students follow the same rules as after school activities such as wearing a mask and social distancing. With the district announcing a plan to have the seniors return to a 4 day in-person model, it has left us with the question how do the seniors feel about returning? Do they want to return after 4 days? Will they feel safe? What will they choose, online or in person? 
Q: How do you feel about the district letting the seniors back 4 days? Do you want to return 4 days in-person, stay hybrid, or go to NOA? 
A: I feel like it's a good effort to go back 4 days," said Chelsea Vadas. "I also feel like the underclass men should go because this is their prime time basically and the seniors are done in about 2 months and have everything figured out already. We've done so many types of learning this year and I think we should stick with what we're doing now because we've been doing it the longest. I'm going to continue with hybrid because I finally got into the groove of doing something and don't want to change for the 6th time."
A: "I think it's a nice option for the seniors to have since we have lost so much this year as well as the end of last year," said Brenna Sturgeon. "Yes, I want to go back 4 days because I'm only in high school for 3 more months and I know in the future I'll miss this time in my life."
Q: Do you feel safe in the classroom? What are your concerns?
A: My concern right now is having to quarantine," said Karlie Pavlic. "I was contacted by the school in October because I was in close contact with someone who tested positive so that left me having to quarantine. Now that classrooms are gonna be full again I am concerned about getting contact traced again."
A: "Yes I feel safe in the classroom," said Allison Krygowski. "My only concern is everyone coming back and that may result in more kids getting sick." 
Q: What are your thoughts on not wearing a mask while social distanced in the classroom? Are you for or against wearing masks in the classroom?
A: I think if we are socially distanced we shouldn't have to wear masks but when we go to switch classes we should put them on because we are within 6 feet," said Riley Seabol. 
A: "Okay, obviously there are a ton of factors that play into this controversial topic," said Miah Teslevich. "I personally think that masks should still be required even if you are socially distanced. I understand that some people have problems with wearing masks but after a while you can't even tell that it's on your face. Wouldn't you rather protect yourself and the people around you? I also don't think that being socially distanced does much because although we should be 6 feet apart, there is no way that everyone is practicing good social distancing in the school. I'm for wearing masks in the classroom if it will bring us one step closer to returning back to normal, and not just in school but in the community and the whole country."
Q: How is your performance in your classes with wearing a mask, social distancing, and being half online and half in person? Are your grades better or worse this year?
A: "The only differences with in-person learning that I have noticed are some changes with the social aspects of school," said Sarah Hartner. "On the other hand, online education has definitely introduced many challenges for me in terms of learning material. Being both in-person and online has been challenging because it's like taking two different courses for the same class. My grades, overall, are the same, but my motivation levels and work ethic are much lower this year."
A: " With all of the changes this year, I feel like especially by this point, everyone has adapted to the new guidelines," said Giana Williams. "I personally think that the students and staff are doing great with the performance in classes with wearing a mask, social distancing and most people have gotten used to hybrid online learning now. I know at first I struggled with being half online and half in person but now I actually like it in a sense that all of my material is in one place and I have easy access and learning goals for the week."