Ready, set, pull!
Norwin's Trap Shooting Club takes aim at competitions
    Pull ! The clay target comes flying out into the air from inside the Trap… CRACK! You hit it! The clay target shoots into 10s of pieces, 4 and ¼ inch clay targets flying out at 40 mph, about 2 seconds to be able to hit them and blow the targets to smithereens… who wouldn't want to do this?
     Trapshooting, also called clay-pigeon shooting, is a sport in which participants use shotguns for shooting at saucer-shaped clay targets flung into the air from a spring device called a trap. Many people do not know that Norwin students participate in Trap Shooting. 
     "Our school has been offering Trap shooting for 3 seasons now. This coming March will be our 3rd spring season," said Colonel Sandala, the head of Norwins Trap shooting team and JROTC instructor. Each season last roughly 2 months.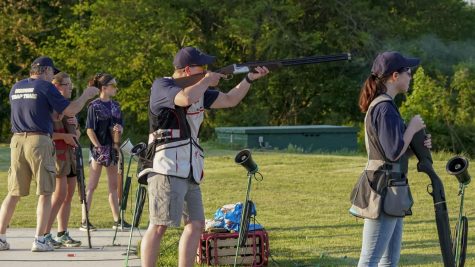 " It(Trap shooting) is open to anyone to register for until March 29th; there are not many spots left and they are filling up quickly. To do Trap you do not have to have any prior experience in shooting at all," said Colonel. 
     There are only a total of 45 spots open for the team, so don't wait too long to sign up if you want to join!
     "The team will officially start the season on March 31st with the first practice night and meet each following Wednesday night with the last league shoot being on May 19th," said assistant coach Darryl Bertani.
         If you are interested in registering for the 2021 Spring season, contact DAVID SANDALA to talk about how to register. To be able to shoot for the Trap team, students do not have to have prior experience shooting a shotgun. 
    Dave (LTC Sandala) will be the head coach and Darryl Bertani will be the assistant coach. Additional coaches include Susanna Sandala, Larry Bertolino, Andy Zborovsky, Rick Singer, Bob McClelland. Range Safety Officers (RSOs) are Brian Kosanovic, Kevin Younkin, Chuck Evans, and John Kozubal.  All the coaches and RSOs are experienced trap shooters and some are even past Pennsylvania state champs. 
The Coaches of the team are highly experienced with shooting guns and will guide students along the way on how to shoot and how to grow to become a better shooter and what to improve upon if students already have experience. 
    " You do not have to have your own gun to join the team; you can use one of the club guns at Trafford Gun Club which is where we shoot. One of the only things you will have to pay for is a small fee to help pay for targets for this year's season and pay for the ammo for the gun. The only thing you HAVE to have is a safety course completed," said Colonel. 
     This safety course could be State-approved hunter education certification or The League's Student Athlete Firearm Education (SAFE) Certification.  If students do not have these completed you can go to Hunter-ed to complete the Hunters safety course or go to USA Clay Target to get your SAFE certification to be certified to legally shoot a gun.
     "Trafford Sportsman Club is the host range and they have donated all targets for the past 4 seasons, (spring 2019-2020 and fall 2019-2020). This year there will be a range fee of $25 to offset the cost due to the number on the team increasing. We started with 22 in the Spring of 2019 and this past fall had 34 on the team."

     They also have ammo that the members can use; team members have to pay for the ammo if they get it from the gun club. Bertani commented that this year students will have to pay a fee for targets because of how many students are joining the team, which is a great thing if you think about it. 
    Trafford Gun Club has club-owned guns that they allow the teams members to use if they do not have their own gun. You will either use a 12-gauge or a 20-gauge shotgun to be shooting Trap, as those are the most common shot-guns that the members use.  
     "This sport this season is known as the "Ultimate social distancing sport," said Colonel
     When you are shooting Trap you are roughly six feet apart horizontally from the other shooters; which couldn't be any better saying the standing circumstances of COVID-19 and having to be 6 feet apart. Another fantastic thing about this sport is all of the conferences and tournaments they have. 
     "Shooters will be ranked by conference and by over all for the state. Those that make the cut, make the All State Team for the seasons. That is usually the Top 25 in the state.. Typically, there are four conferences each season and the conference you are placed in depends on the number on the team. At the end of the spring season, there is usually a state tournament that we participated in during Spring 2019. It was cancelled last year and is in the air this year," said Bertani.
     For more information on Trap Shooting and any questions or concerns about this sport visit https://www.usaclaytarget.com/ .