The modern day Annie Oakley
On Friday Feb. 19, senior Alanna Neidigh represented Norwin at the rifle individual for WPIAL. The competition consisted of 20 prone (laying down) shots with unlimited sighters, in 20 minutes at the Dormont Mt. Lebanon rifle range, competing against representatives of other school districts across District VII.
Rifle is not an official part of the athletic department at Norwin but each team still has the ability to send a representative. Since Norwin has no team, Neidigh has to work with the athletic director to contact the director of rifle WPIAL. Individual schools without a team are permitted to send one person to the competition. Schools with teams are allowed to send 5 people for individuals.
Neidigh has been Norwin's representative for 4 years. Last year she shot a 200 with 18 dead centers, which placed her at 6th out of 85 people. This year Neidigh shot a 199 with only 14 dead centers placing her at 43 out of 8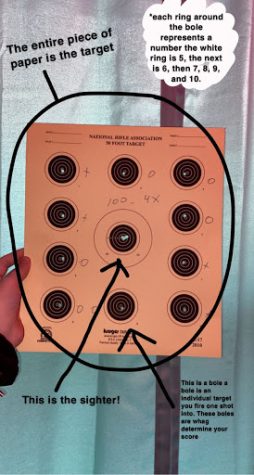 5.
The scoring for rifles is simple, if you shoot a 10 (a dead center) you have 10 points or as others may say you lose none. If you shoot a 9 (one away from the bulls-eye) then it's a minus 1 so you lose 1 point. If you shoot an 8 then you lose 2, if you shoot a 7 you lose 3 and so on. If you completely miss the bull it's minus 10 points or a no count and you get no points. The most you can get is 100. There are 10 boles (see captioned picture) on a target and you shoot on shot in each. The middle bole is for the sighter. The sighter allows you to take as many shots as you would like before you move on to the 10 shots that will count for a score.
When shooting for a high school in Western PA, you only shoot prone (laying down), but in Eastern PA you shoot 3 positions, which consists of prone, kneeling, and standing.
"It has been awesome being able to represent Norwin in rifle for 4 years," said Neidigh. "I can't wait to see what collegiate rifle will bring me in the future."
While Neidigh has shot for WPIAL for 4 years she has also partaken in a 4 position (prone, sitting, kneeling, and standing) league called the Pittsburgh Suburban Rifle League. She has been a member of this league for 7 years and continued to progress as a competition year after year. For the 2020-2021 season, Neidigh maintained an average of 295 out of 300. She ended up placing 5th in the league and taking the High Lady award as well as the High Junior award.
"Alanna has the drive to shoot," said Neidigh's coach Dean Trew. "She came to our team 2 years ago and has been a huge part of our team and a big help to our team."
Neidigh still has some competitions coming up. She will be participating in her final high school match March 6 in the Eastern PA high school season for the Interscholastic 3-position match and the 60 shot air rifle match.