Wrestlers continue run through postseason
Altieri becomes the state runner up, Kranitz snags 5th place
(Published March. 16)
     Since senior John Altieri and junior Chase Kranitz began to prepare for stateson March 13, they had to prepare themselves to be willing to adjust to the new atmosphere at the PIAA tournament. 
     Due to the new COVID-19 rules and regulations, everyone who has advanced far enough to make it to states, the top 8 in each weight class, is already ranked high enough to leave Hershey with a PIAA medal. Although the state tournament is going to look different this year, Coach Martin has high hopes in Altieri and Kranitz.
     "It is a unique situation this year. Everyone who made it to the state tournament this year already will leave with a medal," said Martin. "So, the outcome I am looking for is not so much results-based. I want to see John and Chase put together their perfect match! Sure, us coaches want both to leave as state champions, but there is one thing we can strive for, the perfect match."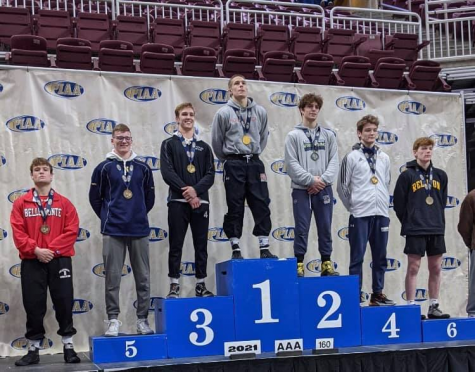 Altieri and Kranitz didn't have a problem adapting to the new atmosphere at the tournament. At the start of the tournament both athletes were successful right out of the gate. 
     Kranitz made it through two rounds of wrestling before losing in the third round. Kranitz placed 5th overall in the 160lbs weight class. 
     "I am extremely proud of Chase," said Martin. "Chase was able to beat two wrestlers that he had lost to last weekend, which is fantastic!"
     As for Altieri, he fought his way through the tournament to the championship match. John's championship match was the most exciting match at the tournament. Unfortunately, Altieri lost 5-3 to place 2nd overall in the 145lbs weight class.
     "I am beyond proud of John," said Martin. "His match was so exciting, but he just came up a little short. Although, Altieri was selected to represent the WPIAL at the Pittsburgh Wrestling Classic the first weekend of April. This is an incredible honor as the Pittsburgh Wrestling Committee only selects one wrestler per weight class to represent the WPIAL." 
     After an extremely successful weekend for both Altier and Kranitz, it is important to look forward. Senior John Altieri will be attending Clarion University in the fall of 2021. Now that he is a D1 athlete, Altieri must begin to prepare for transitioning from a high school wrestler to a D1 wrestler. 
     "There are many very high level tournaments I will be participating in during the off season," said Altieri. "I am super excited and the goal is to just get better and better and be ready to go compete at a high level right into college."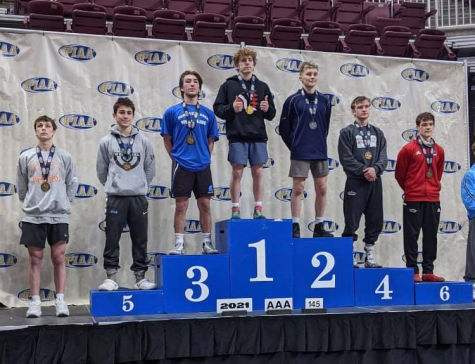 As for Kranitz, he prepares to perfect his skill on the baseball diamond while continuing to hit the mats to even further develop his still. 
     "Chase has the ability to be a state champion next year," said Martin. "The next six months will be incredibly important for hik to accomplish that achievement, but we are willing and ready to do whatever it takes to see him reach his goal."
     The PIAA state tournament was overall a great success for both Altieri and Kranitz, especially as they continue their career in wrestling. Congratulations to both athletes on achieving their goals and having a great individual season.
___________________________________________________________________________________
(Published March. 11)
     Due to COVID, the matches leading to the PIAA tournament were split into Super Regional groups to help with social distancing. Altieri and Kranitz competed, on March. 6, against some tough athletes from the South Central Region and Northwest Region. 
     "The feeling after winning was really the same as last year. My goal last year was to get to the state tournament and get on the podium. But this year my mentality is different," said Altieri. "Of course my goal was to qualify for state but I want to win this thing! And at Hershey, I'm not going to be happy with anything less than that state title."
     Altieri got his wish. Altieri and Kranitz both punched their ticket to return to the state tournament. Krantiz pushed his way through the ranks and placed 3rd in his weight class. Unfortunately, Altieri had a major take down that made many people nervous and stopped his climb as he placed 4th. Altieri's competitor illegally slammed him onto the mats. This hit knocked out John for a few minutes. And shortly after he was knocked out he was rushed to the hospital.
     "I got rushed to the hospital but lucky nothing in my neck or spine broke," said Altieri. "Just a sprained and a bad stinger and I'll thankfully be able to compete in states."
     After the extreme scare at the match, Altieri and Kranitz will thankfully return to the PIAA tournament. 
---
(Published Feb. 28)
     Even though the team suffered a tough loss, 8 individuals advanced to WPIAL individual sections. At the section match on Feb. 20, senior John Altieri and junior Chase Kranitz both won their section. Senior Tanner Babeo placed 2nd in his section. All 3 wrestlers advanced to the WPIAL championship. 
     "I have complete confidence in John, Chase, and Tanner's mindset. They are students of the sport, they are confident, but most importantly they are having fun," said Martin. "The road to WPIALs and state is more difficult this year with COVID adjustments made to the qualifying process, but our guys have adapted all season, have gained through shutdowns, and have done everything right to put themselves in the best position to move on." 
     Coach Martin was not wrong to have high confidence in these three athletes. On Feb. 27, senior John Altieri and junior Chase Kranitz both moved on and competed to advance further and hopefully make it to the PIAA tournament.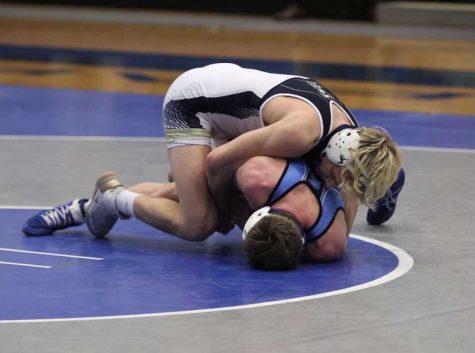 "John and Chase punched their tickets to the final. We were able to feel a sense of accomplishment for a few seconds, but we needed to start prepping for the finals. So, the immediate excitement was short-lived," said Martin. "Proud is an understatement of how I feel about the performance of John, Chase, and Tanner!"
---
(Published Feb. 19) 
     The boys wrestling team finished an extremely successful regular season. At the end of the regular season the boys record was 12-3. The team is ranked 3rd in the section behind Connellsville (1st) and Thomas Jefferson (2nd). The wrestling coach, Kyle Martin, explains how this was a good end to the team season.
     "We started the year unranked in both states and the WPIAL. We were also projected to finish 5th or 6th in the sections," said Martin. "We ended up ranked 8th in the WPIAL, 21st in the state, and finished 3rd in the section. I guess I am proud more so of the development of the team rather than the results, outcomes, and end of the season." 
     Although the team ended their season on a better note than expected, some wrestlers still feel they could have advanced further. Senior John Altieri explains the tough loss to end the team's season. 
     "We wrestled pretty well and grew as a team throughout the season," said Altieri. "But losing out to Connellsville really hurt. I was super confident we could have beat them and made it further into the team race."