Welcome back Knights!
Norwin schools K-12 return today for full 5-Day Instruction.
    Welcome back Norwin! Major changes are on the horizon for Norwin students. During the school board meeting on March 8, Superintendent Dr. Jeffrey Taylor announced that beginning on March 19 ALL GRADES will be returning to the traditional 5-Day in-person learning model. 
     Just a few weeks ago, the district sent a survey to the parents of its students that listed 3 potential options for learning models, and a full 5-day model was not on the list, only a 4-Day Model initially was initially listed.  The announcement of return to 5-Day learning shocked many members of the audience, as well as those who found out in the days after.
     "I feel that the school district is not ready to safely return to a 5-Day model," said junior Zachary Moffat at the School Board meeting on March 8. "This decision affects students that want to stay hybrid as well as students that feel safe enough to return to 5 days. Even though students are given the option to remain hybrid, the fact that many more students will be in the building affects the safety of hybrid students."
     Some, though, had a much more positive reaction to the announcement.
     "I learn better in school because it makes me pay attention," said senior Jake Bazala. "I am happy we are going back, to say the least."
"I'm honestly happy to have a normal end to my senior year," said Brenna Sturgeon.  "I'm not concerned because when I was in school this week a bunch of teachers as well as Dr. Choby were very strict about social distancing and students wearing their masks correctly"
     Of course, it's not just students who are impacted by this decision; teachers will now have larger classes. According to high school principal Dr. Choby, around 1000 students will make their way back into the senior high building for 5 days of in-person instruction. Additionally, they will face the removal of an asynchronous Wednesday, a day where no Zoom classes are held, lesson plans are made, and work is typically caught up on.
      During the comments section of the school board meeting on March 8 students Nick Markovina, Sam Taleff, Max Christopher, and Zachary Moffat spoke out against switching to 5-Day learning at this point in the year. 
     "I feel that, if we were to return to a 5-day model, there would be serious concerns such as a lack of social distancing and mask-wearing not being enforced," said senior Sam Taleff.  "I believe that these concerns would become a significant safety problem within our school."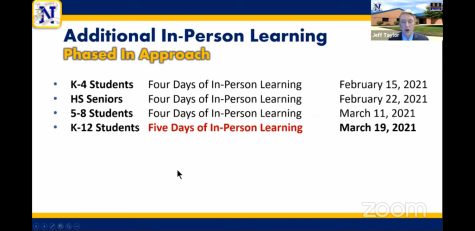 While safety has been a major concern for many students something else that has been on the minds of students has been what will happen with extracurricular activities and end of school year events if cases begin to rise again. 
     "My biggest concern returning five days is obviously health and safety," said junior Max Christopher. "That's top priority.  But from a more personal/selfish level, I'm concerned about extracurriculars.  Athletes and theater kids have been working hard all winter and no one wants to see the musical or seasons delayed or cancelled."
     One of the common frustrations that students have had throughout the entirety of this school year has been how community members, who are not in the schools everyday perceive what exactly is happening inside. 
     "I want people to know that in school there isn't any social distancing in between classes, at the lunch line, and in some of the bigger classes," said junior Zachary Moffat. "I think it's also important for people in our community to know that many students aren't properly wearing a mask and aren't getting corrected for not doing so."
"I'm a little nervous about most students being back all 5 days," said an anonymous senior. "I feel like this was a little premature which is why I have chose to stay hybrid. I don't think there is enough space in classes to social distance and because of that we are putting a lot of students at risk. At this point I'm just ready to graduate."
With the return to 5-Day In Person learning on Friday March 19, some building modifications were made at the high school.  Approximately half of the chairs have been moved from cafeteria, where students are now sitting facing same direction and more socially distanced.  The chairs have been set up inside the auxiliary gymnasium for expanded seating for influx of new students.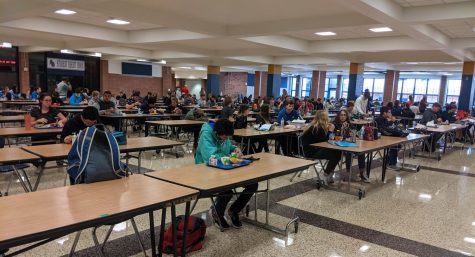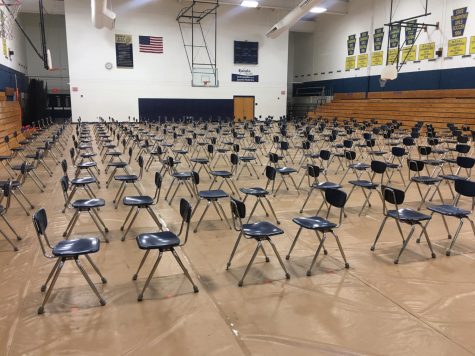 As of March 19 there are currently 4 active COVID-19 cases district wide (LINK TO COVID-19 TRACKER), 3 of those being in the high school. For the high school to shut down, there must be at least 6 cases for a possible 3 day shut down and 11 or more cases for a full two week shut down.
"With there already being 5 cases in the high school [as of March 12] it makes me worried to see how that number will go up when there are at least a couple hundred more students in the building," said junior Jessica Kessler. "We are already one away from a possible three day shutdown. I'm concerned that when we do go back seeing higher numbers like that will just become a normal thing."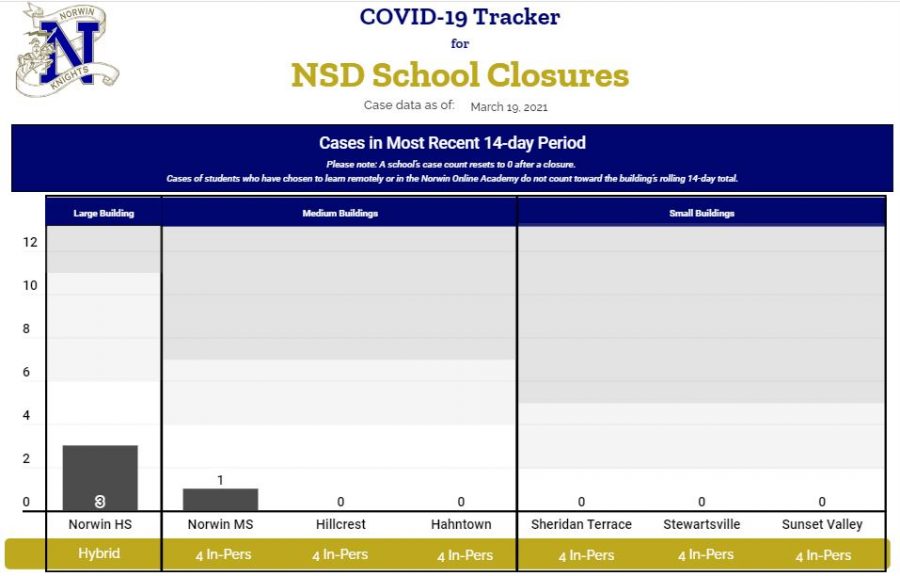 Even the students who are speaking out against returning to 5 days are able to see the potential in this move. 
     "I definitely think coming back five days has the POTENTIAL to be a good thing," said Christopher. "If proper protocols with mask wearing and social distancing are followed, things should hopefully run smoothly."
    While there are many concerns floating around the student body some students see returning to 5 days as having the potential to be a good thing. Whether it's no more Zoom classes or finally having that in person connection again with friends there is potential for returning to be the beginning of life returning to normal. 
     "I think going back now will help many students with messed up sleep schedules or with restoring their motivation," said senior Ethan Dutka. "Personally I'm just looking forward to having a little bit of normalcy again. It feels like the last time normal was actually normal was so long ago."
"I think it's important for a lot of people because it is hard for many to focus at home, " said senior Quinn Kubistek. "I'm still worried about how safe it's going to be though."
      Many students have expressed the difficulties they have experienced with being able to really focus at home and many feel that going back may finally kickstart their motivation. Some also feel that this might be setting up the stage for next year to start off on a better foot than this past year did. 
    "A positive to going back to a normal school schedule lets many seniors prepare for college in the fall," said junior Emily Hunn. "I think it will also help underclassmen to return back to a normal schedule in the fall, assuming this upcoming school year will remain five days." 
     Overall student's feelings about returning to 5 days are mixed. As with the entire pandemic, the future is unclear and it remains to be seen how the return to 5-Days will unfold.  But for now, WELCOME BACK NORWIN!
Leave a Comment
About the Contributors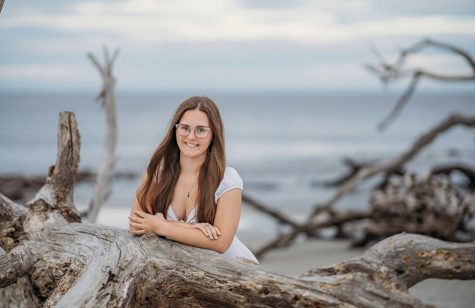 Ashley Cramer, Vice President/ Editor
Ashley is a Senior at Norwin High School and has been participating in writing for the Knight Krier for two years. She also is the club president for Norwin's...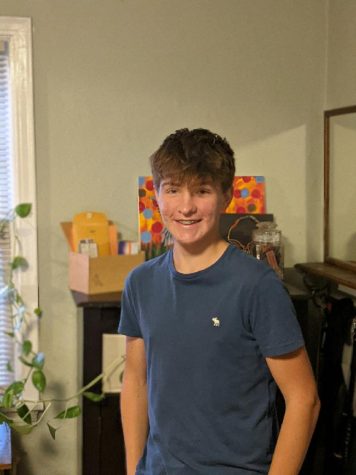 Oliver Hinson, President/ Website Manager
Oliver is a senior, and he has been a part of the newspaper staff for 3 years. He covers a wide range of topics, from school news to student features,...