Norwin Unified Bocce team wins big
Norwin's Unified Bocce team has a bit of a different look than most sports teams.
 Norwin's Unified Bocce team faced Deer Lakes on March 11, and after nearly 3 hours of action, they finally came out victorious.
     The match, which took place at Hahntown Elementary School, featured 3 separate games, one of which was a tiebreaker. After losing to Deer Lakes 4-3 in Game 1, the Knights won handily in Game 2 and pulled out a nail-biting 5-4 victory in Game 3 to bring home the win.
     "I'm very proud of our team," said Coach Rittenhouse after the game. "They used their strategies very well and helped each other out on the sidelines a lot."
     For those who don't know what bocce is, here's some general rules for the game. The main concept, though, is that one player rolls a ball into the middle of the court (or at least close to it) and each team of 4 rolls their 4 balls to get them as close to the center ball as possible. The team with the closest ball gets 1 point for every ball that is closer to the center ball than the losing team's closest ball. It may sound a little complicated, and it's not a mainstream sport by any means, but for the student-athletes on Norwin's Unified Team, it means everything. As a Unified sports program, the Bocce team features both students with and without disabilities, and it gives those who have special needs the opportunity to play a sport that conforms to those needs when other activities don't.
     "Students without disabilities have the opportunity to perform at every other sport," said senior team member Sydney Willig. "Now, we're giving those with disabilities the option, just like we have, to pursue their dreams, be athletic, and even win a letterman's jacket."
     This opportunity is fairly new to Norwin; the Bocce team is only in its 2nd year of existence, and before it was created, the only sport of its kind was Unified Track and Field. Unfortunately, some students have needs that prohibit them from running or participating in field events, which made the addition of the Bocce team all the more important.
     "Track is awesome, but it's not as accessible to everyone as bocce is," said Rittenhouse. "Literally anyone can play this sport. When I saw it being played at a Unified sports conference in Slippery Rock, I knew we needed to have it here."
     The aspect of bocce certainly makes it different from other sports, but it doesn't stop there. One of the other things you'll notice at a match is that after every roll, the stadium is filled with applause… from both teams. Positivity reigns supreme in the atmosphere of these games.
     "We're all just happy to play," said Rittenhouse. "We're all happy to be part of a team, and happy for each other. We try to have positivity at practice, and I think it rolls over into games, mainly because we all respect each other and how special this whole thing is."
     Despite this, though, having pride in your team is still a large aspect of the sport; in fact, one of the most peculiar things about bocce is that no individual statistics are recorded. The only thing that is kept track of is the score of the game itself.
     "The name of our program is Unified Bocce, so we win together and we lose together," said Rittenhouse. "We do celebrate quick individual successes, but we focus on the team more than anything."
     Unfortunately, while most of its elements make it unique, the bocce team was affected by COVID-19  like every other sport. No spectators are allowed at games, social distancing is required on the benches, and masks must be worn at all times.
     "It is less fun, and a lot more quiet," said Rittenhouse. "When fans are allowed, their parents, friends, and teachers get to come, and it's usually a lot more exciting."
Fans or not, though, the Unified Bocce team still gives the chance to play a sport to those who deserve it, but often don't get it. According to Coach, that's what it's all about.
     "Being part of a team is one of the best things you can do as a young person," said Rittenhouse. "It teaches you a lot of valuable lessons and skills, and I'm glad that these kids have the chance to not only be on a team, but feel valued as well."
Leave a Comment
About the Contributor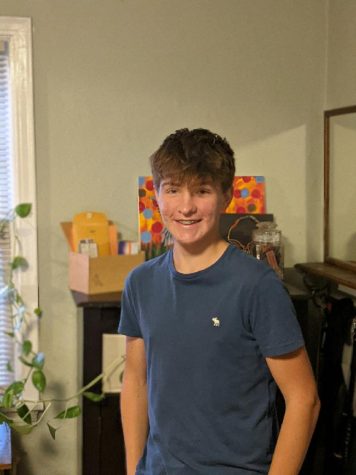 Oliver Hinson, President/ Website Manager
Oliver is a senior, and he has been a part of the newspaper staff for 3 years. He covers a wide range of topics, from school news to student features,...