Knights prevail at Model United Nations conference
On March 18, eight Norwin students participated in a Model United Nations conference hosted by the University of Pittsburgh Asian Studies Center.
     Despite the challenge of the conference being virtual, participants continued to work together, creating solutions to realistic world-like problems.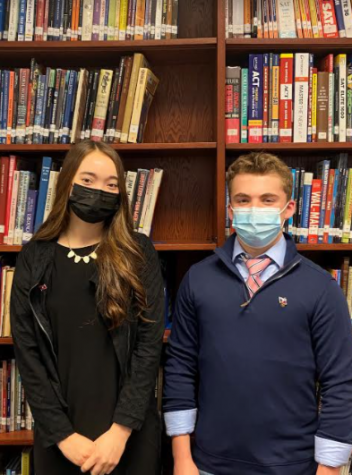 While all participants of the conference delegated well, two stood out. Freshman Andrew Brown and sophomore Maleah Phetsomphou, who represented the People's Republic of Laos, won the award of 2nd Best Delegation.
     "Going into the conference, I was hoping to better myself as a delegate and get some more experience under my belt," said freshman Andrew Brown. "I knew that my partner and I were in good shape from the first few rounds of debate. We then sealed the deal in the second half."
    At the conference, there were five addressed topics. In the morning session, two "crisis" topics regarding North Korean nuclear aggression were discussed. In the afternoon session, three topics regarding labor, environmental, and state-owned enterprise issues within the RCEP (Regional Comprehensive Economic Partnership) were  delegated.
"Overall, I am very happy with how the conference turned out," said Model UN Club Sponsor Mrs. Sturm. "I think that all of the students did a wonderful job and put forth a great deal of time and dedication. While I think the students did a great job I cannot wait until conferences return to normal.  I feel that the students gain so much more from the experience when they are there in person."
     This year, the Knights have one remaining conference to attend. It is hosted by Westminster College and will be held virtually on April 15.