Meet the Snowbergers
March is National Athletic Training Month. Let's take some time to honor the people who help our athletes stay happy and healthy.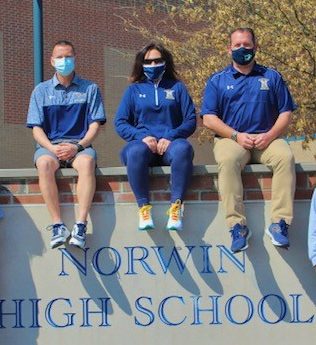 Being an athletic trainer is difficult. Taking care of nearly 2000 athletes, though? That's incredible. Norwin's athletic trainers are some of the most important people in our district, and taking the time to commend them for their work is crucial, especially during National Athletic Training Month.
     David and Angela Snowberger have been Norwin's athletic trainers for the past 5 years, and their positions have a plethora of responsibilities. Athletes have to be treated around the clock, and that includes pre-game preparation and post-game recovery, as well as anything that takes place while the action is happening. In addition to that, communication is a major part of their job, whether it be with coaches, parents, other doctors, or Norwin's athletic director, Mr. Burrell. No days can truly be taken off, as in a district of this size, someone always needs help. According to them, that is one of the biggest challenges that their role presents.
     "We have a lot of kids, and there's only two of us," said Mrs. Snowberger. "We are drawn pretty thin every day trying to cover everything and have our faces be seen, and making sure the kids know who we are and are comfortable with coming here. It's a challenge, but ultimately, we've been finding a way."
     Despite the time and effort their job requires, there's always an upside, and it's at the fundamentals of the position itself where the Snowbergers find their satisfaction.
     "There's 1500 kids at the high school, and when they arrive here, we don't know them," said Mr. Snowberger. "As kids get hurt, we work with them, we rehabilitate their injuries, we get them back to playing safely, and we get to know the kids. That's the best part of the job."
"As cross country and track coach for many of the years the Snowbergers were here, I oversee close to 200 athletes a year," said Brian Fleckenstein, cross country and track coach.  "Without Mr. and Mrs. Snowberger, dealing with injuries throughout the year would not be possible.  It is a great relief as a coach to know that he or she can turn athletes over to the trainers and know that they will be getting top notch medical care and speed them along the road to recovery.  They are as much an integral part of the sport as any aspect of our programs."
     As for the specificity of working at Norwin, they have held this role for years now, and they show no signs of stopping. While some would get tired of the constant stress at a large school, they do not seem to have any desire to leave, and even if they found a different position, they say it would not feel the same as their current job. 
     "It's hard to explain how many relationships we've been able to develop in the years we've been here," said Snowberger. "Seeing kids develop into young adults and move on with their lives has been phenomenal, and everyone here puts the athletes first. It's just a part of a really good community and team."
     It's far from just the Snowbergers who would like to see their faces here in the future; they have played an instrumental part in Norwin's athletic success over the years, and the people here are extremely thankful for it.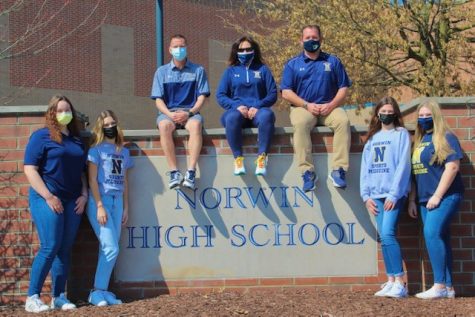 "The athletic trainers are members of our team just like our players and coaches," said varsity football coach Mr. Brozeski. "They take tremendous pride in their work and go above and beyond to help not only the players on the football team but all Norwin student athletes they work with. We are very fortunate to have such a great group of athletic trainers."
     It doesn't take long for their work to make an impact on someone; Matt Calas, an intern from Chatham University, has only been working with Mr. and Mrs. Snowberger for a couple of months, but already, he can see that something special is happening here. 
     "I'd say that my experience has been fantastic," said Calas. "They made me feel welcomed, and they have pushed me and taught me how to be a better athletic trainer. As much as doing rehab sometimes sucks, they make it enjoyable. They are always smiling under the masks even though they may have twenty other things going on. I have thoroughly enjoyed my time at Norwin and was given a great insight into what it's like to be a high school athletic trainer."
     When it comes down to it, though, the people who are most thankful are the students they have helped along the way. They may be one of thousands, but each and every one of them is eager to share their praise of Norwin's athletic training staff.
"
"The athletic trainers are members of our team just like our players and coaches. They take tremendous pride in their work.""
— Coach David Brozeski
     "Angie and Dave are great," said senior Kennedy Soliday. "I've played soccer the past four years and they have no doubt gotten me through it. I'm so grateful to have them for high school athletics. Going to the trainers is a burden for some but I loved it. They aren't just athletic trainers to me. They're the best people to talk to and I'll really miss them when I go to college."
     We can't predict the future, and we don't know how long the Snowbergers will be here. On behalf of everyone in the Norwin Athletics community, though, let's hope it's for a long time.
"I am a big believer as a coach in preaching about the importance of FAMILY," said assistant track and head cross country coach Brian Fleckenstein.  "The Snowbergers treat all of their athletes like their family.  They are a part of the Norwin athletic family and part of what makes Norwin such a special place to coach."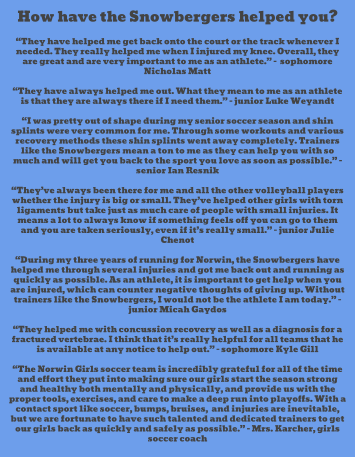 Leave a Comment
About the Contributor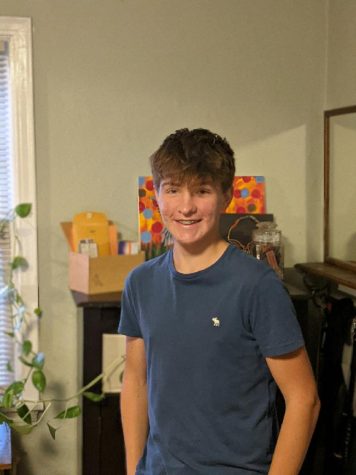 Oliver Hinson, President/ Website Manager
Oliver is a senior, and he has been a part of the newspaper staff for 3 years. He covers a wide range of topics, from school news to student features,...