No time to relax
    Cancellations, postponements, and rearranging schedules have felt like the normality for the past year, especially for spring sports. It has been almost 700 days since the Norwin Lady Knights Lacrosse team has stepped foot on the field to play a game. The official season began on Monday, March 8, and the team did not hesitate to get right to work and make up for all the lost time.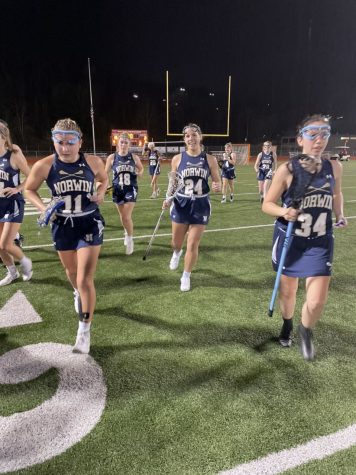 "The season has been a little bumpy to start. The team is smaller this year than it typically is and have struggled to establish accountability and dedication among the team. This is so crucial, especially considering that the team is smaller, because we really need to work together to win games." said defensive player and senior captain Lily Jarosz. "I would say it has been getting better since the start of the season though. The bond is getting stronger and I'm hoping that translates into wins."
    About a week and a half into the season, the team was quarantined, putting a damper on the excitement and anxiousness of beginning the season and making it difficult to try and attempt to have a season as normal as possible. 
    "I just hope to see continued and increasing dedication and effort given at every practice," said Jarosz. "We may not be the most skilled team in the section but if we hustle we can win. But on another level I just hope that everyone has fun. It is easy to get caught up in the moment and always want to win. This may be my last time playing lacrosse in this type of setting so I really want to take advantage of it."
So far, the Lady Knights have had scrimmage against Franklin Regional and faced off against Plum, Upper St. Clair, and Peters Township, with a record of 0-3. 
     "The first few games were definitely not as great as we hoped for, but I don't think there is any reason to be discouraged." said midfielder and senior captain Mia Gill. "They were both tough games and we played well under the pressure. Facing difficult teams only makes us better."
     The Lady Knights plan to face off against some other competitive teams such as Penn Trafford, Latrobe, and Baldwin within the next few weeks. 
     "As far as the rest of the season goes, I hope to see some promising wins, especially against schools like Penn Trafford and Latrobe," said Gill.  "I think if the team continues to play with the effort and hustle we have shown so far, we could have a shot at playoffs." 
     Defensive player and junior captain Raveena Navalgund is not only focused on this season, but looking forward to next season and trying to develop great habits for the team's future. 
     "By showing up to practice ready to put in hard work, our team will make the most of our time and other's time," said Navalgund . "Since we are losing almost half of our team next year due to seniors graduating, us underclassmen have to ensure we represent the team well for new players."
     The Lady Knights next game is on home turf against Baldwin on home turf on Tuesday, April 20. 
    "I've been really impressed with how far the team has come, especially with all the obstacles we faced," said Gill. "The difference in our skill level from a few years ago to now is tremendous. We look like a totally new team. I'm very hopeful and excited for the rest of the season."