Love means nothing to me.
Boys tennis team off on a tough foot but coming through with a record of 2-2 so far.
  "I always believe if you are stuck in a hole and maybe things aren't going well you will always come out stronger. Everything in life is this way."  These words were famously spoken by one of the all time tennis greats,  Roger Federer. 
     This is definitely the fact for the high school boys tennis team this year. One thing for certain is with many fears coming and already in their way, this team is going to persevere out of these tough times and come through stronger.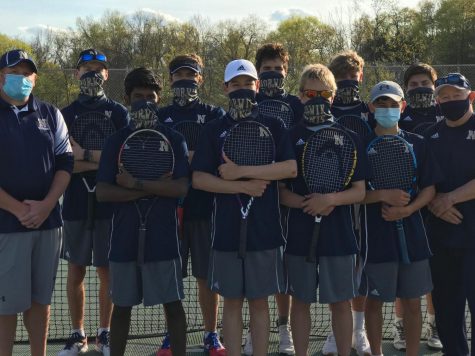 So far the boys tennis team has been off on a tough foot at the beginning of the season with many worries along the way and to come.
     "So far the season has been challenging but successful. Due to lack of interest, our team only has 9 people. One quarantine could leave us ineligible to play," said singles' player Brady Johnson. 
     Along with the tough beginning, they are going to be facing lots  of challenges throughout the season with many roads to follow ahead.
     "The main challenge this team has faced so far is lack of interest," said Brady Johnson. "We only have 9 people on the team.  We also have a few players that have never played tennis before. This is their first time playing the sport." 
   Having people on the team that have never played the sport before can be a challenge; you don't know if they are going to exceed quickly or if they are going to need help throughout the season.
      But with the worries and challenges comes that ray of sunshine through the tough times. The team still has a while to go and has a great chance of making it to the playoffs this year. Having a record of 2-2 so far in the season is a good way to start off the season. Being so early on the team has lots to look forward to. 
   "This year I am looking forward to the WPIAL playoffs. If we keep a solid record in our last three section matches, we should make the playoffs," said Brady Johnson.
     The boys tennis team for sure has not shown all they have yet and will not stay quiet about it for much longer. They are ready to get out there and show the other teams what they got and make some 'racket.'