Spring sports are back!!
BASEBALL
Up to bat after 686 days – by Megan Barry, Sports Editor
After a long 686 days since the last game, the Norwin Knights Baseball team played their first games against Baldwin. It has been a long and eager wait for the boys.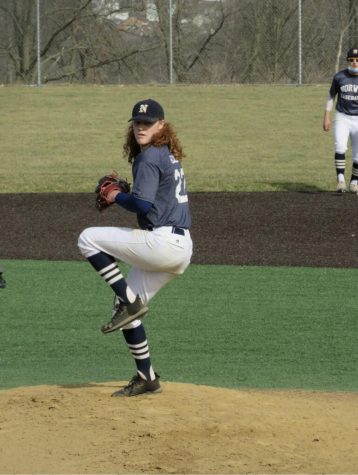 "It feels great to be back, there is nothing better than getting to go outside and play the game you love with your teammates," said senior pitcher Jacob Bazala. "We all have worked hard and prepared ourselves to finally be able to play school ball again."
     Although the wait was long, the boys did not lose their skill. The team was beyond prepared for the first conference game. They played Baldwin on April 6. and beat them with ease. Norwin walked away with a run-rule win in the 5th inning, with a score of 10-0. 
     "It's a great feeling to come back and already win, but it is nothing too special. We know who we are and the skills we possess," said senior catcher/outfielder Eric Chorba. "We are all great players who know how to win, so these first few wins is nothing to get excited about. We have a long road ahead and need to keep the foot on the gas."
     The first conference win against Baldwin on April 6, Bazala pitched a no hitter and a total of 8 strikeouts to wrap up the game pretty quickly.
     "The pitcher is in control of the game. He determines the pace and the initial mood of the game," said Bazala. "If the pitcher is able to do well and keep a solid pace it will affect the team positively. We all would be able to play more loose and enjoy the game more. This usually results in all around better play." 
     Although the boys played extremely well on April 6, you can't win every game. On April 7, Norwin lost their second game to Baldwin 4-3. 
     "We played well, we just didn't produce any offense and hit the ball when we needed to," said Chorba. "We know what we need to work in order to win the next conference game against Mount Lebo."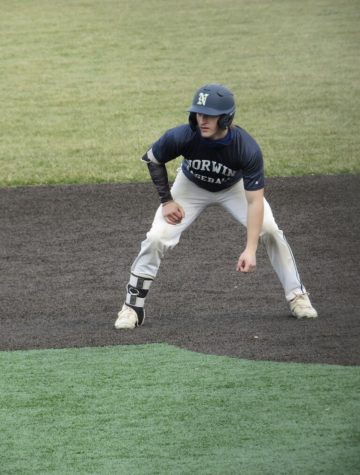 Overall, the baseball team has come back, after a long stretch of not playing school ball, prepared to win. Each player is willing to do whatever is necessary to continue to win. 
     "To us, the end isn't a specific game or title. However far our abilities and chemistry takes us will determine the end," said Chorba. "We aren't focused on the end goal, we move through the season one game at a time, then prepare for the next one. Ultimately the goal is to win, but our focus is strictly one game at a time, not the end goal."
    The season has just begun and there is plenty of time to pick back up the team's momentum and strive to win.
     "I think this start to the season is showing everyone that we aren't just a team full of 'commits' but a team full of athletes," said Bazala. "The team definitely has and plays with a lot of confidence, but do not let that fool you. We are constantly working on our craft and trying to get better because we all want the same thing, and that is to win."      _______________________________________________________________________________
SOFTBALL
Norwin softball swings for the fences – by Julie Chenot, writer
      Norwin Lady Knights softball, led by a core of college committed seniors, are off to a hot start.  The Knights are coached by Brian Mesich and  last played as a team in the spring of 2019 when they won the section title shared with 5-time defending WPIAL champions Hempfield .  
     That 2019 team lost in the WPIAL semifinal to North Allegheny, and almost two years later, the team looks to go the distance.  Led by college commits Sydney Lokay (Westminster), Bailee Bertani (Robert Morris), and Liz Waszkiewicz (Fairmont State), the Lady Knights are 3-0 in their first games.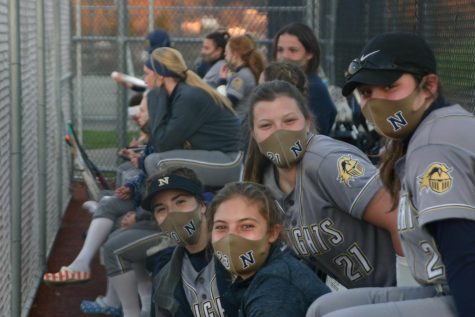 "Our biggest goal is to be solo section champs this season," said sophomore outfielder Madie Kessler.
      That goal is not far out of reach after beating North Allegheny 9-2 on April 13 behind home runs from Lokay and Kessler, as well as beating Pine-Richland 3-2 and Butler 10-0.  Lokay also threw a no-hitter against Butler.  
     The team had 5 players selected to the 6A "players to watch": Lokay, Angelina Pepe (pitcher), Mallory Wendell (infield), Kessler, and Bertani.  Other important players for the Lady Knights are Olivia Mastrilli (infield), and Julianna Shimko (pitcher).
       "One of our team's biggest improvements this season is playing as a team as opposed to individuals," said Kessler. "One improvement we should still make is that I think we still need to be more disciplined at the plate."
    The Lady Knights will continue to make their way through their section that includes PIne Richland, North Allegheny , Butler, Seneca Valley, and Hempfield.  Their next game will be on Tuesday, April 20 against Hempfield, and they rematch with rival North Allegheny on April 26.
     As the team continues to work hard, COVID-19 looms, as a 10-day program shutdown could jeopardize up to 6 games for the team.  
     "I think the biggest challenge really is wearing masks and being very diligent," said Kessler.  "Being contact traced and having to quarantine could be season ending for the team or for any person on the team."
     Under the leadership of seniors and Coach Mesich, this team will continue to swing for the fences. 
_______________________________________________________________________________
BOYS AND GIRLS TRACK AND FIELD
Track team off to a blazing start – by Oliver Hinson, Writer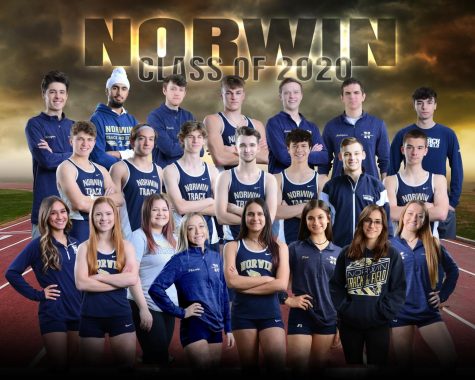 688 days. That's a long time to wait for your next competition, but because of COVID-19, Norwin's track & field team found itself in this situation. When they finally arose from their long slumber, they started things off quickly, to say the least.
     On March 30, the Knights boys' and girls' squads defeated Greater Latrobe but lost to non-section powerhouse Butler, picking up their first section win. On April 8, both cruised past Greensburg Salem, with the girls winning by a score of 134-16 and the boys winning 102-38. These victories were albeit expected, but they still were cause for celebration.
     "I think everyone performed and also improved incredibly in the first two meets", said senior sprinter Connor Chrisman. "Many personal best times and distances were recorded".
     Last year, the COVID-19 pandemic led to the cancellation of the entire track season. For Chrisman and many other athletes, the consequences of this were saddening, but thankfully, the absence was not too long. The track season was able to start without a hitch this year, and many are excited because of that.
     "It's a great feeling to be back out there," said Chrisman. "I love competing each day."
     Of course, just because meets haven't been happening, does not mean that the team hasn't been working. Practices began in January this year, and since last season, athletes have tried to keep their eyes on the prize. Now that things are starting to get back to normal, that work is beginning to pay off.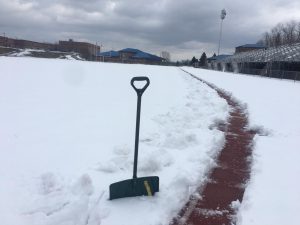 "It's exciting to have meets again," said junior distance runner Alex Walton. "We all worked so hard throughout the winter, and now, we have the chance to get out there and show what we can do."
     Despite the excitement, though, smooth sailing is not guaranteed. Like most Norwin sports programs this year, the track team has already begun to feel the wrath of the contact tracing program. Some members of the jumping team are currently in quarantine, as well as the boys' shotput and discus teams, and unfortunately, this resulted in the postponement of their meet against Hempfield, originally scheduled for April 13. With so much still left to lose, athletes are apprehensive about what could happen, not only to the team, but to the people on it.
     "I am worried about the shutdowns, but I am more worried about the safety of the students," said junior distance runner Zachary Moffatt. "If shutdowns have to happen to keep the students safe I'm fine with missing a meet."
     Even with the ongoing anxiety, it's hard not to be excited. After all, spring sports are back, and what could be better than that?_______________________________________________________________________________
BOYS TENNIS
Love means nothing to me – by Lizzy Nicholson, Writer
"I always believe if you are stuck in a hole and maybe things aren't going well you will always come out stronger. Everything in life is this way."  These words were famously spoken by one of the all time tennis greats,  Roger Federer. 
     This is definitely the fact for the high school boys tennis team this year. One thing for certain is with many fears coming and already in their way, this team is going to persevere out of these tough times and come through stronger.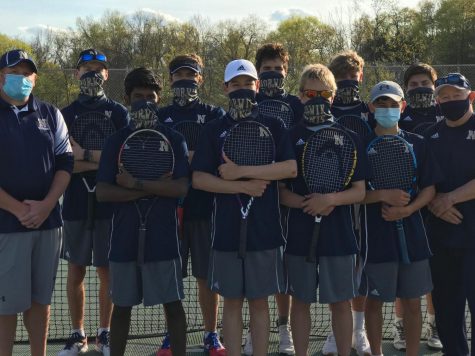 So far the boys tennis team has been off on a tough foot at the beginning of the season with many worries along the way and to come.
     "So far the season has been challenging but successful. Due to lack of interest, our team only has 9 people. One quarantine could leave us ineligible to play," said singles' player Brady Johnson. 
     Along with the tough beginning, they are going to be facing lots  of challenges throughout the season with many roads to follow ahead.
     "The main challenge this team has faced so far is lack of interest," said Brady Johnson. "We only have 9 people on the team.  We also have a few players that have never played tennis before. This is their first time playing the sport." 
   Having people on the team that have never played the sport before can be a challenge; you don't know if they are going to exceed quickly or if they are going to need help throughout the season.
      But with the worries and challenges comes that ray of sunshine through the tough times. The team still has a while to go and has a great chance of making it to the playoffs this year. Having a record of 2-2 so far in the season is a good way to start off the season. Being so early on the team has lots to look forward to. 
   "This year I am looking forward to the WPIAL playoffs. If we keep a solid record in our last three section matches, we should make the playoffs," said Brady Johnson.
     The boys tennis team for sure has not shown all they have yet and will not stay quiet about it for much longer. They are ready to get out there and show the other teams what they got and make some 'racket.' _______________________________________________________________________________
GIRLS LACROSSE
No time to reLAX – by Hanna Geissler, Writer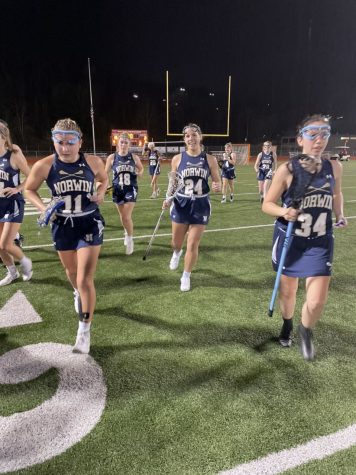 Cancellations, postponements, and rearranging schedules have felt like the normality for the past year, especially for spring sports. It has been almost 700 days since the Norwin Lady Knights Lacrosse team has stepped foot on the field to play a game. The official season began on Monday, March 8, and the team did not hesitate to get right to work and make up for all the lost time.
    "The season has been a little bumpy to start. The team is smaller this year than it typically is and have struggled to establish accountability and dedication among the team. This is so crucial, especially considering that the team is smaller, because we really need to work together to win games." said defensive player and senior captain Lily Jarosz. "I would say it has been getting better since the start of the season though. The bond is getting stronger and I'm hoping that translates into wins."
    About a week and a half into the season, the team was quarantined, putting a damper on the excitement and anxiousness of beginning the season and making it difficult to try and attempt to have a season as normal as possible. 
    "I just hope to see continued and increasing dedication and effort given at every practice," said Jarosz. "We may not be the most skilled team in the section but if we hustle we can win. But on another level I just hope that everyone has fun. It is easy to get caught up in the moment and always want to win. This may be my last time playing lacrosse in this type of setting so I really want to take advantage of it."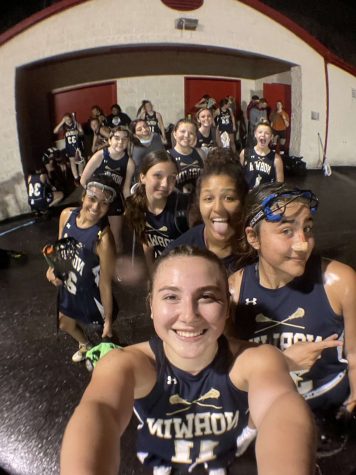 So far, the Lady Knights have had scrimmage against Franklin Regional and faced off against Plum, Upper St. Clair, and Peters Township, with a record of 0-3. 
     "The first few games were definitely not as great as we hoped for, but I don't think there is any reason to be discouraged." said midfielder and senior captain Mia Gill. "They were both tough games and we played well under the pressure. Facing difficult teams only makes us better."
     The Lady Knights plan to face off against some other competitive teams such as Penn Trafford, Latrobe, and Baldwin within the next few weeks. 
     "As far as the rest of the season goes, I hope to see some promising wins, especially against schools like Penn Trafford and Latrobe," said Gill.  "I think if the team continues to play with the effort and hustle we have shown so far, we could have a shot at playoffs." 
     Defensive player and junior captain Raveena Navalgund is not only focused on this season, but looking forward to next season and trying to develop great habits for the team's future. 
     "By showing up to practice ready to put in hard work, our team will make the most of our time and other's time," said Navalgund . "Since we are losing almost half of our team next year due to seniors graduating, us underclassmen have to ensure we represent the team well for new players."
     The Lady Knights next game is on home turf against Baldwin on home turf on Tuesday, April 20. 
    "I've been really impressed with how far the team has come, especially with all the obstacles we faced," said Gill. "The difference in our skill level from a few years ago to now is tremendous. We look like a totally new team. I'm very hopeful and excited for the rest of the season."
_______________________________________________________________________________
BOYS LACROSSE
Lax is back – by Hanna Geissler, Writer
With much anticipation and excitement after a long awaited start to spring sports, the Norwin Boys Lacrosse team wastes no time to get back into action after almost 700 days since the last game. 
   The Knights have faced off against Peters Township, Pittsburgh Central Catholic and Franklin Regional and currently have a record of 1-2. 
    "Our first few games obviously didn't go as planned but I saw a lot of positives come out of them," said senior Cory Johnson. "They weren't games we should have lost but the teams we played had 4-5 games in before us which makes a huge difference. We had some really good practices to go and fix some things so things are looking good going into the following weeks."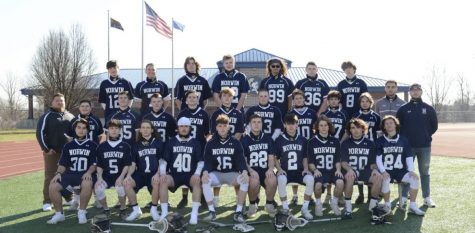 The boys have faced their fair share of obstacles with this season regarding COVID-19, including being put in quarantine about a week into the season. 
    "We missed out on 2 scrimmages and our first game due to Covid so that really impacted us going into our first 2 games," said Johnson. 
   Their next game is Friday, April 16 on home turf against Fox Chapel.
    "As a senior, I'm excited to see what we can do. We are down a few players and don't have many subs, but us seniors have been playing together since 5th-6th grade so we have a lot to prove, especially after missing the 2020 season." said Johnson
_______________________________________________________________________________
BOYS VOLLEYBALL
Norwin boys volleyball set for success – Julie Chenot, Writer
     The Norwin Boys Volleyball team has been one of the most consistently successful teams in Norwin's athletic history, and even a global pandemic can't stand in their way.  The Knights are coached by Nick Fallone have qualified for the WPIAL playoffs every season since 2000 and don't expect this year to be any different, as the Knights return many talented players from the last time they played over 700 days ago.  Over the past two years, the Knights have graduated almost every single piece of their 2019 team that lost in the first round of the WPIAL playoffs, including two All-WPIAL players in Jake Williams, who now plays at Geneva College, and Joey Ferragonio, who now plays at Saint Francis University.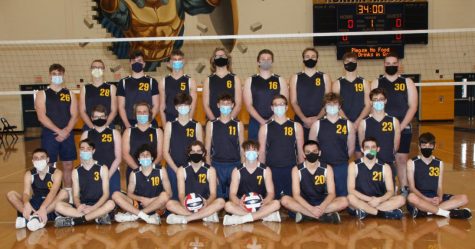 The team is currently 1-1 after they opened their season with a 3-0 loss at the hands of the Seneca Valley Raiders, who are currently ranked number 2 in the WPIAL, and a 3-0 victory over Pittsburgh Central Catholic.
      "I really thought our serve receive was a lot better against Pittsburgh Central Catholic," said junior Kevin Skweres, who is currently out with an injury but is an important part of the team this year.  "Improving that is key because it leads to better sets, which leads to more kills, and obviously more points."
     The Knights have been starting senior Austin Saunders at setter, junior Tyler Hussey and freshman Troy Horvath as outside hitters, sophomores Mike Mihalov and Ethan Painter at middle hitter, senior Joshua Govannucci at right side hitter, and Ben Daum at libero.  Skewers is likely to see playing time once he is cleared.  
     On Monday against Seneca Valley, The Knights started off strong and pulled out to a 19-13 lead in the first set but eventually lost 25-21.  The Knights got caught in a few bad rotations in the second set and lost a more lopsided set two 25-16, but pulled it close again in the third losing 25-22.  It was a different story on Tuesday against PCC, when the Knights dominated defensively.  
     "As a team we improved on blocking a lot," said Skweres,  "especially Mihalov who had four blocks in one game on Tuesday."
   The Knights will continue to trek through their tough schedule next facing Penn Hills on April 15.  The team faces both Penn Trafford and Hempfield in section matches twice this year.  Those teams are ranked 4th and 7th in the WPIAL, respectively.   The Knights, who are ranked 8th, will also face off with North Allegheny out of section this season who is ranked 1st in the WPIAL and is also the reigning WPIAL champion from back in 2019.