Courage, gratitude, forgiveness, compassion= choosing love
The tragedy of the Sandy Hook shooting in December of 2012 left parents with the loss of a child, and at a loss for words. Scarlet Lewis, founder of the Choose Love curriculum (Click here to learn more about the organization) founded the program after the loss of her son Jesse during the Sandy Hook tragedy. The program came to be after Scarlet found a note written by Jesse in his 1st grade writing saying "Norturting Helinn Love" (Nurturing, Healing Love)."
The Choose Love program was introduced to the Norwin School District this year in an effort to help with the mental wellness of students due to the COVID-19 pandemic. Choose Love is a curriculum that has 4 Lessons. Each lesson would span over a 9-week period. The lessons will be on forgiveness, compassion, courage, and gratitude, and it will be up to teachers on how they incorporate it into a nine week period.
"Some of our teachers have already been using the curriculum as an independent teacher not as a school wide initiative," said Butler-Pardi. "We were looking into something to support the students after they came back after school being closed down and the isolation, we knew we were going to be dealing with alot of depression and anxiety. We really tried to increase the different things that we would be able to provide."
Mrs. Butler-Pardi, Ms. Jones, Mrs. Braid, and Mrs. Sweeney all have played a big role in the curriculum  being introduced and brought into the district.
All teachers will have the chance to bring the curriculum into the classroom. Each school has been able to award teachers with being a "Champion" of the movement; the high school's "Champions" are Mrs. Sweeny and Mrs. Braid.
"The state and federal government will at times mandate certain initiatives that we have to do to help increase support that we offer for students," said Butler-Pardi. "Social and emotional learning is a newer thing that the government wants us to provide to students."
On April 8 in light of the programs kicking off in the district, Norwin High School Student Council put magnets up on the lockers displaying one of the four words. Teachers were also given T-shirts with the spread love formula displayed on the front, as well as bubbles, mental wellness activity cards, and cards with yoga poses for students to do in class if they wish too.
"When we talk about students being healthy and having good mental health, part of that is social and emotional health," said Butler-Pardi. "So if you saw the magnets that were on all of the lockers with forgiveness, compassion, gratitude, and courage by teaching those skills and providing examples on how to use those skills, it can help to let people feel stronger mentally and emotionally."
The curriculum is something that teachers will be able to use in upcoming years and with some of the activities they were provided the curriculum has been introduced slightly this year.
In AP Literature & Composition, , Mrs. Boyd has frequently mentioned the Zoom session teachers had with founder Scarlet Lewis and how it really touched her.
"The SEL program coordinated by Dr. Stacey Snyder kicked off with the Jesse Lewis Choose Love Zoom session on February 24," said Boyd. "Personally, hearing courage, love, compassion, forgiveness, and gratitude emphasized as the best ways to cope with life's difficulties from a mother of a child tragically killed in a senseless school shooting was incredibly powerful," said Boyd. We all struggle with bitterness, cynicism and anger- but to hear her say it's destructive instead of constructive to all of us really resonated with me."
Boyd is one of the teachers who has been using the mental wellness activities in class along with the yoga cards to help students have a mental break within their school day.
Senior Elizabeth Zapanta has been in several of the classes that Boyd has offered the break down sessions too. "I Loved doing them!" Said Zapanta. "I feel like it is a nice way to ease into the class and relieve some stress, even if it's just for a moment."
Boyd plans to continue to use these activities to help her students during class and in the future she plans to also incorporate the Choose Love curriculum into her classes.
"I will emphasize the core concepts in literature discussions as much as possible," said Boyd.
The program will continue to be used in the future amongst the district. As of right now the program is in the "soft roll out stage" meaning this is just the beginning, the district is just letting students know a few things about the program.
"Starting next school year and what we'll be working on over the summer as our group gets together we will be dealing with the hard roll out," said Butler-Pardi. "We will talk about exactly what it's going to be looking like next year."
Leave a Comment
About the Contributor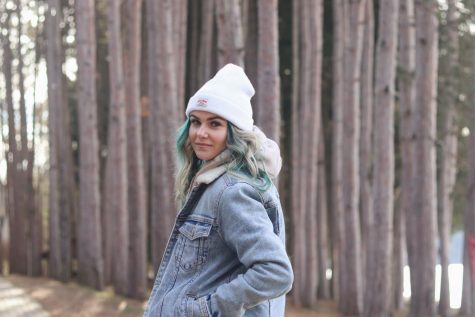 Alanna Neidigh, Club VP - Entertainment Editor
Alanna is the Vice President for the Knight Krier as well as the head editor for the entertainment section. Alanna has been involved in the Knight Krier...