Norwin COVID-19 Year Recap
PANDEMIC ROCKS NORWIN LEARNING
Students returned to school on Aug. 31, a week later than in normal years. No Homecoming was held, but Aria Lauritzen and Jacob Bazala were crowned during the Homecoming football game. The school year continued on with the Hybrid learning model until Oct. 7 where 6 of the 7 district schools were shut down. 
On Oct. 7 Superintendent Dr. Jeffrey Taylor announced that the High School, Middle School, Hillcrest Intermediate, Hahntown Elementary, and Sunset Valley Elementary would be shut down for the following week because of the number of COVID-19 cases reported in each of the schools.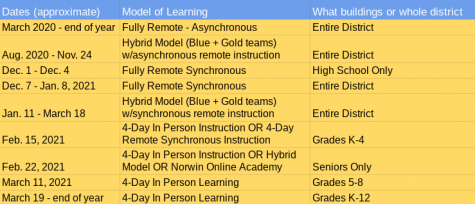 On Oct. 9, only two days after the first shutdown announcement was made, Dr. Taylor sent out another email announcing the district's plan to return to full time in-person schooling. The original plan was to return to full time in-person instruction on Nov. 4 but then had been postponed until Nov. 18. The Pennsylvania Department of Education had recommended that all Westmoreland county schools convert to a full-time virtual learning model. This announcement had not been publicly acknowledged by the Norwin School District as of Oct. 26. The Norwin School District then announced on Oct. 26  that one student and one staff member had contracted COVID-19. The Middle School was shut down on Oct. 27 so the District could complete contact tracing. 
NORWIN INTEGRATES SYNCHRONOUS LEARNING
Only two days before the district was due to go on Thanksgiving break the PA Department of Health had forced the entire district to return to a fully virtual learning model for at least two weeks. After those two weeks grades K-6 were able to return to Hybrid while 7-12 were forced to stay completely virtual for the entirety of Dec. To help students with face to face instruction during this time the district implemented Synchronous learning for all students. 
Before students even left for Thanksgiving break the District announced a two-week shutdown that would span over Thanksgiving break. Even before those two weeks were up, Superintendent Dr. Jeff Taylor announced on Dec. 3 that grades K-6 will be returning to the hybrid model on Dec. 7 while the Middle and High School would remain virtual for the remainder of Dec. "Even though COVID-19 is not being transmitted in our schools, it is certainly being transmitted in the Norwin community," said Taylor in his email on Dec. 3. "Unfortunately, the high level of Norwin community transmission is impacting our employees." Much of the reason for the Middle School and High School remaining virtual was because of the lack of teachers and substitutes available to teach. In the same email from Dec. 3 Taylor announced that beginning on Dec. 7 synchronous learning would take effect. As of Dec. 18, there were 30 active cases in the district, along with 230 students and 30 staff members in quarantine. 
NORWIN STUDENTS BEGIN TO RECEIVE COVID-19 VACCINE
Once many of the front line workers received the COVID-19 vaccine,  it became available to those at high risk of ending up in the hospital with COVID, as well as other essential workers. 
Even though the FDA first approved Pfizer on Dec. 11,  students who fell under the essential worker or high-risk categories were not able to receive their first vaccines until the end of Jan. One of the Norwin students who have received their first dose of the Pfizer vaccine is senior Sydney Willig. She received her first dose on Jan. 21 and is scheduled to get her second dose on Feb. 8. "It was just like getting the flu shot," said Willig. "The only difference was that I had to register for it beforehand."
SENIORS RETURN TO FOUR DAY IN-PERSON LEARNING
Case numbers in Westmoreland County began to decline, which allowed the district to deem that going back to four day in-person classes for select grades was beneficial to those students. K-4 and Seniors started with the four day in-person classes on Feb 22.
Because case numbers were down and COVID-19 vaccines were beginning to be more widely distributed, the district decided to give the option of four day in-person learning to K-4 on Feb. 15 and then extended it to seniors on Feb. 22. "I have chosen to go back four days but I still have mixed emotions about having to go at the beginning and end of the week," said Josie Toth. "I think it will be a strange adjustment since I am only used to leaving the house for school at the end of the week. It will also be weird to see everyone from the beginning half of the alphabet at the school because I haven't seen most of them since last March!" One of the concerns with increasing numbers in the buildings, was bringing more people into the school more regularly raises the chances of another spike in COVID cases. Despite this  possibility, many seniors chose to come back in hopes of having a semblance of a normal end of year. 
WELCOME BACK KNIGHTS
After spending a whole year with a modified schedule, the opportunity for all students to return to school for full-time in person learning became available on March 19. Along with the option to go back full time students also could choose to stay hybrid or to enroll in NOA.
During the school board meeting on March 8, Superintendent Dr. Jeffrey Taylor announced that beginning on March 19 ALL GRADES would be returning to the traditional 5-Day in-person learning model. The district sent a survey to the parents of its students that listed 3 potential options for learning models, and a full 5-day model was not on the list, only a 4-Day Model initially was initially listed.  The announcement of return to 5-Day learning shocked many members of the audience, as well as those who found out in the days after. Of course, it's not just students who were impacted by this decision; teachers would then have larger classes. According to high school principal Dr. Choby, around 1000 students would make their way back into the senior high building for 5 days of in-person instruction. Additionally, they faced the removal of an asynchronous Wednesday, a day where no Zoom classes are held, lesson plans were made, and work was typically caught up on. During the comments section of the school board meeting on March 8, students Nick Markovina, Sam Taleff, Max Christopher, and Zachary Moffat spoke out against switching to 5-Day learning at this point in the year.  "I feel that, if we were to return to a 5-day model, there would be serious concerns such as a lack of social distancing and mask-wearing not being enforced," said senior Sam Taleff.  "I believe that these concerns would become a significant safety problem within our school." With the return to 5-Day In Person learning on Friday March 19, some building modifications were made at the high school.  Approximately half of the chairs have been moved from the cafeteria, where students would be sitting facing the same direction and more socially distanced.  The chairs had been set up inside the auxiliary gymnasium for expanded seating for influx of new students. Overall student's feelings about returning to 5 days were mixed. WELCOME BACK NORWIN!
NORWIN HOLDS THEIR OWN VACCINE CLINIC
On May 14 Norwin held their own Pfizer vaccine clinic for Norwin students and their families.
The Norwin High School opened its doors to a vaccine clinic for the Pfizer vaccine for Norwin students and their families ages 12 and up. The free vaccine clinic was held May 14 from 3 p.m to 8 p.m for those who booked an appointment online. The clinic was held in Norwin's auxiliary gymnasium and the vaccine shots were provided by North Huntingdon EMS/Rescue and Rite Aid. According to an email released from the school district, there were 160 doses available on May 14 and between 250 and 300 students and family members received their first shots. The next shot will be given out on June 4. People that got their first shot on May 14, scheduled at the end of their appointment for their time on June 4. The appointments were fairly quick and after the shot, the participants that received the vaccine had to spend 10 minutes to make sure they did not have an allergic reaction. "I felt very relieved that everything would soon be going back to normal after getting the COVID vaccine," said junior Abigail Knouse. "I know it may not be immediately but soon after. I can be sure that it will keep me protected at school and work."