Girls volleyball team packs the park
Norwin plays Kiski in first ever outdoor WPIAL volleyball game
   On the evening of Sept. 13, the Lady Knights volleyball team beat Kiski Area 3-1, but not in the way someone would typically expect.  The team played the entire game outdoors on the newly commissioned Ellen Toy grass court in Kennedy Park in Vandergrift, PA.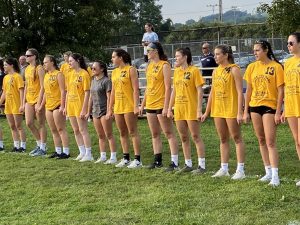 A large crowd attended the "Pack the Park Volleyball Classic" complemented by the beautiful weather.  The event was sponsored by the We Serve First foundation and it's founder Tim Toy, Ellen Toy's widower.  
     Ellen Toy was a volleyball star at both Kiski Area and the University of Pittsburgh, as well as a coach and teacher at Leechburg Area and Kiski Area.  She was also a close friend of current Norwin head coach Mary Ellen Ferragonio.  During her battle with stomach cancer from 2010 until her passing in 2016, Tim Toy Founded We Serve First, which provides financial assistance to volleyball players to be able to afford extra training.  The foundation assisted countless athletes who otherwise would not have been able to play on travel teams or attend camps.  
     When the Lady Knights arrived at the park, they were greeted by music, food trucks, and packed stands full of smiling faces.  Both the Lady Knights and the Kiski Cavaliers donned special t-shirts made for the game.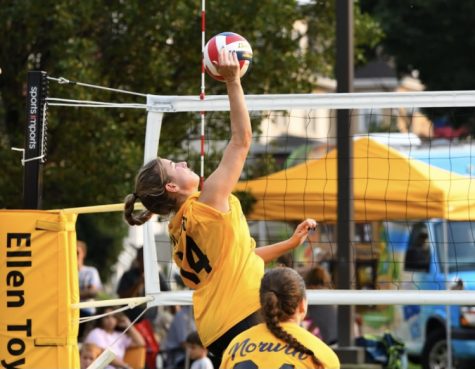 "It came together so much better than how I planned it," said Tim Toy.  "They took it to the next level.  I didn't know how well attended it would be, but people loved the idea too, and they showed it by coming out and making the atmosphere electric and exciting."
     Aside from the fun experience, there were a lot of valuable on and off court lessons learned.
     "There was an incredible sense of community there," Lady Knight's captain Chloe Lukondi said.  "We didn't know anyone, but they made us feel so welcomed. That is just the essence of the local volleyball community.  We are a tight knit group, and it's nights like those that help teach us that it's more than a game."
     Winning this outdoor game was no easy task for Norwin.  The sun, uneven ground, and condensation on the grass all caused some hiccups for both teams, but both appeared to adjust well and engage in a competitive game.  
     "The slippery grass was definitely the hardest part," said Lukondi.  "Sometimes your feet would just slip out from under you and you couldn't get to the ball."
     Regardless of the outdoor conditions, the Knights prevailed.  Lukondi paced the team with her many kills and digs, and senior Grace Shephard had an efficient game at the setting position.  
     "This game definitely taught us that no matter what the situation is we can pull through and win," said Shephard.  "It gave us a lot of confidence in ourselves."
     This unique game was not just recognized locally.  United States Olympic volleyball team member Jordan Thompson congratulated the Lady Knights and Cavaliers in this video.
     The event was such a success that planning for the next is already underway.
     "I think the first of these kinds of events is usually the most difficult.  Now we know what works, what needs work, and what we'd like to add," said Tim Toy.  "So yes, look for Pack the Park 2!"
     The teams are certainly looking forward to going back to Kennedy Park next season for the second round of Pack the Park, and the new lessons they will continue to learn.
     "The goal was murky before the match, but afterwards it was oh so clear," said Tim Toy.  "Bring a community together and celebrate a sport, do it differently than it's been done before, have fun with it.  As the night wore on it was about being together again, doing it in a safer place, and showing our passion and joy to folks that need to see passion and joy in our children.  Mission accomplished, I guess!"
Leave a Comment
About the Contributor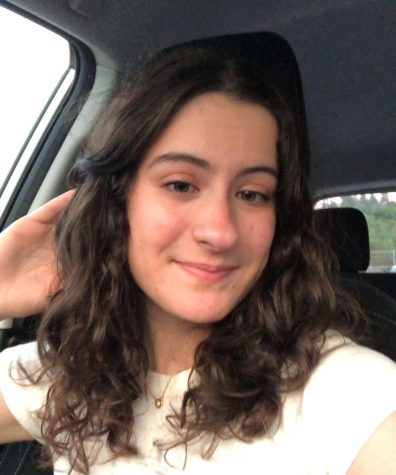 Julie Chenot, President/ Website Manager
Julie is a current Senior and has been writing for the Knight Krier for two years.  She is the co-president of the newspaper club and also serves as an...