No XCuses
Boys Cross Country:
The Norwin boys finished off their regular season with a 5-3 Section record after their meet against Franklin Regional and Yough on Tues. Oct.. 5 at Yough Senior High School.
The vast majority of the boys' success comes from a largely inexperienced varsity roster. Thus far, the top 7 runners for varsity are either freshmen, first year or former JV runners due to graduation and injuries.
Junior Oliver Hinson is among these former JV runners. Hinson went from running a 28:58 5k at California University to an 18:58.
"Summer training has been the most important part of the season for me," Hinson said. "If you don't have a solid foundation, you can't expect to build that high. I've never done that much training in summers' past, so it took me a while to realize that."
This sudden change in team dynamics resulted in Hinson quickly becoming a team leader.
"Being a varsity runner means leadership," Hinson said. "In a sense, experienced runners are responsible for the performance of the younger guys, and that's a big responsibility. Whether it's leading stretches, making sure guys are running warm ups and cool downs, there's never a dull moment."
Freshman Enzo Jiancristoforo has been another significant newcomer to the varsity squad. The jump from middle school to high school cross country proved to be significant in regards to training and competing, as middle school only races 1.7 miles as opposed to 3.1 miles in high school.
"This past summer of running was definitely a big challenge coming off of an injury and missing about 6 weeks of important training," Jiancristoforo said. "But I definitely got a lot more mileage than my previous middle school seasons.
The consensus from both runners is that hard work and persistence is the key to a successful season.
"If I could give one piece of advice to my teammates, it would be this: do the work that no one expects of you," Hinson said. "It's pretty easy for a varsity runner to stay in that position, mostly because they're being held accountable by their coaches and teammates. For someone that isn't exactly there yet, it's tougher to feel the motivation to do the work, so you have to provide it for yourself. No one is going to tell you that you have to do it except you."
Junior Andy Breauchy returned to varsity for the second year in a row after coming off of a month long injury. Breauchy made a debut return at the Blue Devil Invitational on Sat. Sept. 25 at Buhl Park, running an 18:15.
Breacuhy is looking to the WPIAL championship with optimism and ready to grunt through the potentially harsh conditions.
"I'm viewing Wips as cold weather and a tough course," Breacuhy said. "Luckily, everyone else is running the same race. That race will separate the strong from the weak."
The boys raced at Westmoreland County Community College on Wed. Oct. 13 for the county championship meet. Sophomore Noah Wilson medaled for placing ninth in the county after running a 17:27.
---
Girls Cross Country:
The Girls Cross Country team is going into the championship season with an even more impressive Section record of 7-1.
While the majority of the girls' varsity roster consists of returning runners, junior Anna DeFazio and freshman Carlie Goretzka have been welcomed to the team as new front runners and team leaders.
"This is my first year running high school cross country, and I have been loving it," DeFazio said. "I have gotten really close with my teammates, and we work really well together. Everyone here is so nice, and we just have a lot of fun with everything we do. I love my coaches, they know how to push us, but make it fun at the same time. I trust them completely, and I feel that my training and future are in good hands."
DeFazio commented on the heavy training that the summer consisted of.
"My summer training this year mainly consisted of 5-11 mile distance runs," DeFazio said. "My weekly mileage was 40-45 miles throughout the summer. I also did a lot of cross training, mainly weight training, yoga, biking and swimming. I prioritized nutrition and sleep throughout the summer, even though it was inconvenient at times."
Returning sophomore Rosemary Gaydos listed some of the girls' strengths, but also some areas to improve on.
"All of our girls have varsity potential and have shown up in different races," Gaydos said. "I think it's great how close our times are together and how we can run to try and beat the other teams by working together. Our weaknesses are not being more confident going into the meets and trying to run together in practice everyday when we don't have the same meet times."
Sophomore Audra Fedor placed tenth at the county meet after running a 20:20 at Westmoreland County Community College. The girls also medaled DeFazio, who placed fifteenth in the county and ran a 20:36.
"I'm very proud of our entire team and our performance at counties," Fedor said. "I know it might be easy to lose motivation as the season comes to an end, but we cannot lose sight of the bigger picture. WPIAL championships are what all our training and hard work has been leading up to. We have to give everything we have physically and mentally!"
Now done with their regular season, the Norwin Cross Country teams look to be one of the strongest contenders in the Section going into the championship season.
The varsity team races at WPIAL Championship on Thurs. Oct. 28.
Leave a Comment
About the Contributor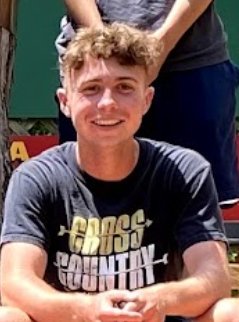 Max Christopher, Writer
Max is a second year writer for the Knight Krier.  He is a senior at Norwin High School who, in addition to the school newspaper, is involved in cross...