Band of Brothers
Norwin Boys Soccer team goes 12-0 in the Section
The Norwin Boys Soccer team have clinched the title of Section champions after their 2-0 win against Latrobe on Mon. Oct. 11 and are undefeated in the section after their 1-0 win against Penn-Trafford on Wed. Oct. 13.
As of Oct. 15, the team, who are 12-0-0 for the Section and 13-1-1 for the season, has seen a change in leadership as new seniors have stepped up. The starting lineup of primarily seniors utilized their experience and knowledge of the game, their teammates, as well as their opponents to their advantage.
Senior striker Caleb Yuricha emphasized the importance of leadership on the team and fostering a hard-working environment.
"Having to keep my eye out for the younger ones and make sure they stay on task is needed," Yuricha said. "It's my job to bring the best out of them."
Senior outside back Ryan Harrigan has been another player to step up as a significant leader on the team.
"As a senior, I try to always look out for the underclassmen and keep positive energy," Harrigan said. "If someone makes a mistake, talk them up and tell them they will get the next one. If somebody has a bad game, help them out with things they can work on. It's important to help those younger players keep their confidence up because in a couple years, they will be in my shoes."
Yuricha feels confident in the team's dynamic and how they function together
"Our team dynamic is amazing, we know each other in and out so we can have fun," Yuricha said. "We have a passion and we are dialed in at all times."
Senior center back Ryan Dimitroff added on to Yuricha's comments about the team dynamic.
"Our team dynamic is something I have not seen from any other team," Dimitroff said. "We connect with each other on and off the field. It's like a second family that we get to see after school each day for practices and games. We do activities together as a team that do not involve soccer at all, like golfing or going somewhere altogether. It's something I have never done with any other team and it's what creates the foundation for our team."
The strong bond the teammates hold with each other has led to great success on the field.
"We've trained together for so long that we always know where each other is on the field without even looking," Harrigan said. "It's an instinct now."
Like any real family, every member is valued and has a part to play. The Boys Soccer team has strong starters, but even those on the bench are invaluable to the team.
"Every player and every position has a place on the field, we have depth in our players from the starters to the bench," Yuricha said.
The Boys Soccer team hasn't had a season without it's fair share of adversity though, with the team having been plagued by injuries.
"The biggest challenge for the team this season that we are still trying to overcome is losing players due to injuries," Harrigan said. "We have lost two starters so far as well as many crucial players due to this."
Senior attacking midfielder and winger Riley Zimmerman added on about areas the team can improve on.
"I think our biggest weakness is sometimes being way too hard on ourselves and getting angry at some points on the field," Zimmerman said. "We have definitely improved on that weakness as the season has progressed. If our team stays calm and keeps working hard day in and day out, we'll keep improving.
Dimitroff acknowledged the challenges that will arise as playoffs begin in a few short weeks, but looks optimistically to the team's future.
"Going into the playoffs, the games are going to be much more difficult than they are right now," Dimitroff said. "It will be a more physical, harder battle than past games, but we will be in the right mindset to out perform whatever team we are going against, and to want it more."
The team understands that while they may have their toughest battles ahead, they have the comradery, grit and depth to go far into the postseason.
Leave a Comment
About the Contributor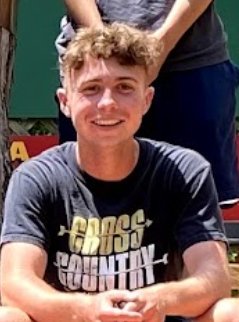 Max Christopher, Writer
Max is a second year writer for the Knight Krier.  He is a senior at Norwin High School who, in addition to the school newspaper, is involved in cross...