Band competes at BOA Mid-Atlantic Regional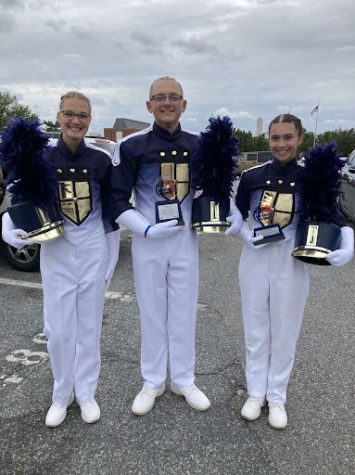 On October 9, at 9 am early on Saturday morning, Norwin Band students sat on Campbell coach busses in their pajamas waiting to depart Norwin High School. The Band was on their way to perform at the BOA Mid-Atlantic Regional at College Park Maryland. It was the band's first performance of the year that would be scored competitively. The Norwin Band performed alongside 12 other bands and received third place with a score of 77.90 in finals competition.
     "I rode on the mellophone and Percussion bus," said Jenna Greenawalt, a sophmore in the mellophone section. "There was music playing through a speaker and many of the drummers were practicing on their drum pads. We got to have some nice conversations, and you could definitely feel the excitement building up on the way there." The bus ride was 4 hours long and students didn't arrive until 1 pm.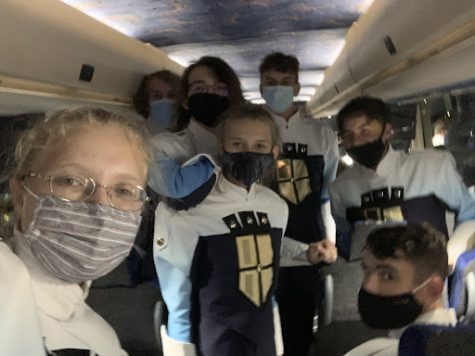 Once the busses arrived, students were expected to change into uniform, warm up and perform at prelims.
   "Yeah we change in the bus, it definitely gets a little cramped and packed sometimes," said Lucas Mordaunt, a junior in the drumline. There's a designated warm up area for us to do our visual warm ups where we stretch."
    The band does their posture exercise and dance block.
    "Then we rehearse some of our music to make sure we're [musically] warmed up for the show [too]," said Mordaunt.
     Many students felt that their preliminary performance did not go very well.
    "I was relieved to hear that we did make finals but not very much surprised. Even though our prelims run wasn't the best we still did a good enough job at what we needed to do [in order to make finals]," Mordaunt said.
    After the performance, students were scheduled to eat dinner at Northwestern High School provided by band parents. The students would not know how they scored at prelims until later. Both Tim Daniels, band director, and the band's drum majors had to stay back at the stadium to hear what score the band would receive.
     "When the drum majors and Mr. Daniels got to the school Mr. Daniels told us that we made finals," said Grennawalt. The band placed second in prelims.
    "I could definitely feel the energy level from prelims to finals change," Grennawalt said. "After 'a not our best' prelims run, we were ready to go out there with more confidence in finals, and I would say we successfully did that job."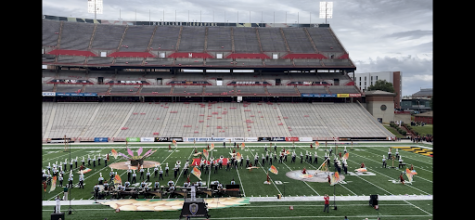 After performing for the second time that day the band felt more confident. 
     "You know what you're going into so you can focus less on being stressed and focus more on being excited and ready for the performance, which I think was a major benefit for us," Mordaunt said. "Performing a second time felt a lot better. It just gives you a second chance to do things better than you did the first time."
     "Prelims was a lot of getting nerves out and getting back into the swing of things, but I thought that finals was a much improved run and I was just really proud of the finals performance," said Tim Daniels. "I think that it's fun to win, we strive to be the best that we can, there's two ensembles that beat us, they had great shows also, it gives something to strive for."    
"
I think that it's fun to win, we strive to be the best that we can, there's two ensembles that beat us, they had great shows also, it gives something to strive for."
— Mr. Tim Daniels, band director
     Norwin High School landed third place, Cleveland High School from North Carolina landed second place and Kiski Area High School landed first place in finals competition. Kiski Area also won an award for outstanding music performance, outstanding visual performance and outstanding general effect.
    "[From] what I saw [with] the other groups, their placement was very accurate. It's always nice to be in the top three at a regional," Daniels said. 
    "The ride home was very peaceful and most everyone on the bus was having some well deserved sleep after a day filled with fun, excitement, and giving it our all. We returned back to the school at 4:00am on Sunday morning," said Greenawalt.