Knights take home Outstanding Delegation at Penn State
The Norwin Model UN team made a big impression at their first in-person conference in over a year.
Most students like to spend their Homecoming weekend celebrating, whether it be at the football game, at the carnival, or on the dance floor. For Norwin's Model UN club, though, the festivities included negotiations, backstabbing, duels with Nerf blasters, and, at the end of it all, an award.
From Oct. 15-17, the Knights attended the ninth annual Pennsylvania High School United Nations Conference, hosted by Penn State University at their State College campus. Due to COVID-19, this was the first time in two years that the event took place in person, and for
Norwin, it marked their first non-virtual event since January of 2020. Schools from all across the country came to the conference, including American Heritage School from Plantation, FL, and Holy Ghost Preparatory School from Philadelphia, PA, two of the most esteemed private schools in the nation, and both of whom brought dozens of delegates to the event. Norwin, on the other hand, only brought 5 students, which earned them the label of a "small delegation," but they were able to combine their experience in previous events with their public speaking and critical thinking skills and come away with the award for Outstanding Small Delegation.
"I was very pleased by the amount of fixation the students had to their characters," said club adviser Mrs. Sturm. "I was also pleased in general to be able to take students on a travel conference again and give everyone the opportunity to experience an in person event again."
One of the more exciting elements of the Penn State conference is the fact that every committee is a "crisis" committee, as opposed to a General Assembly. Instead of representing countries and solving contemporary problems with long, complicated working papers, delegates represent individual people working to resolve dire situations and achieve their own personal motives along the way. Some of this year's committees included Detroit: 2038 Divided, a futuristic world where people and androids must find harmony, as well as Deadberry: How the Sun set in the West, the fictional story of a Wild West town fighting to resist government influence and protect themselves from a gang of vandals. Stories can get twisted, friends can become enemies, and when it's all said and done, many find it difficult to go back to normal committees.
"When it comes to Model United Nations, I prefer the crisis," said junior Brady Johnson. "The general assembly is more structured and predictable, and you only get one or two problems to solve. A crisis committee is faster paced and always changing, which makes it much more entertaining to participate in."
On the individual side of things, junior and club president Maleah Phetsomphou won the Most Improved Crisis Debator award in the committee of Kublai Khan's Court for her portrayal of Mahmud Yalavach.
"My committee was exciting, and it was run pretty smoothly by the staff," said Phetsomphou. "We definitely got a lot accomplished and I'm glad I won an award."
All things considered, the weekend provided a great deal of experience to the students, as well as some positive momentum for the rest of the year. Up next for the club is a virtual conference hosted by the University of Pittsburgh. The date has yet to be announced, and although it may not be in-person, the Knights are still looking forward to it.
"Although it's virtual, there are still many aspects of an in-person conference," said Phetsomphou. "I am excited for the conference, and I am looking forward to winning more awards in the future, and I hope that the rest of us do as well."
Leave a Comment
About the Contributor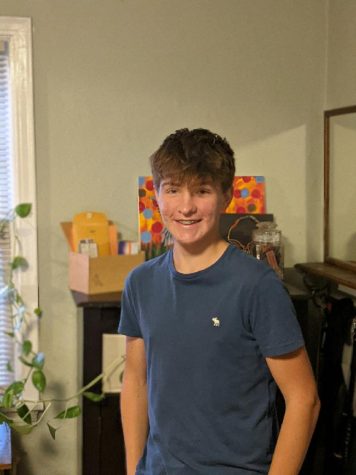 Oliver Hinson, President/ Website Manager
Oliver is a senior, and he has been a part of the newspaper staff for 3 years. He covers a wide range of topics, from school news to student features,...