Girls volleyball wraps up season
Lady Knights suffer loss to Pine-Richland in the first round of the WPIAL playoffs
    After a season of ups and downs, the Lady Knights Girls Volleyball season has come to a close with a 3-0 loss to Pine Richland in the first round of the WPIAL playoffs.  
     The Lady Knights finished the regular season 9-7, which made them 4th in the section.  They suffered losses to Latrobe (2x), Oakland Catholic (2x), Penn Trafford (2x), and Hempfield during the regular season. 
     The Lady Knights held an undefeated record in out of section games, beating Kiski, Southmoreland, Serra Catholic, and Fox Chapel.  
     One of the most memorable and unique moments of the season was when the team played Kiski on an outdoor grass court for the first annual "Pack the Park" game, sponsored by the We Serve First foundation. (https://knightkrier.com/2296/sports/girls-volleyball-team-packs-the-park/)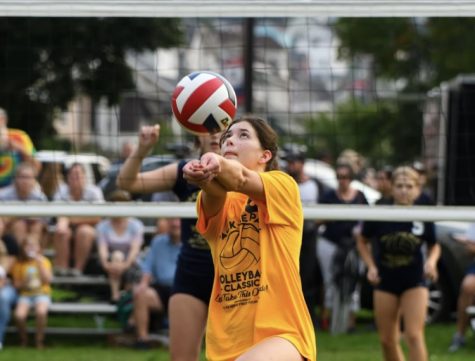 "It was very special for our team," said Shephard.  "It was a unique experience that we can hopefully have again next season."
     Throughout the season the Lady Knights were led by senior outside hitter Chloe Lukondi, who played 6-rotations and was an important factor in both the Lady Knights offense and defense.  Both Lukondi and senior outside hitter Natalie Miller were named 3rd team all-section.  Lukondi was also named a team captain for this season, along with senior setter Grace Shephard.  
     "Being named a captain was a huge honor," Lukondi said.  "It was one of my goals for this season.  I was not expecting at all to be all-section so I can't say it was one of my goals but it's super exciting.  
     Unfortunately, not every Lady Knights player was able to accomplish their goals this season.  Injuries plagued the Lady Knights all season long, as many players missed time throughout the season, including one of the Lady Knight's only returning starters Julie Chenot, who missed over half of the season with a concussion.
     Regardless of the challenges faced, the Lady Knights were still able to piece together a successful, but more importantly fun, season.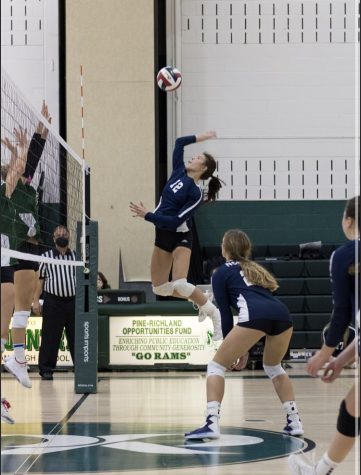 "Honestly my best memories from this season are hanging out with my teammates on the bus rides home, and a lot of those were rides home from losses," said Grace Shephard.  "Winning was super important to me, but now that my senior season is over I realize that what was truly important was having fun with my teammates."
     For many of the Lady Knights' senior players, the loss to Pine Richland was their goodbye from volleyball.  But, for some, it was just turning the page to a new chapter.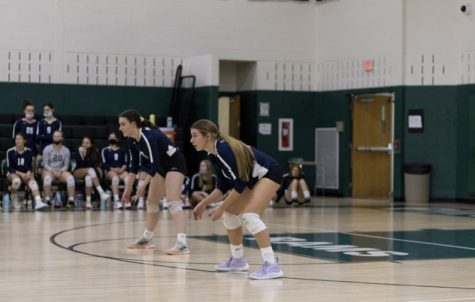 Seniors Chloe Lukondi and Julie Chenot will go on to play collegiate volleyball at Chatham University, and Natalie Miller will play at the Coast Guard Academy.        
     Next season, the Lady Knights will be led by a group that includes experienced players juniors Madie Kessler, Sophia Alvarez and Sara Olson, and sophomore Lauren Palangio.  The team looks forward to the future and hopes to continue to have success in the upcoming years.
     "I know that our class never won a section, WPIAL, or PIAA championship, so it's silly to say we were extremely successful," Shephard said.  "But I am leaving this season thinking that I had so much fun, and that's a championship in its own right."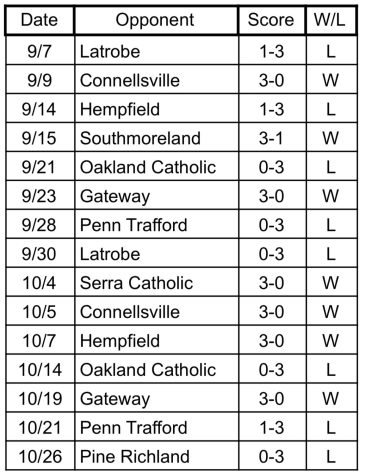 Leave a Comment
About the Contributor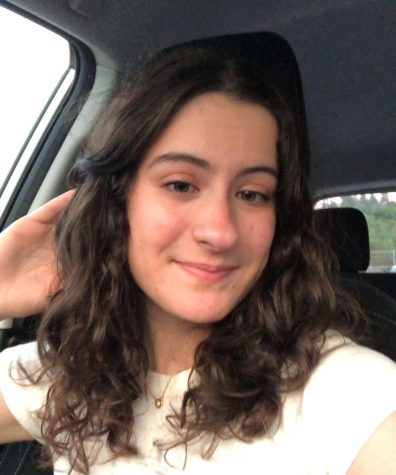 Julie Chenot, President/ Website Manager
Julie is a current Senior and has been writing for the Knight Krier for two years.  She is the co-president of the newspaper club and also serves as an...