Putting down the racket
Girls Tennis team ends successful season.
     The Norwin varsity girls tennis team had an amazing season, collecting all of their wins. Throughout the season the team won almost every game they played. With a 10 – 1 winning streak the girls absolutely smashed it this year. Sydney Pesarsick (12) says, "This was by far the best season I've had in my four years of playing varsity tennis. We trained our hardest, worked tirelessly for our goals, and saw a lot of success because of that." 
     Some of the girls even got to go all the way to the WPIAL tournament.
     "Seeing my teammates advance so far into WPIALs felt like a proud mom feeling, " said Mary Mahoney. (10) "You could really feel that they were proud of themselves and that made me happy."
Jenna Beach (12), made it all the way to the semifinals and Sydney Pesarsick, made it to the quarter finals. The two had also played together in the doubles section and made it to the semi finals but lost against Ellen Liu (10), and Sarah Gardner (12) from Franklin Regional. Beach lost (game) against Carolina Walters (12), from Latrobe. Pesarsick lost against Jenna Bell (12), from Latrobe.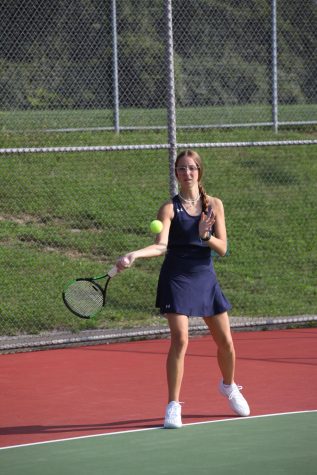 "Playing a 3-time AAA section champion was honestly one of the best experiences I ever had," said Pesarsick. "Jenna is an incredible athlete, and she works harder than anyone I have ever met."
 Sadie Cuturilo (11) and Abigail Campbell (11) also got to play in the WPIAL tournament but lost in the first game to Kaia Conte (11) and Lauren Burkley (10) from Penn Trafford.  
     The playoff run ended between Cuturilo and Taylor Allderdice High School. The teams were tied 2-2, each of them winning 2 of the 5 courts. The last court was the tie breaker and Cuturilo lost.
     "As an observer of the match, I can say without a doubt that was the best tennis I have ever seen Sadie play," said Pesarsick.  "She is an incredible player with a very bright future ahead of her, and she made that match quite the thrill to watch."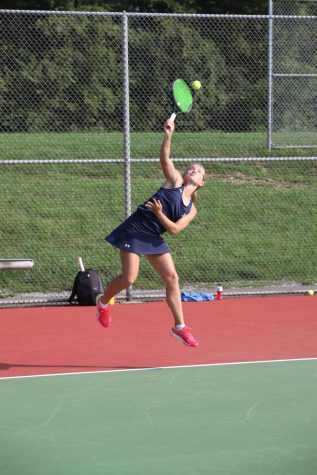 Pesarsick and Beach were solid duo this year with their overall scores being 10 – 1 and 11 – 1. Their energy is definitely unmatched when it comes to tennis. 
     The girls will be going their separate ways in college. Beach plans on playing tennis throughout college and has an offer from Mount St. Mary's, but is looking at playing for the Air Force Academy. Pesarsick was accepted into Duquesne University's School of Nursing and does not plan on playing tennis. 
     This season for the girls was unlike any other.
     "This season was really fun for me," said Mahoney. "Our team was the biggest it has ever been and truly felt like a team."