Underrated Artist Highlight
     Supporting small artists is a passion of mine. The people who deserve the most recognition for their music tend to be those with the least. Quality music doesn't guarantee a huge following, so by highlighting and sharing the work of lesser known musicians I hope to introduce people to genuine artists who love their craft.
If you'd like me to feature one of your favorite small artists, please fill out the form below! I love expanding my list of underrated artists. 
_____________________________________________________________________________________________
(published February 2022)
Name: J Solomon
Genre: Indie
Monthly Listeners: 48,696
Social Media Handles: jsolomon (Instagram, Tik Tok)
Liz's Top Song: "Greetings From Suburbia"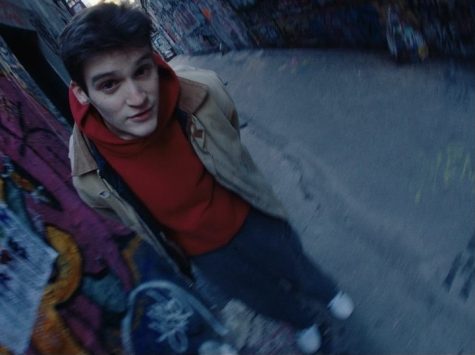 Jesse Moldovsky (aka j solomon) is a singer-songwriter from New York City, New York. Since the release of his first single "Hazel Eyes" in 2018, Moldovsky has released five additional singles. With 48,696 monthly listeners on Spotify, his music has been becoming more and more popular. Inspired by his childhood in rural Pennsylvania and various experiences from his current life in the city, Moldovsky writes his songs so that they reflect his own memories and life.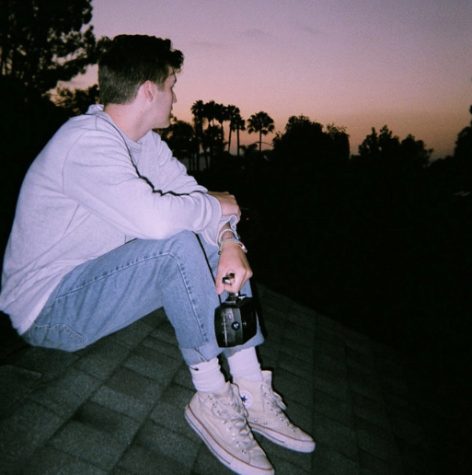 Moldovsky's songs have content that would resonate with a lot of teens from western Pennsylvania. Pennsylvania is seen as quite a dull place to live, especially by the teenagers that call it home. This kind of suburban feeling is common among areas like ours. With lyrics like, "40 years down the can / I worked for the man / No wife, and no kids / No friends and no plans / Got tired of work / I'm not coming back," it's clear to see how his music can be inspired by life in Pennsylvania. With themes like love, loss, and the cycle of suburban life, there's no doubt that anyone could relate to at least one of his songs. Overall, Moldovosky's songwriting ability is one of the most attractive aspects of his music, let alone his singing voice and backing tracks.
      I really enjoy listening to Moldovsky. His songs have the perfect mixture of soft and mellow verses and more upbeat choruses. Every song has a melancholy tone with introspective lyrics. His music is fairly versatile and can be listened to in a multitude of circumstances. I personally like listening to Moldovsky when I am working on homework. It's intense enough for me to enjoy listening to it, but not too much that it distracts me from my work. Like a lot of indie artists, his music is perfect to listen to when you're feeling a bit blue. It makes you think and reflect on your memories and childhood. A song that really resonates with me is "Greetings From Suburbia." It puts into perspective the sometimes mundane experience of high school in Pennsylvania. The lyrics remind me of the cyclical life of graduating, coming back home and working for the rest of your life. The whistling in the beginning is super catchy and I find myself whistling it even when I haven't listened to the song in a while. The song is mainly accompanied by an acoustic guitar, but the break for a high school band-esque solo truly reminds me of Friday night lights and other various high school memories. I am truly hoping to see a full length album from Moldovsky sometime in the near future. Overall, I would recommend listening to j solomon. Anyone who likes a relatable indie artist will enjoy his music. I'd encourage just about anyone to stream Moldovsky's music on Spotify or Apple Music!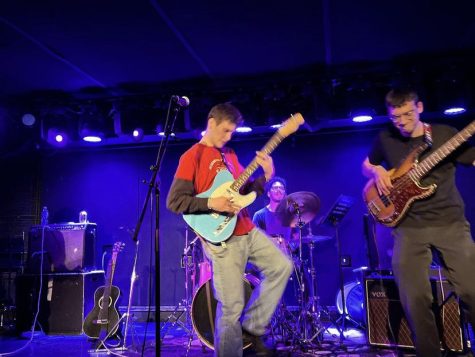 ______________________________________________________________________________________________
(published December 2021)
Name: On Your Nerves
Genre: Pop Punk
Monthly Listeners: 70
Social Media Handles: onyournervespgh (Instagram, TikTok)
Liz's Top Song: "Take This to Your Grave"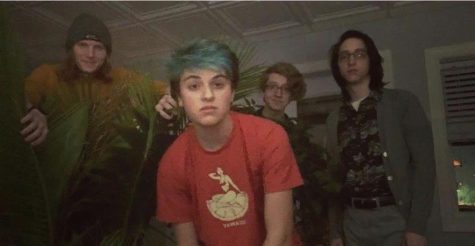 On Your Nerves (OYN) is a local pop punk band, whose members got their start at Norwin High School. The band has been playing together since early 2019, and has been improving ever since. Starting off with playing mostly cover songs from their favorite pop punk bands, the guys released their debut EP, "Raising the Stakes" on Dec. 18, 2020. The band is made up of members Caleb Andrykovitch (Class of 2021), Seth Toops (Class of 2021), Kevin Turcovsky (Class of 2021), Evan Blenko (Class of 2022) and Roman Backus (2021 Penn Trafford graduate). They have played a lot of local venues including the Keynote Cafe, SUB Alpine Society, and Brandy's on Main.
     With songs about young love and experiences, OYN demonstrates their pop punk roots through lyrics about adolescence and a fast, upbeat sound. Andrykovitch, the band's lead vocalist, defines their sound through his classic pop punk voice. The genre is known for the distinct accents of their singers. Blink-182 is usually one of the first to come to mind. On Your Nerves combines their unique but familiar sound with exciting and youth-inspired lyrics to make music targeted at a younger audience. Although, in my experience, adults seem to enjoy it just as much. The lyrics from their song, "No Turning Back" sum up the general feeling that their music generates: "It's said four years wouldn't test us / One semester's all it took / As expected times are changing / I should have seen it coming / Happens to everyone". Being able to relate to their fans fairly easily, OYN is very appealing to teenagers and adults alike.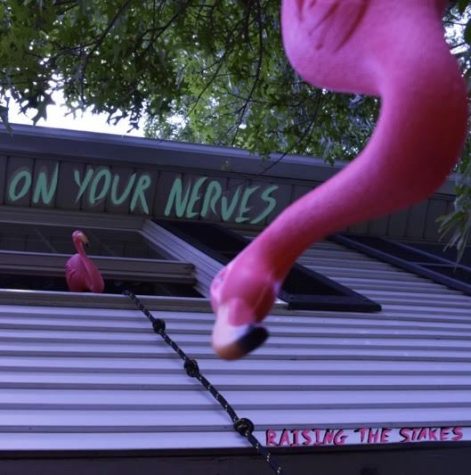 I very much enjoy listening to On Your Nerves. I've been going to local music shows for a couple of years now, so I have seen the guys play countless times. The first time I saw them was in the Summer of 2019 at the Jump Ship Music Festival in Turtle Creek, PA. The atmosphere of the show was so inviting, and it was one of the most fun things I have ever experienced. Everything from the moshing to seeing the guys goof off on stage was entertaining and memorable. I have seen them multiple times since and each time they have put on a better show. The last time I saw them perform was when they were filming the music video for their song "No Turning Back". Seeing them play their entire EP and participating in the filming of their video was one of the highlights of my summer. The band and their shows have given me many opportunities over the past few years to make new friends and memories. As a lover of music, it would be practically impossible for me not to recommend a band that has shaped my high school experience. Their aforementioned music video describes the essence of their music perfectly. It showcases the guys exploring downtown Irwin, riding skateboards, and performing in front of an exhilarating pool party. The personalities and the way in which the guys perform further adds to their immense musical talent. OYN embodies the feeling of popular pop punk bands like Blink-182 and Hot Mulligan. Those who enjoy those bands, or any others like them, would definitely enjoy On Your Nerves' music. Those looking to expand their playlist with local bands with a familiar mix of pop and punk, I would definitely recommend looking into On Your Nerves!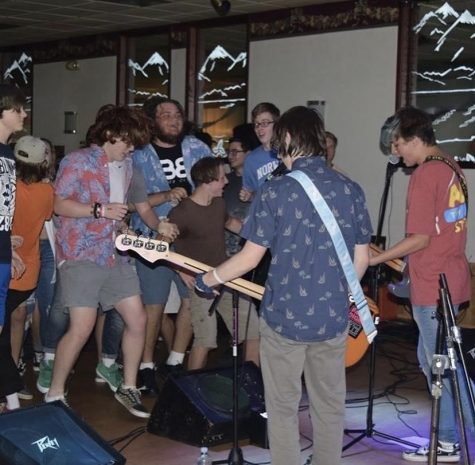 _____________________________________________________________________________________________
(published November 2021)
Name: Frat Mouse
Genre: Indie/Midwest Emo
Monthly Listeners: 37,285
Social Media Handles: fratmouse (Instagram, TikTok), frat_mouse (Twitter)
Liz's Top Song: "ben gets a master's in communication"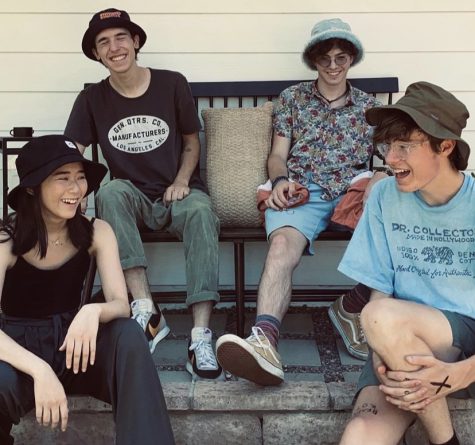 Frat Mouse is an indie/Midwest emo band from Los Angeles, California. The band has been growing since it was established in 2019 and now has 37,285 monthly listeners on Spotify alone. Each day they acquire a larger fan base. The band is made up of members Griffin Meehan (bass), Truman Sinclair (vocals, guitar), Ben Lopez (drums), and Chloe Villamayor (violin). Sinclair does a majority of the writing and producing for Frat Mouse. Having already released three albums and multiple singles, the band has quite the discography for being so young.
     The band is the epitome of a self-producing group of normal teenagers. Their songs address a series of concepts surrounding the teenage-experience. With lyrics like, "I can't drive, I can't use chopsticks, I can't use drive-throughs when I'm alone / I told my mom that I'd be over it," it's easy to see how their songs can be relatable. Being college underclassmen, the band has a multitude of high school and college stories to use as inspiration for their music. This allows them to thrive at producing songs targeted at their young demographic. With themes such as loneliness and heartbreak, you can effortlessly find links to your life within their lyrics. 
     I am particularly fond of Frat Mouse's music. I find it quite relatable and enjoyable to listen to. Driving to their first album Rat Pack is one of my favorite ways to pass time. Their angsty sound puts me in a good mood and makes me feel like I can overcome anything. The lyrics in this album, along with their other releases, validate the strong feelings that come with conquering the art of being a teenager. In the song, "ben gets a master's in communication" the yells that precede the actual lyrics remind me of the times I have spent going to local shows and dancing with my friends. As Midwest emo draws inspiration from both punk and 2000s emo, it contains a lot of raw emotion but with a unique twist. The genre is different. One minute the tone and vocals of a song will be soft and mellow, and the next minute the lead singer is shouting and picking up the entire mood of the song. Like most bands of this type, Frat Mouse switches between these two sounds frequently. People who listen to groups such as Modern Baseball, Mom Jeans, and Hot Mulligan would probably enjoy Frat Mouse's music. For those looking for a small Midwest emo band with raw sound and introspective lyrics, I would recommend following Frat Mouse on social media and streaming their music on Spotify or Apple Music!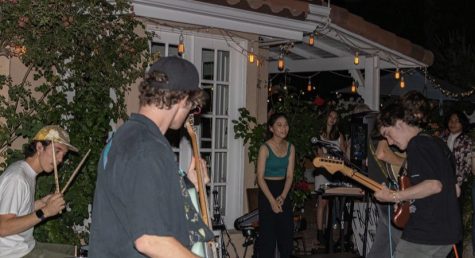 Leave a Comment
About the Contributor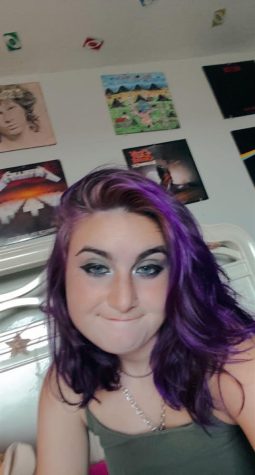 Elizabeth Long, Writer
 Elizabeth is a senior and a second year writer for the Knight Krier. She is the Vice President of the Science Challenge Squad, Treasurer of the Student...