Norwin Band wins B.O.A. Grand Nationals title
Norwin Band won the Class 2A title in Indianapolis on the weekend of Nov. 12-13 at Indianapolis.
After a long day at school on Thursday Nov. 11, Norwin Band students prepared themselves to depart on Campbell coach busses for Indianapolis. The band was on their way to perform at the BOA Grand National Championship held in Lucas Oil Stadium in Indianapolis. 
The Grand National Championship was the competition they had been preparing for all season. It was the first time in 10 years that the Norwin band would perform at Grand Nationals in Lucas Oil, the biggest stage in their activity. The band hoped to at least make semifinals, but little did they know, the students were on their way to become Class 2A champions and perform an exhibition performance on finals night. 
"
There is always a moment of suspense when you hear the second place band and you know you're probably first, but you don't know 100 percent"
— Evan Blenko, senior band member
"There is always a moment of suspense when you hear the second place band and you know you're probably first, but you don't know 100 percent," said senior snare drummer Evan Blenko. "So, it's always just a calmed excitement but also, a little bit of worry, but once you hear it it's a little bit relieving."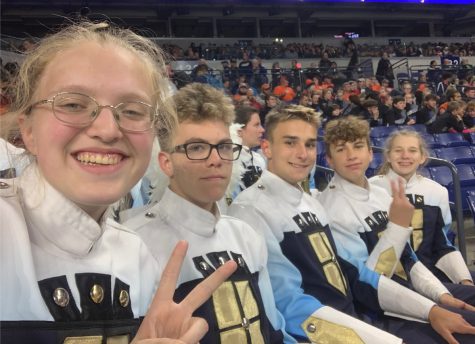 On Friday Nov. 12, the band went to Lucas Oil stadium as spectators. After watching a few bands at preliminaries, they then went to a nearby convention center to practice for several hours. They would be one of the last few bands performing in prelims that day. Out of 100 bands only 34 would make it to semifinals. 
"With the random announcement of semifinalists it's always stressful," said the band director Mr. Timothy Daniels. "We all felt really good after prelims, we had a good run and as [they started] to announce the bands [that made semifinals] especially as we get to 28, 29, 30 you start to think 'oh- maybe not [maybe we won't make semifinal]' because you don't know how everybody else performed. Once we were announced 32 out of 34, that was very exciting, the best part was [seeing] all of the students' reactions because that's really what it was about." 
The band did not know their performance time slot until after they made Semifinals. At one point, there was a possibility for the band to perform at 6 am. That would have meant the entire band waking up at 4 am in order to be ready to perform at 6. The band's staff knew that Saturday's schedule would be the most uncertain.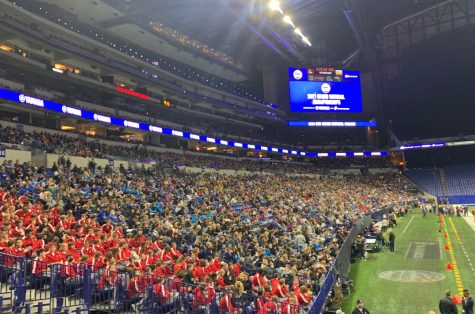 "After our prelims result there was an opportunity that we might be performing multiple times on Saturday, it's definitely a challenge when you can't use the plan that you thought you were going to have," said Daniels. "Throughout the day there were a lot of phone calls and a lot of communication between everybody involved making sure we were reworking the schedule throughout the day and that we still had everybody getting fed and where they needed to be."
The band performed in the Semifinals at 2:30 pm that Saturday. For the students and staff the most surprising result was when the band was announced class 2A champions. On top of being Grand National Champions, they also won overall visual and musical effect in their class.
"It was one of those things where you win the performance captions and visual [effect] and another band wins general effect, you never know, that means the scores were really close," said Daniels. "The moment of relief was when they announced Marian Catholic as second and then of course the excitement and checking in with Mr. Kandrack and the explosion of emotion on the busses. We know it was really exciting."
The Norwin Band did not make Finals competition with all the other classes, but as class 2A champions, they would perform an exhibition on Saturday. The Norwin Band would be the last band to perform that day, an opportunity that would not likely happen again. This meant that they would also be the last band to perform at a BOA competition for the rest of the 2021 season.
"The police escort home once we got onto Route 30 was pretty fun being able to go through red lights legally and everyone had to pull over and let us go through," said Jack Conley, a junior in the front ensemble. "I was pretty excited when we won class champions because I definitely wasn't expecting that."
Leave a Comment