Girls hoops travel to Washington DC
     The Norwin Girls Basketball JV and Varsity teams traveled to Washington DC on December 10-11-12. Varsity defeated Unity Reed High School (VA) and Dunbar High School (MD). Junior Varsity also played 2 games winning their first against St.John (VA) and losing a tight game to New Hope Academy (VA).
    The D.C. games opened the season for the Lady Knights. Going to DC to play games gave the girls a different look at new competition to prepare them for the start of Section play on Thursday Dec. 16 against Shaler at the Castle.
     "We travel to DC to build team unity and hopefully play tough competition," said Coach Joe Oestreich. "The team played well, we won both games, however working on the plays and getting the entire team to play as one is always a challenge."
     There are always things that the Lady Knights can improve upon, as the season progresses they can only hope to continue to grow and build off the successful  weekend at DC.
     "I personally think the team played very well," said sophomore starter Lauren Palangio. "We faced different competition than we do in our regular season every year which I thought was good for us. I think that we played well as a team for the first time all year and we only have room to grow from there."
     The Lady Knights got off to a strong start winning their first game against Unity Reed 55-20 and their second game against Dunbar 53-23; they can only continue to improve as the season progresses. Even just in the 2 games that were played this weekend, they were able to see improvement already.
     "The team as a whole improved on playing together as a team and making good decisions," said Palangio. "We had a bit of a rough start in our scrimmages and I think that we really pulled it together and played much better in the games in DC."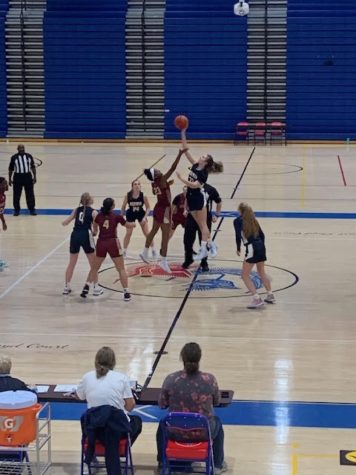 However, there are always things that can be improved upon, no team is perfect. This surely applies to the Lady Knights as they continue on through the season all they can hope to do is improve their game.

     "I think as a team we can keep improving our game and working together," Palangio said.

      This trip wasn't just about basketball thought. This trip to DC was a great opportunity to become a better team. Spending a whole weekend together gave them plenty of opportunity to talk and hang out. Spending time together was one of the highlights of the trip for the Lady Knights.

     "My favorite part of the trip was being able to spend time with the team and watch us grow together on and off the court," said Palangio.

"

"

Being able to spend time with my favorite people and play basketball made it such a great experience"

— Lauren Palangio, sophomore forward

.

     Being able to spend quality time together can only make the team stronger. Especially after last years season where the Lady Knights were quarantined, no basketball was played during the month of January, and they had to stay socially distanced as much as possible. That meant that not as much time was spent on team building activities making their trip to DC even more important.

     "The best part of the trip was watching all the girls eat together and laugh around the hotel," said Coach O. "Having fun is a huge part of the experience.  The players will have memories that will last forever."