Another win with more to come
Model United Nations club competed at Univ. of Pittsburgh's Model European Union Conference.
Speeches, debates, and rounds of applause could be heard from the high school library. Phrases such as "fellow delegates", "thank you honorable chair", and "motion for an unmoderated caucus" were thrown around.
     On Dec. 10, nineteen Model United Nations Club members participated in the Model European Union conference hosted by the University of Pittsburgh. Although the conference was completely virtual, the Knights prevailed, having over five students win awards.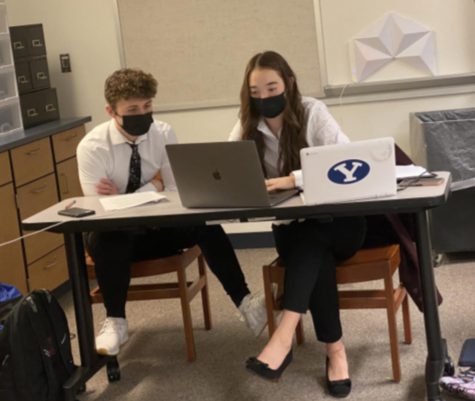 Although most conferences the Model UN team participates in are in the format of the United Nations (UN), this conference was unique in the fact that it followed that of the European Union (EU). The EU consists of 27 countries located in Europe. The UN is much larger, consisting of over 190 countries worldwide. However, the ideals of the EU and UN are similar; both strive to maintain international peace and harmony among numerous nations.
     Prior to attending this year's EU conference, all participants were given a conference guide detailing two, real-world problems with two subtopics in each. The first topic was titled "Protecting our Climate and Driving a Digital Transformation" with subtopics "Meeting our Climate Movement" and "Digital Programme and Cyber Threats." The second topic was titled "EU-US Partnership" with subtopics "Current State of EU-US Bilateral Relations and Pandemic Responses" and "Working Toward a More Democratic and Secure World." In addition to being given the topics of the conference, participants were assigned to represent a country in the EU. Norwin students represented Germany, Luxembourg, Denmark, Romania, Finland, Greece, Estonia, Austria, Croatia, and Slovenia.
     Once at the conference, students spent the day conversing with other Model EU participants from fellow high schools in the Pittsburgh area on how to find effective solutions to the given problems. 
     "The students did a wonderful job at the University of Pittsburgh's EU conference," said club adviser Mrs. Sturm. "I am always proud of the level of dedication students show the club and at the conferences."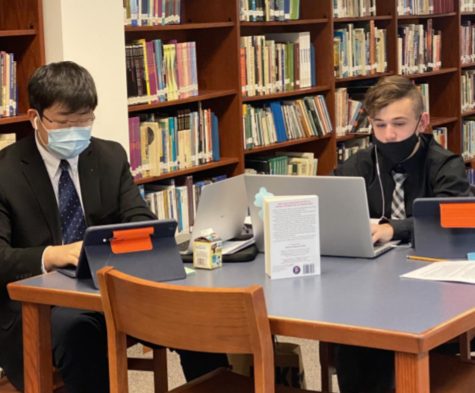 At the conclusion of the conference, an award ceremony was held. Each room within the conference gave awards to participants with the best position paper. The University of Pittsburgh also gave awards to attendees who argued, spoke, and found solutions most effectively. Six Norwin students won awards, and they are as follows: Max Christopher (12) and Maleah Phetsomphou (11) earned Outstanding Delegation; Andrew Brown (10) and Paige Tokay (10) for honorable mention; and Shawna Sinchak (12) and David Shepherd (10) for best position paper.
      "Winning Outstanding Delegation was really cool for me," said Max Christopher (12). "Hopefully I'll get to attend another conference or two and find success."
     The Knights plan to win more awards at the next Model UN conference in January, hosted by Duquesne University.