Departing with Doug
     Anyone with an older sibling knows that one day they will leave the house for college. My brother, Doug Samber, is a senior at Norwin High School and is in the process of applying and choosing colleges. Our mailbox is filled with college brochures and acceptance letters. 
     For the last fifteen years, I've always had a brother around. The talk of college and his preparation to leave has made me realize that soon I'll be the only kid left in the house. 
      Without him in our house I won't have someone to drive me around all the time, fight with for no reason, have someone who sides with me when I'm arguing with my parents, and no one I can walk across the hall to and talk to when I'm bored. 
     Doug's preparation for college isn't only affecting me but also my parents. Like any parents with a kid soon leaving the house, they're sad. 
    "I will miss his questions," said our dad, Douglas Samber. "Since he was able to walk, he'd ask the strangest questions."
     My mom, Fran Samber, will also miss Douglas when he leaves. 
     "I will miss his overall presence in our house," she said. "There are no words to describe the effect Doug has on all of us. I will miss hearing him laugh and sing through the house."
     Although there are things my family will miss about having Doug around, there are things we won't miss. 
     I won't miss him always being loud. And I can't wait to have the house to myself without him always being messy or having him poke or kick me every time I walk past him.
     Our mom explained that the main thing she won't miss about Doug is him constantly asking when dinner will be done.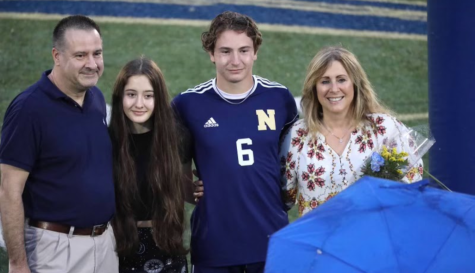 "I won't miss his loud conversations with his mother," said Papa Douglas Samber. "I'm looking forward to the peace and quiet." 
     A lot of people at Doug's age don't know for sure what they want to do yet or where to apply to, but Doug has a plan. 
     "I applied to Pitt, Duquesne, Case Western, Robert Morris University, and other local schools," he said. "I got a scholarship to Duquesne and I'm currently waiting on Pitt and Case Western." 
     Although Doug got into multiple schools, my parents and I agree he should go to the University Pittsburgh. Pitt seems like a good fit for what he wants to do and it's not that far away, so he can always come home easily when needed. 
    "I would like him to go to the University of Pittsburgh," said Papa Douglas Samber. "They have an excellent business school and that is what he wants to study." 
     Doug also is looking at Pitt.
     "I am most looking forward to attending Pitt, if and when I get in," said brother Samber. 
     My whole family will miss Doug and his personality around our home. Even though it's sad he's leaving home, it's a step that will set his life on the right course. 
     "I'm excited for him to move forward with his life," said Douglas Samber. "I am hopeful that he will succeed in whatever he puts his mind to."