Norwin sophomores inducted into National Honor Society
  On the evening of Nov. 17, Norwin sophomores arrived at the High School auditorium to be inducted into the National Honors Society.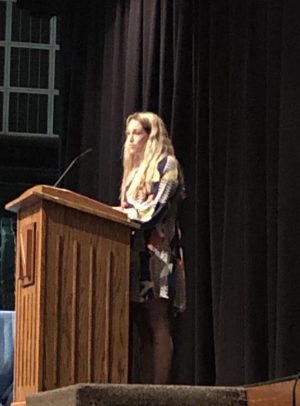 National Honors Society (NHS) is a prestigious organization that recognizes and acknowledges them for their educational achievements. The ceremony inducts students that can recognize and meet certain requirements. Students need to have a 90% overall GPA (no D or F report card grades) to get into NHS. Once in NHS, maintaining the GPA and 30 hours of volunteer community service is needed for students to keep their membership through graduation.        "The induction went very well," said NHS advisor, Mr. Paul Amic. "We inducted around 150 students this year."
     There are also special traditions that reoccur every year at this event. The inductees all take an oath of membership and then they are recognized individually, then followed by a speaker.  Parents are invited to watch the ceremony in the audience.  
     "The ceremony begins with the lighting of the white candle which symbolizes the eternal search for knowledge," said Amic. "We were excited to have Dr. Sadie Ackerman with us this year as a guest speaker. Then the officers speak and light additional candles that represent the four qualities required for membership in NHS: scholarship, character , leadership, service."
        Dr. Sadie Ackerman, a Norwin Alumni, is a local AHN doctor, who is also friends with Norwin teacher Leslie Kaminski. 
     "The speech by Mrs. Kaminski's friend was extremely inspiring, and I think that the sophomores will be able to use her uplifting words in their honors high school careers," said officer Jenna Gulibon.
     Students in NHS may participate in the annual trip. For the first time in 2 years the trip is scheduled for Chicago. Both students and staff are excited and grateful to participate in it.
     "Personally, I think that the induction went very well and I'm proud to be a part of it," said sophomore, Paige Shrum. "We may have had a few hiccups along the way with the candles, but that just added humor to the assembly."