DECA: Norwin Shows up BIG; Sending 12 to State Finals in Hershey
     On Thursday Dec. 9, the Distributive Education Clubs of America (DECA) and their adviser Shelby Stumpf traveled to South Hills Country Club and competed in the Pennsylvania District III competition. 20 Norwin students participated in the competition bright and early on Thursday ready to compete for a chance to win their places into the state event.
      Due to COVID restrictions, the event was moved from Moon, PA to the off campus Country Club.
     "It was a different atmosphere, it was calm and professional and everything was great!" said senior DECA President Manya Olshanski, who has been doing DECA for 3 years.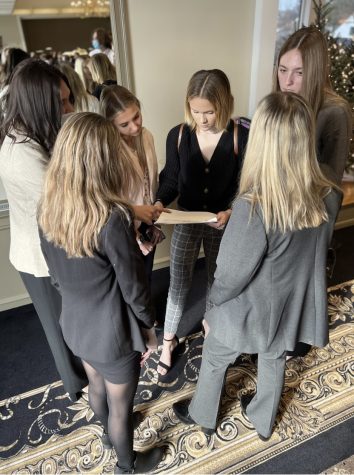 After the students arrived at the South Hills Country club tests administered role plays were given to everyone. The test consisted of 100 questions about your category and competitors were given a situation to reenact or role play with the judges. Before the roll play with the judges kids were given the prompt and 15 to minutes to prepare an answer for the judge. Students have to explain their answer and convince them to take their side.
     "The test was much harder than I remember, I was excited to get 3rd," said Manya Olshanski, who earned a spot at the state competition in her category Marketing Communications. Olshanski wasn't the only student shocked from the competition and test.
     After students were done with their Roll plays they discussed with each other how they thought they did. Many said they were shocked by how challenging the conference was, but confident with their response.
     "It was very nerve wracking going in, especially as a new DECA member, however, after it was finished I was very pleased with our interview. It was a fantastic experience that I would recommend for any future students who wish to pursue business," said junior Gabe Conboy.
     This year's District competition was exciting and fun, but many are asking what's next for Norwin's DECA club?
     A specific date is still waiting to be announced for the location of States. As we progress forward, given the nature of COVID-19, a decision is still waiting to be made seeing if it will be virtual or in person this year.
     "It would be a shame for states to be virtual, a lot of us have been looking forward to states and I think it would be disappointing to not travel." said junior Liam O'Brien. 
     Whether in person, or over a computer screen Norwin's DECA club is ready for whatever comes next.