Norwin Band represented well at Rose Parade
These talented musicians got the opportunity to represent their school on a national stage.
On New Year's Day, over 300 high school musicians performed at the Tournament of Roses Parade in Pasadena, California. Of the hundreds of schools in the event, Norwin High School had the most representation, sending six students: seniors Joe Zaradski (baritone saxophone), Traye Geissler (alto saxophone), and Grace Heuer (trombone), juniors Jeremy Lucotch (trumpet) and Brett Myers (baritone saxophone), and sophomore Jenna Greenawalt (mellophone).
The opportunity came through the Bands of America Honor Band, a prestigious ensemble that performs once every four years at the parade in order to give every student a chance to perform at least once in their high school career. The band was scheduled to play in last year's parade, when only two Norwin students (Myers and Heuer) had auditioned and been accepted, but due to COVID-19, the performance was postponed a year, creating an opening that allowed for more Knights to take part.
"It was kind of a flex," said Zaradski. "The next highest school had like three or four students, and here we are from a little corner of Pennsylvania with six."
The band was directed by Richard Saucedo, a retired composer from Carmel High School in Indiana, and the participants got the chance to learn from him as they rehearsed with the band for five days leading up to the parade, which included a performance in Disneyland. According to Bands of America, over 200 schools and nearly 40 states were represented in the ensemble, and joining Saucedo was a "world-class staff" who mentored the musicians, most of whom were close to the best in their own respective regions, something that was evident to Norwin's students.
"
It's not about how difficult the piece is, it's how well the piece is executed. When you have so many kids who know what they're doing, all the care is there. There's not a single person in that band who doesn't have the intent to be awesome. The execution was phenomenal. "
— Brett Myers
     "It's amazing, just being the top from our area, the Western Pennsylvania area, we sort of think we're dominating," said Zaradski. "But then, once we go to an ensemble like that, where there are kids from all over the country and they're also the best in their areas, we start to feel a lot less significant. But at the same time, it's amazing because everyone knows what they're doing."
Over the course of the parade, the students played 3 arrangements, including popular hits like "California Dreamin'" and "For Good" from the musical Wicked. Apart from having to be able to play the music in the first place, they were required to memorize all of their notes and rhythms, all while marching five and a half miles down the streets of Pasadena.
     "From a technical standpoint… they were pretty standard for our ability," said Zaradski. "But memorizing them was difficult, especially since they were so long. The stamina thing is [also] huge. I remember halfway through, my mouth was starting to get really tired, and it was just hanging on. Somebody did drop out because they just couldn't take it."
If that wasn't enough, the weather also felt that it needed to have some input. Most think of southern California as a traditionally warm place, but in the early hours of New Year's Day, it was anything but. The band members had to wake up at 3 in the morning to get ready for the parade, which was scheduled at 8:00 AM, and the temperature hovered around 40 degrees until dawn. When the sun came up, however, it was a quick turnaround, and by midday, it was 61 degrees.
     "You're freezing the whole morning while you're waiting for the parade to start," said Zaradski. "And then you start, and then it starts warming up, and then you're starting to sweat, and your body doesn't know what to do. It was just freezing an hour ago, and now you're sweating like crazy."
The show had to go on, though, and for two hours on national television, the ensemble marched down the world-famous Colorado Avenue with several other bands, as well as some extravagant floats, as has been tradition since the parade's inception in 1890. At the very end, the band made one final rotation to face the San Gabriel Mountains.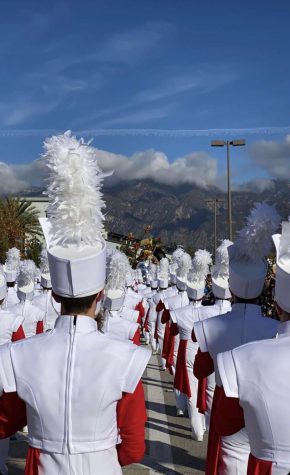 "Looking up at such an awesome view, and then getting to end there, it was awesome," said Myers. "It's legitimately a once-in-a-lifetime opportunity."
When they weren't rehearsing, the students got a chance to experience some other California fun, including Disneyland and the Los Angeles farmers' market. In fact, on one of the days before the parade, a rain shower made it impossible to practice outside in their brand-new white uniforms, so they ended having a free day to experience the region for themselves.
     "I was enjoying myself in the days leading up to that, but I think that's when I really started to have fun, when things started to go wrong," said Geissler. "That's always the case with me. I enjoy something, but when something unexpected happens, that's when it gets fun."
Of course, during the week, the students also got to become close friends with the numerous musicians they shared this experience with, something that made going home all the more bitter.
     "Going home was sad," said Zaradski. "You make all these friends, and then you're going back to different places all around the United States, and we'll probably not have a chance to ever see them again."
For these six, this was the last chance they would get to play with the Honor Band, but in four short years, another group of talented musicians will have this exclusive opportunity. To those lucky few, Myers offers a few words of advice:
     "For any of the other band kids at this school that have this opportunity when it comes up, please, please take it," said Myers. "It was truly fantastic."
Leave a Comment
About the Contributor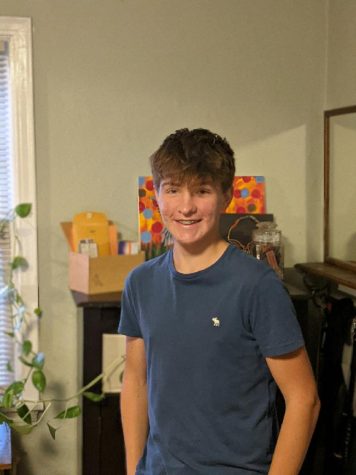 Oliver Hinson, President/ Website Manager
Oliver is a senior, and he has been a part of the newspaper staff for 3 years. He covers a wide range of topics, from school news to student features,...