Norwin Bowlers roll into the end of their season
     As we roll into the winter weather the Knights bowling team is rolling well into their season as well. 
     The Boys Bowling team started off their season strong with a 7-0 win against McKeesport on Dec. 8. They swept McKeesport with a total pin count of 2237 against their total of 1944. The boys won all three of the games earning them two points per game. They also received a point for having the highest total pin count. Freshman Hunter Cook led the boys with a three game total pin count of 550.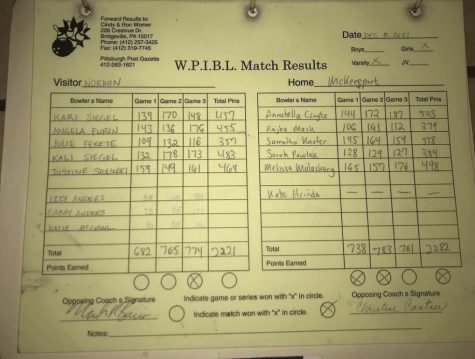 "I was really worried about winning this match because it was our first match against one of the best teams in our league," said freshman Hunter Cook. "I was originally doubtful but as the match progressed and we were doing well I became more confident and was able to help lead my team to victory."
      The Lady Knights lost against McKeesport on Dec. 8 with a game score of 2-5 but managed to win the last game of the match. Their total pin count was 2221 while McKeesport pulled out the win with a total pin count of 2282. Freshman Kari Siegel led the Lady Knights with a total of 457 pins.
     "It was pretty cool to be able to lead the team with my total pin count,"said freshman Kari Siegel. "But it was even better to see the rest of the team's pin numbers go up because we all did extremely well that match."
"
Even though it was disappointing to lose our first match we knew it would be okay because we still had the rest of the season ahead of us"
— Kari Siegel
      Later that week on Dec. 10 the Knights took on one of their biggest rivals Serra Catholic. The boys team lost the match 2-5 while missing one of their key bowlers, Alexander Raymond. They lost with a 277 pin deficit. Hunter Cook once again led the team with a total pin count of 605 for the entire match. 
       "Even though we lost I'm really proud of the team for being able to hold their own," said Hunter Cook. "I know that everyone did their best and I'm proud to have been able to help them. Being able to be such a valuable part of my team in just my freshman year is an extreme honor."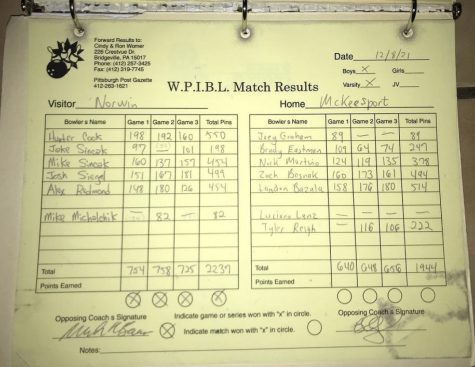 While the boys may have lost, the girls swept Serra Catholic 7-0. The Lady Knights led with a total pin count of 2565. Senior Justine Stolinski helped the Lady Knights pull through with the win with a personal pin count of 475. 
       "Even though it was disappointing to see the boy lose, I was happy to see that we were able to pull through and win the match," said junior Angela Furin. 
     The Knights were supposed to play the McKeesport Tigers on Jan. 7 but because of McKeesport canceling school because of snow the date was postponed until Feb. 4.
     "While it sucked to have the game postponed I was happy because that gave us more time to practice and be the best we can," said senior Julie Fekete. "I know personally I haven't been doing my best lately and the extra time will give me the opportunity to work hard and improve my game."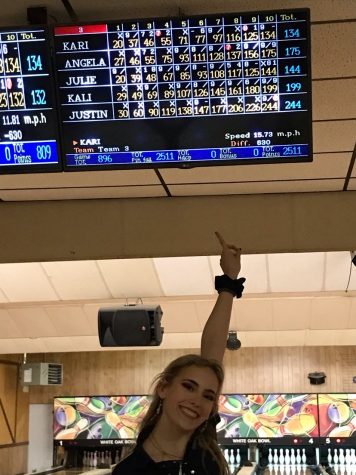 On Jan. 12 the Knights once again faced one of their biggest rivals, Serra Catholic. Freshman Kali Siegel led the girls to once again shut out Serra Catholic with a 7-0 win. While Siegel led the team with the most pins, senior Justine Stolinski helped solidify the win with a 244 pin total game. 
      "It felt amazing to do so well in the last game," said senior Justine Stolinski. "My second game was below my personal average so I was really motivated to do as best as I could in the last match. Being able to help solidify the win for that match made me so excited to be a part of this amazing team."
     Unfortunately the boys team did not fare as well. They lost to Serra Catholic with a 0-7 loss. They lost with a deficit of 443 pins. Even though they lost, Josh Siegel helped to lead the team with a three game pin total of 485.  
     "As always, losing sucks," said Josh Siegel.  "But I am happy with how everyone played and I hope we are able to do even better next time."
     While there is only about a month left in the bowling season, the team members are still excited to play their biggest rival McKeesport and hopefully make it to regionals. 
      "I'm looking forward to our last match against McKeesport [Feb. 4] the most," said freshman Kali Siegel. "I feel like we have really improved and can definitely pull out a win. As of right now we do qualify for regionals because we are in the top two teams for the region. I'm confident that we will be able to hold our spot and make it to regionals."
Regionals for teams will take place on Feb. 16 and 17. Regionals for single bowlers who are in the stop spots for the entire region will be on Feb. 23 and 24.
Leave a Comment
About the Contributor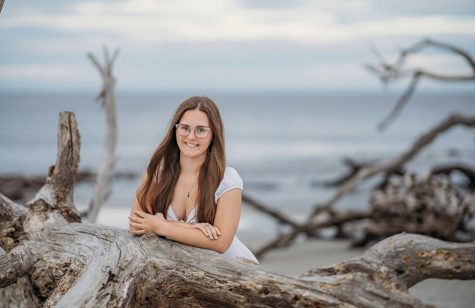 Ashley Cramer, Vice President/ Editor
Ashley is a Senior at Norwin High School and has been participating in writing for the Knight Krier for two years. She also is the club president for Norwin's...